A boarding pass is as important as a ticket is. It works as an entry pass without which one is not allowed for the journey. It works as a flying pass. But, nowadays, various beautiful boarding passes are designed with the use of boarding pass invitation templates, so as to make the flight more convenient. With clear boarding pass numbers, it helps the traveler to smoothly travel throughout the journey.
Simple Boarding Pass Invitation Template
Make your birthday invitations different than usual with this invitation template that is in design of a boarding pass design. A pre-formatted and content-ready template you can edit with ease using various editing applications available. Fully downloadable and printable ticket template for user convenience anytime and anywhere.
Boarding Pass Ticket Invitation Template
If you want to be the country's next leading airline in the market, you also need to keep your boarding passes look as superior as the services you provide your passengers. Check travel ticket templates for more. If you need a unique and stand out boarding pass design, then use the above template. You get a sleek and organized boarding pass design that is different from other airlines and help passengers distinguish your airlines from the others.
Plane Boarding Ticket Template
These passes are not only fancy but they help you to find your destination. It consists of various numbers with sequences that need specific attention to decipher them.
Save the Date Boarding Pass Ticket Template
4
Being creative while planning a wedding is very important. This will help in exciting your guests, making it a good day for you too. A product like the one above, which is a travel-themed wedding ticket design template is very special and unique, making it stand out than the rest of the invitations. It has clear headings, the texts are customizable for your needs, and it is well-layered overall.
Bridal Shower Boarding Pass Ticket Template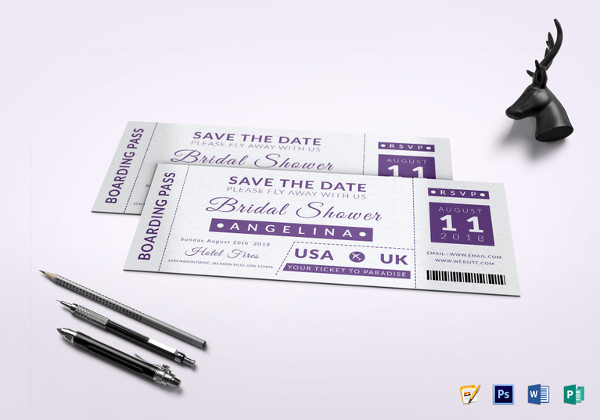 Bridal showers are fun events. They are special events for the bride to be. Give out invitations to a bridal shower in a unique way with this stylish bridal shower. Check inspiring ticket designs for more. Suprise everyone with this beautiful & attractive template which is easily customizable according to your need in all versions of many different file formats. It gives color space to give high print quality.
Boat Boarding Pass Invitation Ticket Template
Creating an Invitation
1. Choose a Template
The first step towards creating an invitation is to choose the right template. Once you pick the right template, it would be easier for you to choose the details, the images and all the fonts and texts you need to put into the invitation. You can select any invitation card example that will go best with the theme of your business.
2. Add Images
Adding images is the next important step in the invitation. Images can be anything that is related to why you are giving the invitation to your clients/guests. Pick the right pictures that go with the message you are trying to give your audience.
3. Enter the Details
Once you are done adding the images, the next step would be to add the necessary detail in the invitation design. This would include the location of the event, the contact details. and all the extra information that is required. Choose the right font that will go with the images and the background you choose. Do not fill the invitation with details only. Keep the images and the text equal as they are equally important.
4. Choose a Background
Choosing a background is very important as it displays the texts and images you have selected. Your background holds all the other details in it, so the texts you mention should be seen and legible to the reader. Be wise as to what color would your background be, so that it can show all the details that are to be read.
5. Review
The final step would be to review your invitation so that there is no kind of errors present in it. Make all the necessary changes in it before you take a print. Make sure you have entered all the details, the logo of the company, etc. in it thoroughly. Choose the right layout, so that whatever you place in the boarding pass, it would look beautiful and not clumsy.
Wedding Boarding Pass Invitation Ticket Template
Make your wedding invitation unique to this wedding invitation template. You can add an element of surprise for your guests by making it more unique and specific. Quickly download and edit easily by changing the color or adding in text/images. With captivating headings and sub-headings suggestions to make your editing a breeze, this is completely printable and also available to share digitally.
Boarding Pass Wedding Invitation
This invitation template is made to resemble a boarding pass in a very creative manner. This is perfect for notifying friends and family for the upcoming wedding, whether yours or someone else's. These invitations are totally editable, making them fully customizable and available for download on any electronic device.
Printable Boarding Pass Wedding Invitation
This high-quality invitation template can be downloaded for any upcoming wedding so that you do not have to create an invitation from scratch. This file is designed to resemble a boarding pass. It is printable and easy to use. Barcodes play an important role in an invitation so that one invite is used only once when scanned. The above template comes with a totally editable and customizable issue. Check it out now!
Birthday Boarding Pass Invitation Ticket Template
Amaze your guests with this creatively designed birthday invitation that imitates an airline boarding pass. With its high personalizing ability, it is easy to edit and customize. High-quality graphics and artwork are included with color space to give you well layered supreme quality print.
Free Boat Boarding Pass Invitation Template
The above template is an invitation template that is designed to look just like a flight boarding pass. This is perfect for notifying friends and family to save the date. It is easy to edit and fully customizable in many file formats. Its blue color gives a pleasant look to the readers and also, all the information is already added in it. All you have to do is download and edit it with the details you need to add.
Flight Boarding Pass Wedding Invitation
Editable Boarding Pass Wedding Invitation
Boarding Pass Travel Tickets Vector
Boarding Pass Save the Date Template PSD Design
This boarding pass invitation PSD template is easily editable in Adobe Illustrator or Photoshop CS6 and is an ideal invitation for kid celebrations. It comes in the two-sided design and has 2 Photoshop PSD files that can be printed with rounded corners for a more authentic look.
Class ECO Boarding Pass Download
This clean boarding pass template has free download options and comes with a QR code that needs to be clicked for expanding it. The template has a nice user interface, great visuals, attractive colors and the dotted map has a 3D feel.
Boarding Pass Wedding Package Design Download
Mobile Boarding Pass Design
This airline boarding pass template can be downloaded for free and also, it comes in the most simple design with the most crucial travel details. It provides information about the traveling date, passenger details, boarding zone, gate and seat number along with the starting and destination city names.
Vogel Airways Boarding Pass Design Download
This airline boarding pass template is free to print which is useful for travelers planning their business or leisure trips. The travelers can create an account with Vogel airways and the boarding pass comes with Bag tracker, Flight status, weather and settings options.
Airline Boarding Pass Tickets EPS Design
This classic airline boarding pass template comes in two unique designs and colors for the first and the economy class. It has a QR code, attractive background pictures, JPG image, Vector EPS graphic files and requires minimum Adobe CS version. Ticket envelope templates will help you design differently designed tickets for your invitation.
Thai Airways Ticket Boarding Pass Redesign
EVA Air Redesign Boarding Pass
This simple printable boarding pass template comes in different designs and colors for first class, economy class, and business class. It has EVA air logo design and contains essential information about the traveler name, seat number, zone, boarding and departure time.
Passenger Boarding Pass New Design
This clean boarding pass template is useful for Frontier Airline passengers to redesign their boarding passes. It comes with important details like passenger name, Frontier airlines logo, boarding time, Gate number, zone, seat number along with starting and destination airport names.
Adventure Boarding Pass Invitation Design Download
New Vacation Boarding Pass Design
This boarding pass free download template has a nice and clean design that comes in different colors. It has an excellent user interface and animation that has information about the starting and destination airport names fight number, passenger name, boarding and departure time.
Flyaway Air Ticket Boarding Pass Download
Maldivian Aero Boarding pass Front
This fake boarding pass template is a mock-up boarding pass of Maldivian.aero, which is not used in a real life. It has the QR code, Maldivian logo, background advertisement that provides details about the travel route, passenger name, gate, zone, and seat number.
Airplane Ticket Boarding Pass Design
This airline boarding pass free template comes in two designs and colors and is ideal for travel agencies to issue an airplane boarding pass. It has details about the passenger name, flight number, seat number, date and time of air travel.
I'm Going On a Little Trip Boarding Pass
Happy Journey Boarding Pass New Design
Delta Boarding Pass Different Design
Printable LAX Boarding Pass Download
Download Beijing Boarding Pass
Design of Flying Boarding Pass
Boarding pass templates are very useful every transportation company to create airline travel boarding passes providing vital details about the passenger seating place, date and time of boarding and destination. These wide ranges of boarding pass templates are also used for creating a boarding pass-styled invitation for wedding receptions and anniversaries.