Print
26+ Black Friday Banner Designs
Now there is another surprise from us, where you can buy Black Friday Banners. All the retailers out there. Have you announced your sales and discounts for the coming Black Friday? If not, add great deals to your Black Friday countdown. We hope you will make money with your business this Black Friday. To show the discounted prices you have for this day, you can use banners to show them in various places to attract more clientele.
Black Friday Roll Up Banner Template
Do you want to create an attractive roll-up banner for Black Friday but you, unfortunately, do not have the time to do so? Worry no more because we've got your back covered with this Black Friday roll-up sample banner! This template contains an attractive color scheme that will surely attract your target customers. It is available for download on any electronic device with ease, and also, you can add your details as and when needed. Check it out now!
Advertising Black Friday Banner Design
The time is going on Black Friday. Use this Black Friday banner template for your business. Have a Thanksgiving dinner and go out shopping. By the time you returned, you would be amazed to see so many going through your ad.
160 Black Friday Banners Bundle
This Black Friday Banners Bundle comes with 10 sets of Banner designs. These 10 sets give you a whopping 160 designs. It costs $9. Above all, it's a limited time offer. Black Friday is one of the biggest days to shop in a year as it comes with many discounts and sales across many stores. Have you updated any Black Friday specials? This Graphic Design Black Friday Sales Banner comes with some fashion and foreign things.
Black Friday Special Product Promo
Black Friday Billboard Banner
This comes with a Printable tag. That means it is a print template and not a banner mockup. The zip file consists of 3 PSD files and 1 text file. All the fonts used are free ones.
Presentation Black Friday Banner
Let your kids store take advantage of the coming Black Friday with this Black Friday Banner. You simply cannot miss out on this deal. Inform your customers about the best deals now.
Black Friday Sale Advertising Banner
This Black Friday Sale Advertising Banner takes an in-depth look at the spending habits of people all over the world. Announce your deals much early for Black Friday with this. Black Friday is one of the lucrative dates for all e-commerce websites. Have you found one for this Black Friday to lure your customer base? If not, try this. You can even use this for Roll-up Banners.
Steps to Create a Banner:
If you want to make a banner for yourself from scratch, then there are a few steps that are mentioned below and that can be of great help to you in making the right banner you need. These steps are:
Step 1: Company Logo
The first step in making a banner is to place the logo of the company/fashion brans you are on top of the banner page. It ensures that people have an idea about the company and also, the products they sell. There are many creative banner templates that are available online that you can use to make your banner from scratch if needed.
Step 2: Add the Information
Next, you need to add all the information that has to be added to the banners. This must be placed in terms of left to right, as customers are used to reading it that way, making it easier for them to understand. Only add relevant details that need to be added in the banner as irrelevant details might take up a lot of space and also, shift focus from what you are trying to convey to your readers.
Step 3: Insert Images
The product images that must be added in the banner must be clear and of high quality as pictures speak louder than the words you mention in the banner. You can use the picture that you have of the product or you can also use royalty-free images that are available on the internet. But, make sure that you provide credits from whom you have taken the images. Remember that your images have to be eye-catchy and colorful.
Step 4: Select your Color Scheme
The color scheme of your banner plays an important role as it attracts customers towards the sale of your products during Black Friday. Choose vibrant and appealing colors based on the product you are selling and promoting. The whole point of making a banner is to make them stand out and look unique than the rest. The sample banner templates that are available online can be of great use to you as they make the necessary banners you need for whatever event it may be.
Step 5: Contact Details
At the bottom of your product sale banner, place your company's/your contact details so that if people are interested, they know who to contact. Include the address, phone number, website link, and also, the social media platforms that you are on so that customers can reach out to you without much ado. Remember that you must pick the right font so that others can read what you right without much difficulty.
Outdoor Black Friday Banner Template
Enrich your outdoor marketing campaign for this Black Friday. This beautiful Banner makes you ready for the Black Friday event and sales or shopping discounts. With this, you will get a PSD file which is print-ready.
Doll Collection Banner Design
Everybody is eagerly looking forward to Black Friday shopping. With this Banner Design, creating one on your own will not be a hard work. It will be a fun time.
Cosmetics Black Friday Roll-Up Banner
Are you a Black Friday shopper? This Black Friday Roll-up Banner costs just $15. One will have three color options to choose from. It is compatible with Photoshop versioning CS4 onwards.
Vector Illustration Banner Design
72 Black Friday Banners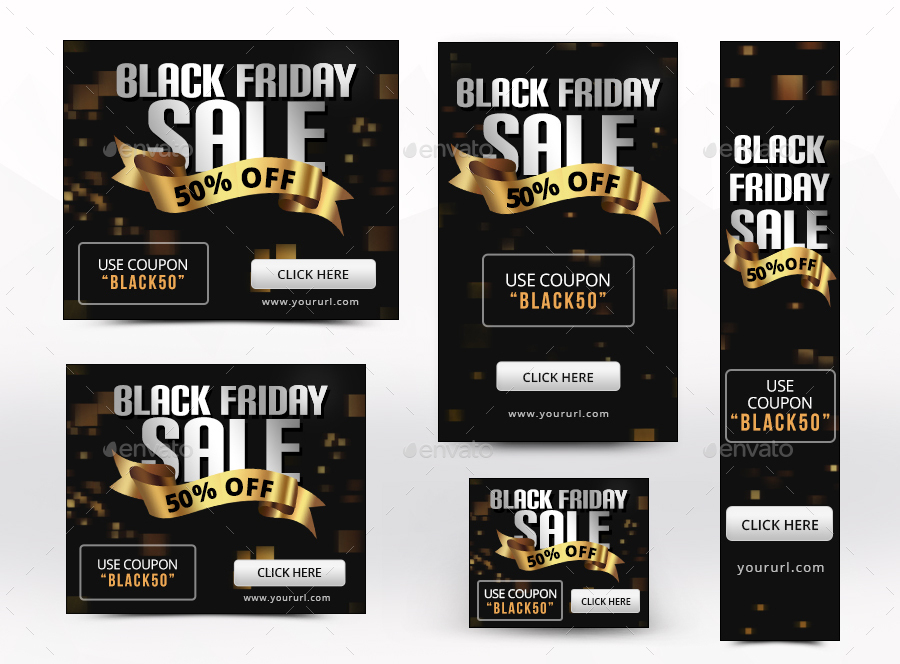 Adroll Black Friday Banner
Vector Explosion Banner Template
Marketing Black Friday Banner
Fashion Black Friday Banner
Halloween & Black Friday Banner
Animated Black Friday Banner
Shopping Black Friday Banner
Discount Black Friday Banner
Set of Black Friday Sale Banners
Flat Design Black Friday Fashion Banner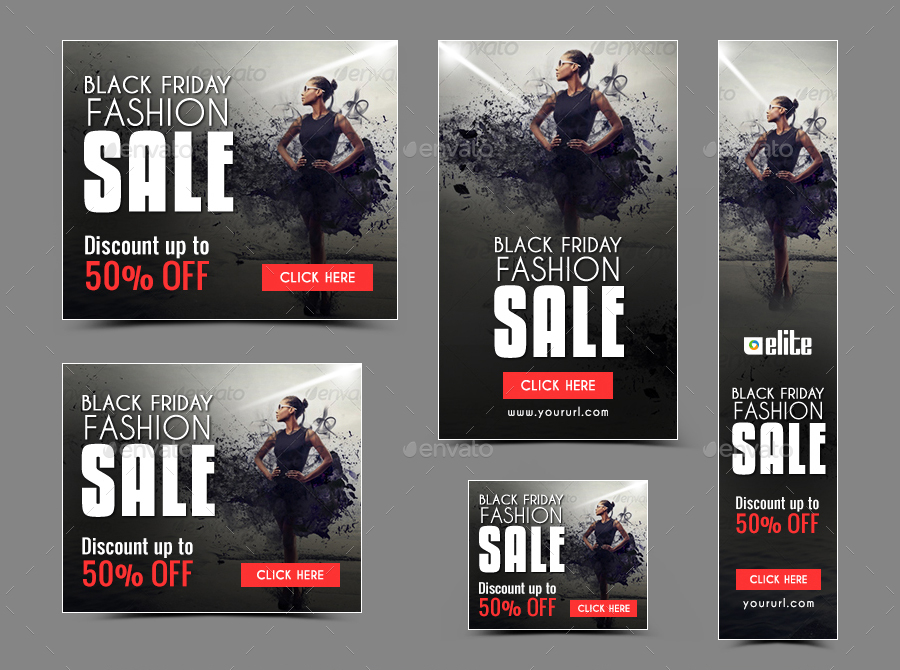 Black Friday Banner
Black Friday Sale Banners
Black Friday Discount Offer Design
Conclusion:
Black Friday banners are now out for sale. They are one of the last promotions of the year. Prepare your virtual store with these. You can keep these for all month long on your website. Standardize the practice of uploading the same banner on your social websites to bring harmony. You can also use roll-up banners to make the best banners you need of any kind, and also saving on that money and space.
With the help of any of the templates that are mentioned in this article, you can make the best banners you need of any kind, for any occasion, event, party, etc. You can also download these templates with ease on any electronic device as they are not just limited to a computer or a PC. They are also available in many file formats, so you can choose the one you like best and make it your own by adding your details.