Be it a dance class or a dancing contest, flyers are definitely the best way to promote and publicize it. You can also design posters and brochures if you will. And no, you don't have to look for professional assistance for getting it done. There are readymade PSD templates of flyers available which you can edit and customize easily. The templates are crafty and promise to deliver results. Download, personalize and use now! You can also see PSD Poster Templates. If the content of your brochure is very compelling, soon many people will contact you to know more about the event. When you want to design a flyer for your movie dance event, you will try to think of different dancing stances that you can add to your brochure along with relevant content. There are numerous dance poster templates PSD to choose from.
Vintage Retro Music Poster
Download
Colorful Dance Celebration Poster Template
Get it Now
Disco Dance Poster Flyer Illustrator Format Download
Dance on Jazz Poster Bundle Premium Download
Breaking Party Dance Poster Template PSD Design
Dancing in the Dark Poster Photoshop PSD Download
Club Vibes Dance Poster Download in PSD Format
Club Night Party Dance Poster Template Premium Download
Class Ritmos Latino Poster Online Editable
Dance Academy Flyer & Poster Template PSD Download
Dance Studio Poster Template Adobe InDesign Format
Belly Dancing Poster PSD Download
Belly Dancing Poster/Flyer is a beautifully designed dance poster PSD template. This A5 sized template is highly customizable and by default with some beautiful backgrounds and fonts, and is print ready.
Beautiful Pole Dance Poster
Pole Dancing Poster/Flyer is a gorgeous PSD template for dance posters. This template features a stunning design in A5 size, with a print resolution of 300 ppi and in CMYK format.
Country Music Dance Poster PSD & Vector Format
Country Music Barn Dance Floor is a minimally designed dance poster PSD template. This template is of 8.5×11 inch size with a print resolution of 300 dpi and is print ready.
Glow Dance Party Poster with 3D Look
Glow Dance Party Poster is a gorgeous dance poster template that comes with 3D text. This template is of size 5.904×8.347 inches and comes with a print resolution of 300 dpi in CMYK format.
Glow / Neon / Dance Party Poster
Glow / Neon / Dance Party Flyer / Poster is a dance poster PSD template featuring a stunning design. This template is in CMYK format with 300 dpi print resolution and is print ready.
Salsa Dance Club Retro Vintage Party Poster
Hippy Poster
Nightclub Poster
Dance School Poster templates
Machine & Dance Poster Templates
Disco Dance Abstract Poster
Dance Party Event Template
Nightclub Poster
YourClub Dance Party Poster
Photoshop Abstract Dancing Girl
Disco Ball Club Gig Poster
Street Dance Contest Poster Templates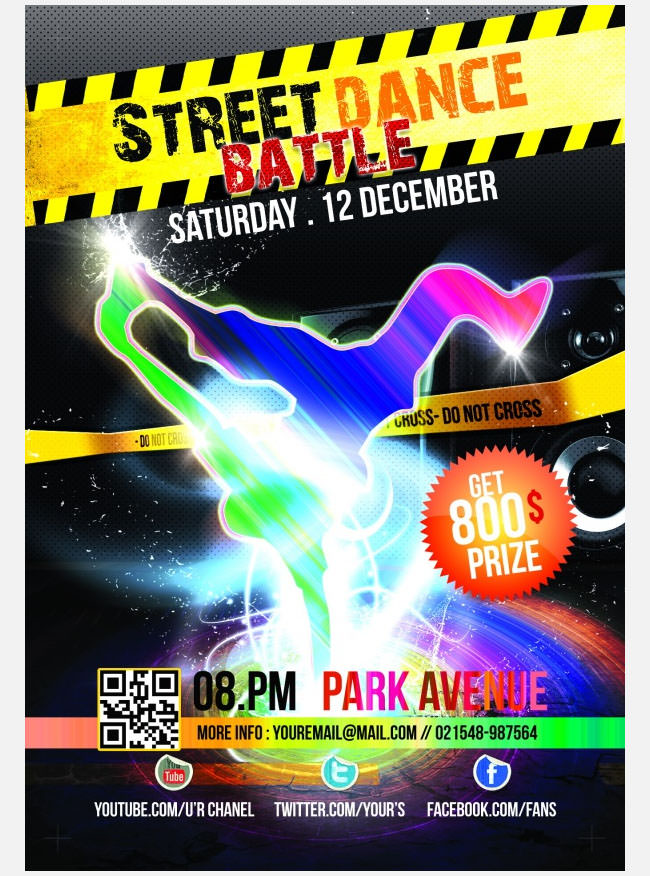 Nightclub Poster Vol. 4
Break Dance Party Flyer Design PSD
White Sunrise Poster PSD Template
Glamour Music Festival PSD Template
Amazing Dance Flyer PSD
Hip Hop Poster
Dance Signature Poster
Dancecraft – A Space Poster Template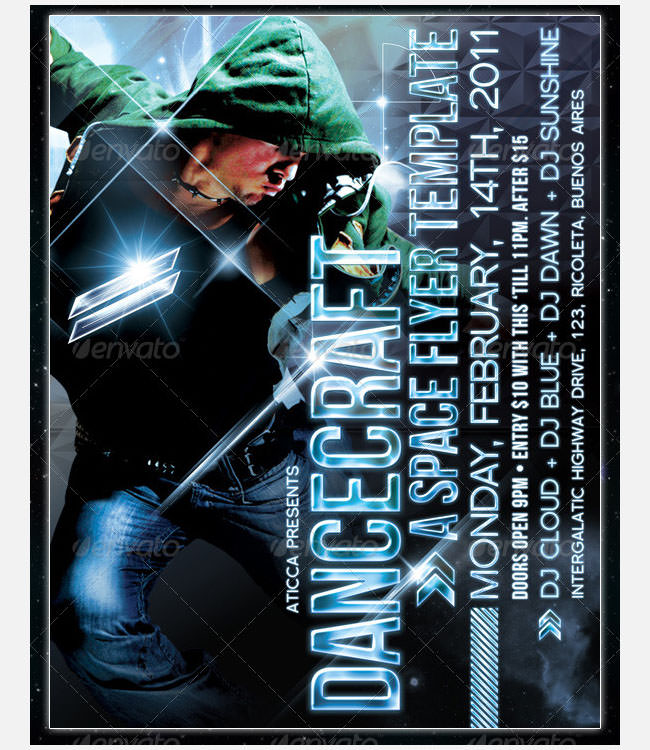 Most of them come with high quality write-ups too. So, you do not need to think of hiring a writer to add content to it. The only thing you will have to edit is the date and venue of the event along with its features. Since they come in PSD formats, you can easily edit different layers of the image and add personalized images and colors to it. If you are too busy arranging your dancing event, you may think that creating brochures and flyers for your event can be time-consuming. To use a dance poster template PSD, you do not need to be an image editing expert. Even a novice can edit such templates and create marvelous brochure or flyer templates in no time.