Website Templates
40+ Church Website Themes & Templates
In the present day and age, even religious institutions like churches need to update themselves and make modifications in their ways to maintain their strong hold. With the whole world moving online, most churches have made the smart decision of starting an official website. If you go online and google some of the most well known churches, you'll see that they all have official websites. You May also See Church WordPress Templates.
The main purpose of such websites is to remain in contact and reach out to the members of the congregation and other people even while they are not present at the church. For example, if there is an event that is to take place at the church, one can simply log in to the official website and find out the details. You May also See Church Joomla Templates.
Church WordPress Theme
Church Blessing WordPress Website Theme
Christian Church Responsive WordPress Website Theme $75
As the name indicated, the particular theme is meant for religious sites such as Christianity. The site theme has been kept simple, yet bright for attracting viewers. You May also See Church Blog Templates.
The theme has options of editing and customizing the theme completely.
Posts can be posted after proper customization option.
The theme is supported by multiple languages and has more than 80 shortcodes.
Other features of the theme include multiple color scheme, filterable portfolio, fantastic slides and more than 600 fonts.
Blessing is a theme that is developed for churches or prayer groups and institutes. The simple to use theme is supported by a number of features and benefits. You May also See Church PHP Templates.
Sliders for plugins are provided in the theme.
Customization offers are there fonts and backgrounds.
The theme also includes applications such as mail subscription and events calendar.
The theme is responsive in nature and is SEO optimized. It is also featured with Google map and contact form and various layouts.
Church & Religion Website Theme $53
Free Church WordPress Website Template
Religious Responsive Church WooCommerce Website Theme $114
Perfect Theme For Church, Community Website $59
Wisest Multi-Purpose Church WordPress Theme $275
Church & Non Profit Association WordPress Website Template
Perfect Church WordPress Website Theme
Jesus Church WordPress Website Theme $75
Modern Church & Religion WordPress Theme $39
Free Premium Responsive WordPress Website Theme
The FabThemes is a church theme which is SEO friendly and highly responsive.
Admin Panel and Custom templates
MegaMenu and Tooltips
Touch friendly and widgets
Translation ready and Favicon
The theme is packed with slider function which helps the user with proper navigation system.
Christian Church WordPress Website Theme $75
The Christian Church WordPress Theme is packed with amazing features which make the church websites optimised and responsive.
Dropdown cart, Favicon and Tabs
Tags, Tag Cloud and MegaMenu
Custom Page Templates
Dropdown menu and Tooltips
The theme is well documented which helps the template to be installed easily and faster.
The Jesus Church WordPress Theme is perfect for websites for Christian religion.
Custom logo and responsive layout
MegaMenu and Tag Cloud
Sermon manager and video display
Google analytics code
The theme has Google Web Fonts function for portraying the website in a much comprehensive manner.
City Church child Website Theme
The City Church theme is loaded with modules and bundled plug-in for church websites.
Integrate sermons and videos
Sliced PSD and Custom browser
Advanced theme options
Favicon and translation ready
The theme has drag and drop function for better navigation through the website.
Church Events Bootstrap Template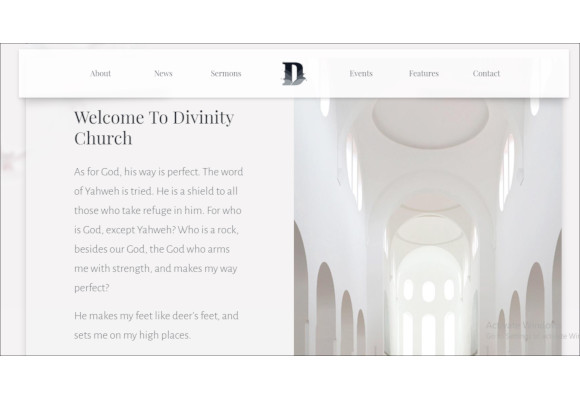 Church Website Template Responsive $18
Jesus Church One Page Website Theme $12
Creative Church WordPress Website Theme $55
Responsive Church Website Template $69
However, churches have to be more careful than others when it comes to their websites, since it is a question of their image. As a church, it is important to have websites which reflect the overall ambience and nature of a church. That is why ordinary websites or website templates won't do. You would require special Church Website Templates found online.
> Types of Church Website Templates
Based on the different requirements of the church, there are several types of free church website templates online –
Church event website templates – Such websites are specifically for church events. Most churches organize special events during Thanksgiving, Christmas and other occasions. The details of these events are posted on the website.
Church membership website templates – All churches have specific members of the parish. Anyone can become a member of the parish by simply signing up. Most churches today allow people to register via the website.
Premium church website templates – A religious institution as important as a church should only have the best templates. They should use the premium website templates which give the top quality options for websites.
> Uses of Church Website Templates
A church website serves to bring the institution closer to the masses. One doesn't even have to visit the church everyday to show his devotion. With official websites, churches have become much more accessible now. Irrespective of the purpose, if you want to create a church website, you should use the best sample church website templates. These are of top notch quality and most are free of cost. You May also See Church Bootstrap Templates.
> Tips While Using Church Website Templates
While using downloadable church website templates, there are few things you should keep in mind-
Make sure you keep in mind the purpose while selecting the template. A website for a church is very different from other websites, keep that in mind.
Any website for a church should be simple and devoid of any kind of decorative design. Pastel shades, borders and minimalistic elegant designs are the best options in these cases.
Go for customizable church website templates. That way, you can edit the templates whenever you want.
> We Can Help You Out!
At template.net, we have some of the best templates if you're planning to download church website templates. All our templates have been crafted by experts. So what are you waiting for? Try one out and see for yourself! You May also See Church PSD Templates.
With the rise in necessity of online church portals, it has become quite difficult for simple and plain looking church websites to impress their audience. Hence church website templates has been designed to help you make your online church website stand out from the rest and attract more traffic. These templates carry various features like:
Responsive layout
SEO ready, translation ready
Clean typography, customization options
Full screen sliders
Multiple theme styles
These templates are designed for church websites, ministries, charities and more religious websites.
More in Website Templates