Website Templates
25+ Wedding Website Templates & Themes
Do you have your wedding coming up? Well, that's amazing – but planning a wedding is always a detailed affair and on top of that, you have so many people to inform about the celebration. There will be friends asking for your love story, there would be out-of-town relatives calling on for directions to the venue and so on. A wedding website here would be a lifesaver for you here, putting all the information you need to tell your guests and they need to know in one place. You May also See Wedding PHP Templates.
Your wedding website would include a bio about you two so that relatives from both sides can know about the bride and groom well. Then, the website will also include briefs on how you two met, how your man proposed, how you courted and your thoughts or excitement about marriage. Creating wedding websites have got easier today courtesy the free Wedding Website Templates.
Weddings is a beautiful WordPress theme designed especially for enthusiast people interested in showcasing their wedding and making all their invitations online. The responsive layout carried by this beautiful theme is packed with a wide range of features including: You May also See Wedding PSD Templates.
100% responsive layout
Large sized header image
Multiple customization options
Options to edit color scheme, style and layout
This theme wonderfully helps to make your wedding classy.
Wedding WordPress Theme/Template
Perfect Free WordPress Wedding Theme
TwoGether is a beautiful theme designed to showcase your wedding and life events invitations such that your wedding may last in the memories of all. This theme features wonderful and clean layout with the photograph of couple as a header. The various features carried by this theme are: You May also See Wedding Bootstrap Templates.
Totally responsive to mobiles, tablets etc.
Customizable color scheme
Customizable header image and posts
Simple user interface
Beautiful Couple Free Website Template Wedding
Free Website Template is a beautiful free WordPress theme that gives you wonderful platform for making your wedding invitations, wishes and images online. This comes with an eye-catchy wedding oriented layout that is capable to attract your guests. Here are various features offered by this theme:
Fully responsive design
Easy and multiple customization options
Large slider and effective gallery
Easy to use interface
Find Premium Professional Wedding WordPress Theme
Wedding Lite is a wonderful and elegant WordPress theme designed for people interested in showcasing their weddings online. This free WordPress theme is fully responsive and can be used throughout all types of devices. Here are its major features:
Default customizer API support
Contact form 7
Woo commerce plugin for ecommerce
Customizable colors, header and images
Easy to use and customize
Free Modern Wedding Website Theme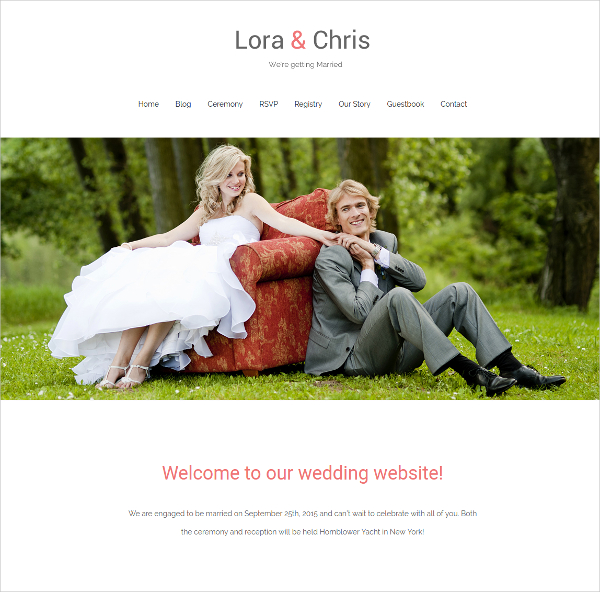 Match Lite is a beautiful WordPress theme designed for wedding blogs and websites highlighting amazing photos of wedding to showcase its original beauty. It is packed with a wide range of features some of which are:
100% responsive design
Responsive post formats, layout, featured images
Custom menus, background and more
Translation ready, retina ready & SEO ready
Widgeted sidebars
Wedding WordPress theme is an awesome theme that lets you keep your friends and family informed about the upcoming wedding and other important events to be taken place. This theme also lets you share images and create gallery of the events wonderfully. The various features it offers are:
Fully responsive design to mobile, laptop, iPhone, iPad and more
Multilingual support, easy customization
Banners ready, custom menu support
Beautiful image slider
Wedding Free Responsive Wedding Joomla Website Template
LT Wedding is a beautiful Joomla template that is designed for wedding planners, personal wedding websites and more. This clean, stylish and elegant themes comes with a wide set of features which include:
Fully responsive layout
Multiple color schemes to choose from
Easy drag and drop interface
Customizable images, banners and more
Free HTML Template For Wedding Website
Try Free HTML template for wedding website in order to highlight your wedding website, wedding blog or similar work more elegantly. This wonderful theme features a beautiful and responsive design that can render perfectly throughout various mobile devices. Here are its major features:
Fully responsive layout
JQuery slider script
Easy and deeper customizable made possible
Multiple color schemes
Creative Free Wedding Website Template
Wedding Website Template is ideal solution for personal wedding websites, wedding blogs, wedding photographers, wedding planners and more. This elegant theme is capable to work with all modern browsers. Here are its major features:
100% responsive design
HTML & CSS file source code included
Sliced PSD files included
Easy customization options
Free Nice Couple Wedding WordPress Website Theme
LT Wedding is a responsive website that is made to suit the mobile phone screens also. With the beautiful designs on it, the theme is a perfect option for wedding planners.
The layouts can be easily made through drag and drop options
Different pages are available such as about us, Portfolio, services and events
Unlimited number of colors offers you with great customization
The theme has been created with the options of CSS and HTML together.
Free Wedding day WordPress Website Theme
Wedding Day is a theme and template that is made for multiple purposes. Whether you wish to have a wedding planner or wish to create an album for wedding, this template is very much useful in such purposes.
The responsive website is supported by WooCommerce
It is SEO optimized and has short codes ready
Custom menu, custom widgets and social share bar are also among many features
Along with these important features, there are many more to name such as Google Map, contact page and customizable side bars
Premium Theme Free Wedding Website
Octavia Merger is a wedding theme by Fab Themes. It is helpful in creating wedding albums for many in the most beautiful way. With various features, the theme is a complete package in itself.
Creating new page is easy with various options
Various points such as the couple names, date, messages and all are displayed in details
The slider at the homepage can be used to get featured images
The theme allows configuring various banner ads easily at the side bar.
Free Beautiful Wedding Website Theme
EWedding is a perfect for creating wedding websites. The theme is known to offer standard features and also some of the most modern features to be offered.
RSVP can be received in an interesting way through text on the mobile phone
It is available in both free and well as the premium version
Perfect customizations available
The theme will allow you to share your relationship details such as events like your first meeting on the timeline.
Free Blog Wedding WordPress Website Theme
Though Unite is a perfect for wedding blogging, but it can be also used as any other blogging site with a lot of images at the center. Some of the features that Unite may offer you are:
Framework created on Bootstrap 3
Flat design but responsive website
Infinite scroll and translation ready
The theme features sliders for homepage and is about to introduce WooCommerce soon.
Design Free Blog Wedding Website Theme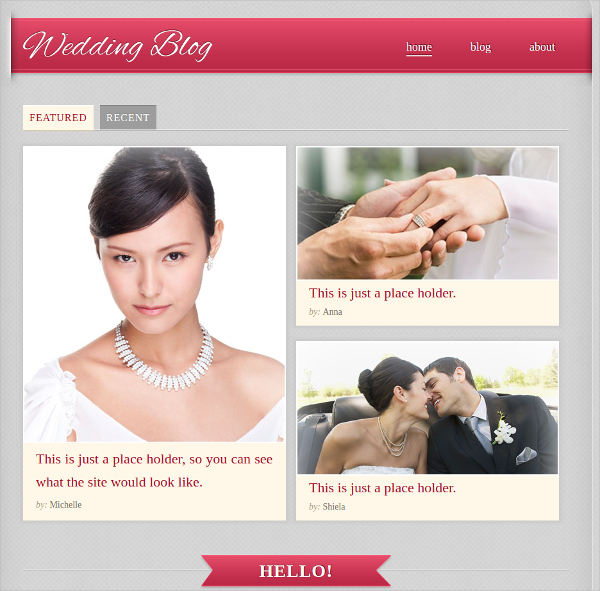 This template is ideal for website owners who have started or wish to start a bridal shop. A perfect template with well designed subpages is presented with a number of many other features.
Different images in compressed versions
Different fonts of various types available from third party source
Designs are available as PSD files.
The template is compatible with almost all the web browsers available at present.
Awesome Free Wedding Website Template
This template is awesome for people who wish to make their wedding to be a memorable event that can be shared with all in the form of a customized wedding page. To make such a page, the template offers a number of features such as:
Stock photos for help, along with photos from your device.
Animation through HTML plus flash
24×7 customer care support provided.
The template offers guaranteed satisfaction of a happy service as per your need.
Fullscreen Free Wedding WordPress Theme
Fab themes bring Helix matrimony, a WordPress theme for the concept of matrimony service site. The theme has a number of features to offer.
A format is provided such as date, name of the couple and so
Slideshow of images can be added
Home page can be customized
Apart from these features, the template also has various backgrounds, social bookmarks and social banner settings.
Free Special Wedding WordPress Website Theme
Wedding, birthday and other personal events are some special days that are cherished later on in life. This particular WordPress theme allows you to make these events even more cherishable with its enumerable features.
Customized menu and widgets
Shortcuts and translations available
Social share option and contact list
Also the theme supports some extra features such as WooCommerce and Google Maps.
Free Wedding Website Bootstrap Theme
People save memories of wedding in different ways. Saving it in the form of Free Bootstrap theme is simply amazing. With a number of features, one can create the magic again and again each time.
It has a homepage, contact page and many other customizable pages.
The web pages are in HTML 5 and CSS 3.
The background can be customized with a number of colored offered.
The theme is compatible with the web browsers Chrome, Firefox, Opera, Safari and IE9+.
This WordPress theme is for couples who wish to create a memorable album of their wedding. The theme comes along loaded with shortcuts, sliders, thumbnails and contact form.
The theme is compatible for both computer and mobile.
Multiple languages are supported.
14 numbers of customized widgets are provided.
The theme is compatible with the latest version of WordPress and also with all major web browsers.
Elegant Wedding Free WordPress Website Theme
This theme is perfect for creating a wedding album so that people who could not attend the wedding can enjoy each and every moment of the event. The theme along with its varied features offers a great display.
Names and other details can be arranged in header footer or other suitable places.
Images can be arranged for slide show
4 custom widgets are there available on the homepage.
Banner ads can be configured at the side bar of the template.
Stylish Free Wedding Website Template
If you are planning to start a business for creating online albums of wedding events, then this template can be very helpful. With a customer support that is available for 24×7, the template provides great service with varied features.
Stock photos are available for life – time use.
This is a free template that can be used for events like wedding.
HTML plus flash is for animation.
To get a better result, you may have software like Adobe Photoshop with the template.
Now this is an amazing template that has been designed for those who are planning for their wedding ahead. Also it can be great for those who wish to create album of past events of weddings.
The template is responsive so that it can be viewed both on computer and mobile
Banners can be easily edited
14 different customizable widgets and themes are available.
The template is available in multiple languages and is compatible with latest WordPress and browsers.
> Why To Go For Wedding Websites
Well, first and foremost, the website will help you to list all important information about the wedding on a single portal so that your guests can check them anytime. Be it information about your wedding date or wedding venue or engagement party or travel accommodation or direction to the venue- you can include everything there. You May also See Wedding Blog Templates.
Then, you can even save on printing out the invitation cards or at least save the date cards through the wedding website as the guests will be able to check the dates whenever they want to from the website. On their part, they won't even need to waste money on calls to you to clarify the dates, venue or other data about the celebration. You May also See Wedding Joomla Templates.
Another crucial benefit of having a wedding website is that the wedding website templates will assure easy RSVP for the guests. Finally, having a wedding website is always an eco-friendly approach as it encourages you to save paper. You May also See Wedding PrestaShop Templates.
> Why To Go For Wedding Website Templates
Creating a website from scratch in the midst of planning your wedding is always a huge affair and in such situations Wedding HTML Templates are always handy with their readymade website framework. Moreover, you can customize these templates anyday as per the typical feel of your websites. If you have limited content and you wish to keep the matter brief, there are one page wedding website templates to take to. Then, you will also find responsive wedding website templates so that the website can be viewed easily from all browsing devices. Finally, as many of them are available free of cost, just imagine how much savings you are going to make!
> Tips for wedding websites
Use romantic shots to liven up the mood
You can include gift registry information
Keep the website tone cordial and friendly
Make sure all the information provided are correct
Be prompt to update last-minute changes
Mention beforehand if there is any special feature in your wedding party, like special dress code or cash bar
> Come to us
If you are looking for best free wedding website templates, you can easily have your ultimate pick from our huge collection at template.net.
Want to showcase your wedding, invitation and wishes online? Create an exceptional and most promising wedding website using free wedding templates available for use. These free wedding templates carry amazing layout suitable to be used for personal wedding website, wedding blogs, wedding photo album, wedding planning business or even more. The major features carried by these Free Wedding Website Templates include:
Options to showcase photos, videos and animations as well
Advanced typography options
Unlimited color options
Fully optimized to mobile devices
User friendly layout, SEO ready, easy customization options
Custom header footer
More in Website Templates