Business Cards
15+ Embossed Business Cards – PSD, AI, EPS
You can convert an ordinary business card into an exquisite one through the process of embossing. Embossed business cards create a three dimensional effect. It basically helps highlight certain sections of your business card by focusing on them more than others. Go through the following embossed business card designs and you will get the hang of it. The idea is to make your business card stand out from the rest of the other ones.
Embossed Business Card with Dots
This card has a sinking effect to it on its front side. The file can be edited at ease in Photoshop since it comes in the form of PSD format.
Branding Embossed Business Card
This particular template is photorealistic and comes in a bundle of 5 different types of mock up samples of such. The background, text and color can be edited very easily.
Modern Embossed Business Card
If your business is based on technology or design based, you can put this card templates to use. The content on the card can be easily scanned and read so that the reader gets information as soon as possible.
Realistic Embossed Business Card
This particular template is very bright, natural to look at and joyful as well. You can easily edit and add the background design, logo and various other sorts of details regarding your company.
Embossed Effect Business Card Template
Hot Foil Embossed Business Card
Photorealistic Business Card Template
Embossed Gold Plate Luxury Business Card
3D Embossed Business Card
Editable Embossed Business Card Template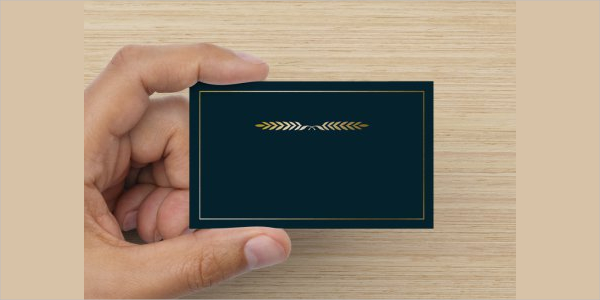 Grey Embossed Business Card
Embossed Metal Business Card
Showcase Embossed Business Card
Blind Embossed Business Card
Embossed Lotus Flower Business Card
Elegant Embossed Business Card
> How can you make use of embossed business cards?
Emboss business cards are very unique in terms of its look. Such 3D effect cards can only be used by companies who are in the business of creativity. If you happen to be a VFX or a 3D artist who is into freelancing or happens to have your own designing company then you can opt for this type of a card. The embossed effect can be given to the logo or the picture that the business card comprises of. Such cards are very hard to break as they come in the form of plastic cards or in the form of metallic ones.
> How different are these embossed business cards?
The only thing that makes this card different from the other types of business cards is it's leveled up feature. These cards also come with a 3D effect which makes people think that the image of the theme is coming up from the object. Emboss business cards differ to a great extent when it comes to comparison with the normal and simple looking cards. Their embossed effect makes them noticeable to those who happen to hold such a card with him. They come in the form of plastic cards or the metallic ones which not only makes them sturdy but unbreakable. You can also see Engraved Business Cards.
> Which places can make use of the embossed business cards?
MNCs or corporate offices cannot use these embossed business cards. If you happen to be a freelancer or a proprietor of a designing house or any other forms of creative agencies then you can put it to use. These cards have a very informal and casual appeal and thereby have a creative look. They not only give your company a distinctive look, but can make a very good marketing tool when you need to approach your potential clients. Also salon and parlor owners can make use of such cards and distribute amongst its zone of audience.
Emboss business cards are basically realistic cards that allows you to produce clean and elegant designs with the mix of an embossed logo and other details in the form of images and texts. You can find them in PSD forms in bundles that can be easily edited with the help of Photoshop. The innovative technique used here raises the design to multiple levels and gives an astonishing 3D effect that you have never viewed before.