Order Templates
20+ Free Order Templates
Order forms are essential documents that are used for different transactions or business dealings. Usually an order note is being filled by customers during the time of purchasing or ordering certain products or services. An order form clearly states the number of items ordered, the time it was ordered, and so on. Business owners or service providers are the ones who often use a form of this type.
There are people who prefer in making their own order form instead of just downloading available templates on the web. However, for those who want a much easier and efficient way of making an order form, our list of free order templates are the best deal! These are pre-made and easy to modify form templates that are surely be of huge help.
Purchase Orders
Building Purchase Order
north-scott.k12.ia.us
Blanket Purchase Order
centenary.edu
Sample Purchase Order
farmtoschoolbc.ca
What Is a Purchase Order?
There are several types of order forms available, and one of the most commonly used is a purchase order.
It is a commercial document and is the first official form offered given by a buyer to a dealer.
It also indicates the types, the quantities, and the prices for goods and services that are settled upon.
A purchase order is also a legal document that protects both the purchaser and dealer.
Importance of Purchase Orders
They can lessen the occurrence of double orders. Keeping track of orders seems pretty simple, but as you level up, purchase orders can keep track of what are the things ordered, who ordered those things, and when was it.
They can be used in financial audits. A purchase order is an ideal document for any audits in a business or retail setting, that might occur in the future.
They can assist you in keeping track of orders that are incoming. Having a systematized purchase order makes it easy and simple to determine what are the incoming products. This will make the inventory and shipping management simpler.
Now, when it comes to creating a purchase order, you might want to see our purchase order templates for your reference or you can download it if you want.
Change Orders
Engineering Change Order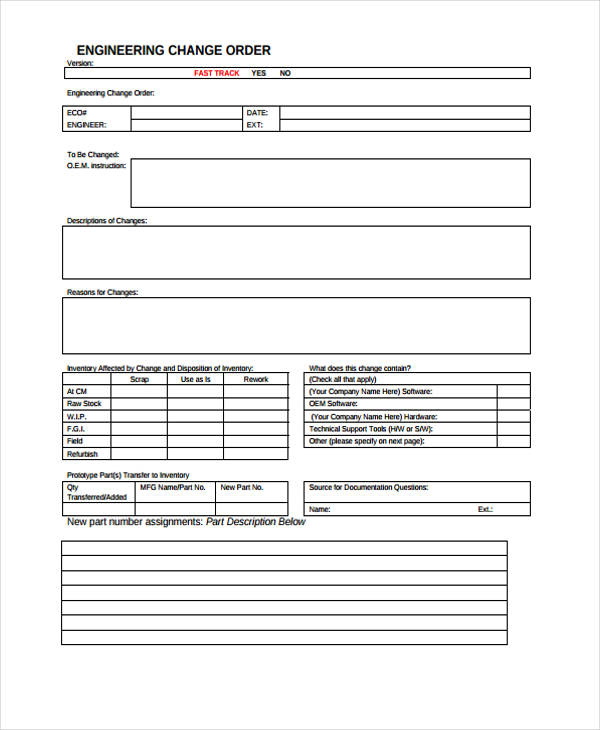 componentsengineering.com
Construction Change Order
rd.usda.gov
Contract Change Order
rd.usda.gov
Event Orders
Special Event Order
salemk12.org
Sample Event Order
abbotsfordcentre.ca
Banquet Event Order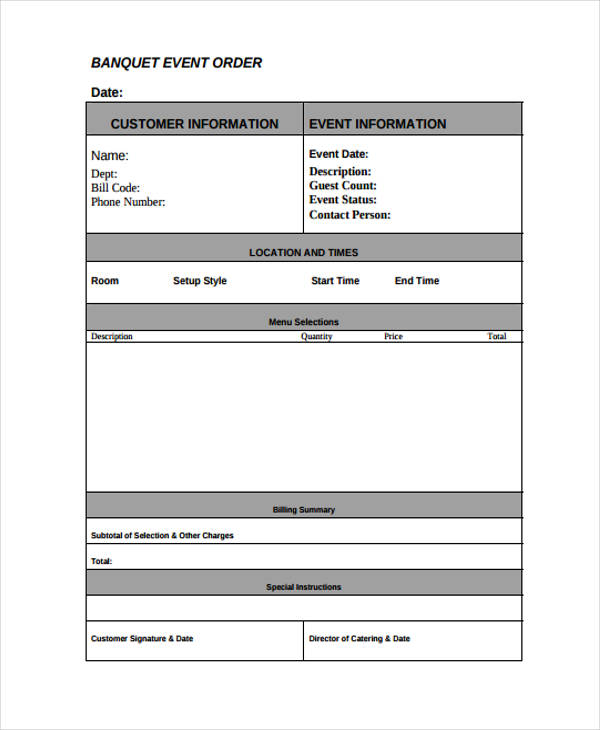 tc3.edu
More of Our Free Order Template Samples
We have here a list of different order templates that you can make use of. You can choose which one you think is applicable to your needs. Or if you want, you can download them all! Check our samples here:
Change Order Template – This is the ideal template to use if you want to add or delete a work from the original scope of work. This type of order form can also handle significant changes to a present or new project. So for a hassle-free creation of a change order form, download this template instead.
Event Order Template – This is the template you will use if you're making an order form for events or occasions. This is a document that summarizes the details of certain events and also serves as a guideline for the logistics.
Service Order Template – If you're making an order form that is intended for performing services on an item or doing generic tasks to be performed, this template is what you need. It includes tasks such as installation, repair, cleaning, inspection, and so on.
Repair Order Template – This template is useful for making a repair order form that is designated for services or work that is done by an external party, and for which the party will then send you an invoice. This has all the details required in creating a repair order form.
Sales Order Template – If you are making an order form that is intended for sending confirmation documents to customers before delivering the goods or service, then this template is what you need. This is a well-written sales order template that you should download or use as a reference.
For other order form variety, you might want to see our standing order templates and insertion order templates, these are well-made templates just like with the samples found on this page.
Service Orders
Transpotation Service Order
archives.gov
Service Order Sample
cas.org
Supply Service Order
greatwestlife.com
How to Make an Order Form in Microsoft Office
If you prefer to make an order form from scratch using Microsoft Office/Word, just follow these steps.
First thing is, you need to open a new Word document and then click File, Options and then click on the Customize Ribbon tab.
Tick the Developer box and then choose OK. The Developer tab displays on Word's ribbon platform.
You need to enter the headings that you want to add on your order form and this should be added as a regular text. Let's say, for example, you might want to add headings for titles, addresses, names, or product codes.
Then, click on the Controls section of the Developer tab and then choose the Design Mode to display Word's form control buttons.
You may use the control buttons to include controls into your form. Controls are the ways of adding details to the form like text fields and check boxes. The headings on your form depends on which controls you use.
Click the File and then select the Info button and click the Protect Document.
You can now save the document so that your form will be complete.
If you want to use templates for your order form, you might want to check out our delivery order template and purchase order template since these are pre-created and well-made order templates.
Repair Orders
Garage Repair Order
utdallas.edu
Equipment Order
codot.gov
Sales Orders
Sample Order
zcomm.com
Product Sales Order
nche.ed.gov
Supply Orders
Office Supply Order
neuroscience.gsu.edu
Cleaning Supply Order
trubrew.com
Medical Supply Order
tmhp.com
Requisition Orders
Sample Requisition Order
sllboces.org
Voucher Requisition Order
faopharmacy.unc.edu
Reasons to Use Online Order Form Templates
An order online form can sell not only materials but also in any types of services. It can be easily adapted to supplier's needs too. With these pre-created order templates, regardless of what type of order form you'll be making, it can surely be integrated with it.
Here are the major advantages of using online order form templates in selling your products and services.
A complete and understandable offer. Using an online order form allows you in listing all the items that you are selling in dropwdown lists or checkbox sections. A customer's preferences with respect to goods and service models are examined in similar methodical manner.
Stable process when it comes to ordering. It will just be easy for a customer to choose the product or service and the connected options. Customers will just filled-out an order form, then done!
Modernized and advanced features. With these order templates, it will be easy for you to associate prices with different items that are within the same online order form. You can also make advanced price calculations in which it will automatically apply taxes and discounts.
So when it comes to order form templates, regardless of what you need, we got you covered. You can also try our work order templates.
More in Order Templates
| | |
| --- | --- |
| 20+ Sales Order Templates – Free Sample, Example, Format ... | Excel Order Form Template - 8+ Free Excel Documents Download ... |
| 15+ Insertion Order Templates – Free Sample, Example, Format ... | 20+ Delivery Order Templates – Free Sample, Example, Format ... |
| Order Template – 20+ Free Word, Excel, PDF Documents Download ... | T-Shirt Order Form Template – 21+ Free Word, PDF Format ... |
| Excel Work Order Template - 6+ Free Excel Document Downloads ... | 15+ Food Order Templates – Free Sample, Example, Format ... |