Acquisition of office materials and supplies is imperative and must be done on a regular basis by the procurement team. Without proper and regular material purchasing, the office would definitely be in the rough all the time because of insufficient office supplies and an ineffective order form template.
To resolve the issue on material insufficiency, the management must know how to appreciate the existence of office order templates online. Order template uses are limitless, thus beneficial to whoever downloads the same. For several samples of such office order templates, you may continue scrolling down to check templates of office work order, supply order for office and change order for office.
Work Order Word Template

Download
Sales Order Excel Template

Download
Delivery Order in Word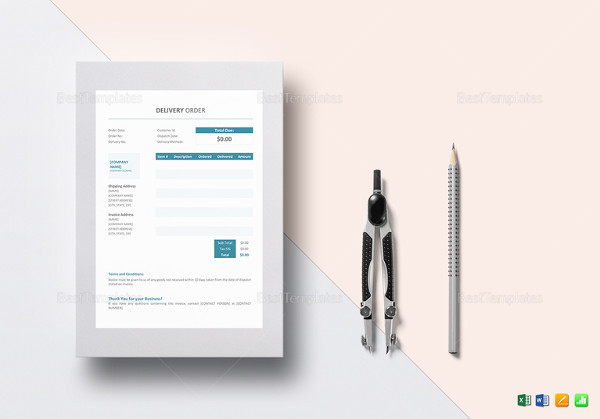 Download
Office Purchase Order Template
Supply Order for Office
Office Work Order
Change Order for Office
How to Write Office Order?
Office orders, order templates, and purchase order templates are deemed necessary in all aspects of the business operation. For a perfect office order, a writer must bear some points in mind, to wit:
The document must contain pertinent details of the purchasing company and its vendor including but not limited to:

entity name,
contact person,
his phone or direct number,
email address,
and the date as to when the form is released.

The document must contain a customized table where the ordered items can be listed or itemized. The table may include each item's description, quantities ordered, item's serial or code number, unit price, and its respective subtotal.
The document must have some payment details as well. The mode or manner of payment, of course, is based on the agreed terms of both parties.
How to Write Order Letter?
Unlike blank order templates and sample order templates, an order letter is a document in which the purchaser sets forth further terms or conditions with regards to its current order. The letter must be composed with some consideration in mind, to wit:
The letter may contain some more terms and condition with regards to the order placed by the purchaser.
The letter may emphasize some important details related to the purchase including the item's delivery, the manner of conveyance, payment term, and the like.
The letter may also serve as a reminder of the current order as well as the consequences if ever the order comes in later than expected.
Office Order Example
Office Executive Template
Office Stationery Order Sample
Office Appointment Order
Difference Between Office Order, Circular & Notice?
Significant differences of an office order, a circular, and a notice do set each document apart from each other. These differences are noted below:
Audience to whom the document is intended. An office order is for vendors and suppliers; a circular is for a specific group of people; while a notice can be sent to a single individual only.
Purpose. An office order is issued to acquire materials; a circular is related to advertising or informing a specific group; while a notice is for authorization, termination, or cancellation purposes.
Format. An office order, a circular, and a notice have their own corresponding format being followed. Some may be in blocked-style, in freestyle, in justified format, or even similar to a legal contract.  For format-related searches, you may click order receipt templates or service order template.
These three documents are essential and effective in their own respective ways. Their content and format do vary from one another as well. However, if done correctly and appropriately, they would play a vital role in the documentation, filing, and other document-related purposes along the way.