Design Templates
10+ Best YouTube Channel Design Templates
A beautifully designed Youtube channel goes a long way in attracting loyal subscribers. Let's say there are many 'channels' based on a similar theme; what will really drive the audience is a channel that looks strikingly good with a great design template. What can you do to make it appear unique and cut above the rest? You can give it a refreshingly new look by decorating it well by using the available YouTube channel design templates on the internet. Here is a good list of 12+ best YouTube channel design template that you can use to give your YouTube channel a customized appeal: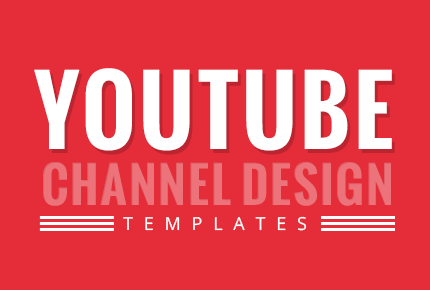 Business YouTube Banner

It is a simple YouTube Channel Template that can be easily edited and used. Adding this template will certainly give your channel a very professional touch. It can suit any type of industry.
Cooking YouTube Banner

Love to cook or love to eat different kinds of cuisines? It's a marvelous YouTube channel cover for food lovers.
Professional YouTube Channel Background

This template comes with two high quality PSD files that can be customized completely. The black and blue color scheme gives it a very sophisticated appeal. It is a very neat and creative design.
Android YouTube Background

We all know it well that YouTube and Android are all the services that are connected with Google. Using this template will incorporate the magnificent appeal of Android to your YouTube channel.
YouTube One Channel Comics Style Template

This template will add a funny appearance to your channel. It comes with a fully customizable PSD file and is available in various color schemes. It presents its users with three variations of comic bubbles.
Flames

This template is available in five premade color combinations. It is suitable for those YouTubers who enjoy gaming videos and high resolution graphics on YouTube. It is fully customizable and can certainly make your YouTube channel appear unique.
Metallic YouTube Channel Background Template

You can deck your YouTube channel with a metallic cover. Your new visitors will surely be impressed with the new design. Even a novice can edit and use it seamlessly.
By using this template, you can completely brighten up your YouTube channel with a shade of blue color. Circles of different sizes and variants of blue make it appear all the more beautiful.
Excited

If you feel like decorating your YouTube channel with vibrant colors to attract new subscribers, you need try this wonderful template. It comes with circles and triangles of various sizes and colors.
Nebula

Enhance your YouTube channel with cosmic particles by using this template and give it an out of this world appeal. Your YouTube channel visitors will surely get impressed by this new design.