It is always a business' goal to ensure that their products are recognized by people, and this obviously helps them to get a profit and grow. But just like any other aspect in a business, there has to be a specific person assigned in managing and promoting their products, otherwise, it might be mishandled and may even lead to losses instead of profits. These persons are referred to as product managers, and they are specifically trained at doing their tasks effectively.
Regardless if your are already working for a client, working independently, or still in the process of looking for a client, you may need to use an email signature that you can attach to all your emails. Below, we have a collection of email signature templates specifically for professional product managers, you may want to consider using any of them to make your own email signature.
Professional Product Manager Email Signature
Download
Product Manager Email Signature Example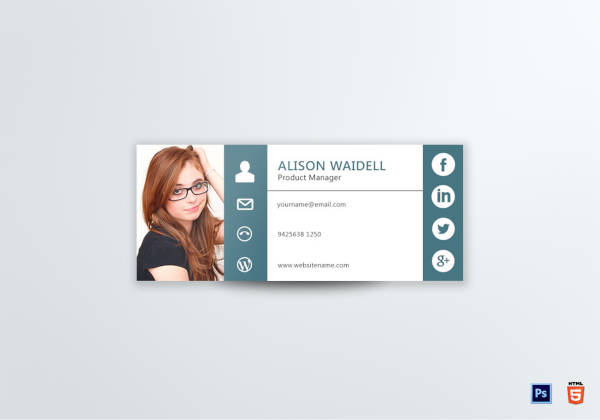 Download
Project Manager Email Signature Template
Download
Why Do People Use Email Signatures?
For professionals, sending emails help in gathering the needed prospects and lead that can probably enable their profession or business to prosper. With standard email signatures, it actually adds to the legitimacy of a email. Today, a lot of people receive spam emails everyday, and some of it may contain files that can intrude the computer's privacy or even damage the software. This is why professionals should use email signatures, to make their emails trustworthy and safe to open.
The following are more reasons why people still use email signatures:
1. Promoting the Business Through Every Email Sent
The email signature section works as an advertisement to your business, and for every email that you sent to a prospect, you are actually advertising yourself to them. And since emails are very easy and quick to compose and send, you will end up advertising to a lot of people for such a little time.
2. Effective at Attracting Clients to Your Business
According to surveys, many business-related emails are able to gather more clients when the reader actually sees an email signature at the end of the email than when it simply ends with the name of the sender. This could be due to the fact that the email appears more legit, or it could be due to another reason. But regardless of which, these surveys are enough to tell you to make your own minimalist email signature and attach it to all your emails.
Freelancer Product Manager Email Signature
Multi-Use Product Manager Email Signature
Product Marketing Manager Email Signature
3. It Makes Contacting You a Lot Easier
Email signatures work almost the same way as business cards, wherein they convey contact details of the business to their respective leads. When the recipients of the email see the signature and the contact numbers indicated at the bottom of the email, this will most likely motivate them to give the sender a response or a call. This is actually better than having your prospects look for the contact numbers themselves.
4. It Leads to More Followers on Social Media Websites
The thing about email signatures that make them more superior than professional business cards is that the social media account of the person sending the email can be reached easily, thus leading to more followers. With email signatures, it is always best that the social media icons are actually clickable, so that when the reader wants to gather more information about the business, they will only need to click on it rather than manually copy the URL to the browser.
5. Professionalism is Key, and Signatures Help Make Your Business Professional
What else is there to say other than people look up to businesses that appear trustworthy, and we have even mentioned that earlier. A professional image is what really helps to attract people to a business, and it can even help in keeping them loyal to a particular business if they are satisfied with the products and services. Back to clean email signatures, it clearly conveys a message through the email that the sender is telling the reader that they can be trusted.
Sample Product Manager Email Signature
What Is a Product Manager and What Do They Do?
A product manager is defined as a professional who investigates, chooses, and implements the development of products for a company. They perform various tasks for an organization including communicating product vision from the development down to the implementation teams. You can also read creative email signatures.
But when it comes to their main responsibilities, they have three of them, which are:
1. They should always be transparent with regards to the processes, including the prioritization of one idea over another. Product managers should learn to explain why they chose to prioritize such ideas and how they came up with those decisions. You may also like professional email signatures.
2. They should be firm with their decisions if ever they come across an idea that they will have to reject maybe because it isn't relevant—either ever or at the moment. Executives or stakeholders may approach the product manager with an idea that seems to sound good, but if the latter believes otherwise, they should always learn to say no and provide the former with an explanation that is easy to digest. You may also like interior designer email signatures.
3. Back at it with the prioritization of ideas, product managers should take into consideration the size of the company, their simple budget, and the resources needed for the development of the product. They will need to keep prioritizing and weighing the factors involved for attaining the objectives for the products and the demands of the stakeholders.
Business Product Manager Email Signature
What Are the Types of Product Managers?
When it comes to types of product managers, we're not really talking about "type" as in classification or category, but rather, the type that speaks on how one performs their task. Still confusing? Let's just say there are various ways in which product managers work, and listed below are some of those types:
1. The eCommerce Type
These product managers enjoy looking for improvements to both conversion and retention, and they help clients find what they need with the best amount of work. They are mostly focused at optimizing conversion flows from marketing landing pages and onboarding, and at presenting new ideas to attract new and old leads.
2. The Workflow Type
These product managers carefully study the workflow of clients and find ways of improving it by building various tools.
3. The Social Type
These product managers rely too much on their psyche that they try to understand what goes on when users share and connect with one another. From these understanding, they develop and test ways in which engagement is driven more effectively and connections are deepened. You may also like content writer email signatures.
4. The Technical Type
These product managers are very good at building services for others to use. They are more on the technical side and know how to manage the development of external APIs (Application Programming Interface) and development platform. You may also see education email signatures.
5. The Mobile Applications Type
These product managers are expert at tasks related to mobile devices such as mobile designs and app store processes. You'll definitely be able to find most of them leading Android and iOS native app teams.
6. The Artificial Intelligence Type
These product managers help improve search success rates as well as time to conversion. They are expert translators between the needs of users and their problems that can be solved through algorithms. You can also read business service email signatures.