11+ Developer Email Signature Designs & Templates – PSD, AI, HTML
When we say developers, it is a highly broad term to refer to a profession, but for most people, the first thing that usually comes to mind is computers. This is something that\'s understandable since developers are indeed specialized at developing, managing, and improving computer-related programs. Developers get a hands-on exposure to computers, from writing codes to designing user interface layouts, they are all about creating something for people to use. You can also read professional email signatures.
Today\'s generation is almost entirely dependent on the use of computers, which is why the roles of developers is very important nowadays since they make it easier for people to get the job done. Developers seek out trends in computers and programs, finding out how they can make them more user-friendly while still managing to make them efficient and productive. You can also see modern email signature templates.
Free Web Developer Email Signature Template
Developers Email Signature Template
Download Now
Php Developer Email Signature Template
Download Now
Java Developer Email Signature Sample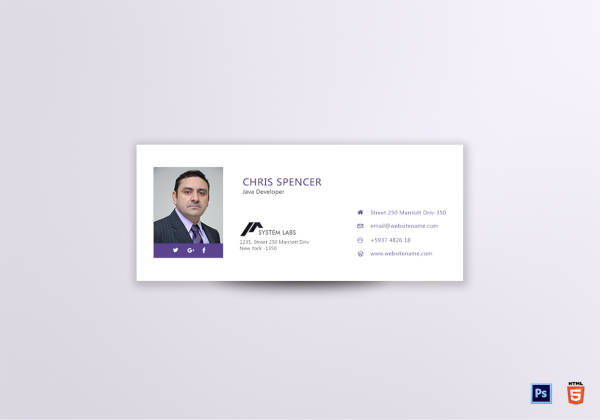 Download Now
But enough about developers since we will be discussing more about them later on, let\'s talk about what we have gathered here for you. Below are various standard email signature templates specifically for developers that they can download, edit, and attach to their email accounts. If this is what you need for getting more clients, feel free to check out the templates below.
Net Developer Email Signature Template
Download Now
Software Developer Email Signature
Download Now
WordPress Developer Email Signature Template
Importance of Email Signatures
As part of a professional or corporate identity, an email signature is really important since it helps build the prospect\'s first impression and level of trust towards you. It has been proven to get the job done, so why risk losing leads by not attaching a signature to your emails? Email signatures are fairly easy to design, and with the availability of templates that you can download from the internet, not only are they much easier to make, but you can assure yourself that your signature will work.
Many businesses create their own minimalist email signature for their members to use, and this allows them to have a consistent design across the industry. But for freelance workers or those who are running a business for themselves, they can always make an email signature for themselves. This gives them more freedom and control over the design, but should take into consideration the creativity and functionality of the design. When it comes to functionality, an email signature should be able to provide readers with the contact details they need from the sender, and this is the primary purpose of email signatures.
Web Developer Email Signature Template
HTML Developer Email Signature Template
What Is a Developer?
A developer—often synonymous with a programmer, coder, or engineer—is a computer specialist who specializes in developing computer software. Though the title is taken as a general term for someone who writes code, developers are subtly different to programmers and computer scientists, and there are actually various specifications to this kind of field. Later on, we will discuss both the differences between developers, programmers, and computer scientists, as well as the different types of developers. You may also like content writer email signatures.
App Developer Email Signature Template
Differences between Developers, Programmers, and Computer Scientists
1. Developer
They are the code-writers, taking into account that the code is well-factored and clean. Developers don\'t require math skills to function as a developer, though it is required that they keep a close eye to problems related to the domain, and that they are able to find solutions to these problems. You can also like email signatures in businesses.
2. Programmer
Programmers also write code, and they do it awesomely, clean, well-factored, and free of any errors. Unlike developers, these coders require skills and knowledge in mathematics, but is not the primary skill sought from them. Their math skills are simply needed to help them find the best solutions to domain problems. Therefore, a wide range of algorithmic knowledge is very important for developers. You can also like outlook email signature templates.
3. Computer Scientists
Just like the first two mentioned, computer scientists also write code, but their\'s aren\'t the most well-factored and cleanest code that you can ever find. Math skills are very much required from computer scientists, they are even considered to be more of a mathematician than a computer specialist. Their main focus is not only to know how stuff on the domain works, but to really prove that they work. You can also read college student email signatures.
Professional Developer Email Signature Template
Bundled Developer Email Signature Templates
Different Types of Developers
1.Web Developers
The coders specifically tasked at developing websites and web-related applications. These web developers either fall under front-end, back-end, middle-tier, or full-stack developers. You may also like corporate email signatures.
2. Front-End Developers
Front-end developers are those who specialize in programming visual UI (user interface), including its layout. Their code runs on a web browser, and are controlled by a user on the website. You may also like formal e-mail signatures.
3. Back-End Developers
As opposed to front-end developers, these coders specialize in designing, implementing, and scaling of pieces of software or system that are remote from the end-user. You can also read business email signature template.
4. Middle-Tier Developers
Often considered as the "plumbers" of a system, these developers write non-UI codes that run on a browser, and these codes often communicate with the non-core code on a server. You may also see personal e-mail signatures.
5. Full-Stack Developers
These developers do both front and back-end coding, and they have the skills needed for creating fully functional web applications.
6. Desktop Developers
These developers are specialized in developing software applications that run on desktop OS (operating systems) such as Windows, Linux, and Mac OS. You can also like IT email signatures.
7. Mobile Developers
These developers are tasked at writing code specifically for applications that run on mobile devices such as smart phones and tablet computers. The operating systems that mobile developers have to deal with include iOS and Android.
8. Graphics Developers
This is the type of developer that is responsible in coding software related to graphics including the rendering, lighting, shading, and management of scenes. Oftentimes, these developers collaborate with video production and gaming companies. You can also read mobile e-mail signatures.
9. Game Developers
As the title suggests, they are specifically tasked at developing video games. Game developers utilize various frameworks including DirectX, OpenGL, Unity 3D, Unreal, and the very recent RE Engine. When it comes to languages, developers use C, C++, Java, and Flash, though the last one is only commonly used for web-based games. You can also like marketing email signatures.
10. WordPress Developers
These developers use the WordPress system, HTML, JavaScript, and PHP as their tools. They are specialized in designing themes and plugins that are compatible with websites that were created using WordPress. You may also see fashion email signatures.
More in Email Signatures