Emails ending with a signature are the trend nowadays. Be it personal mails or official mails, there is an email signature specified in all of them. For many, it is still a new phenomenon and if you're one of them, we'd suggest you take advantage of an email generator template. Set your email signature, and every time you send a mail, the system with ensure that it generates and attaches a signature in email which is sent from your email account. You can also email signature templates.
Zippysig Email Signature Generator
ZippySig allows you to quickly create email signatures for your whole team. With advanced customization options, a dashboard and amazing technical support, this email signature generator is outstanding! You may also see Google Gmail Email Templates
Standard Email Signature Template

Download
Modern HTML Email Signature Template

Download
Software Developer Email Signature Template

Download
Simple Email Signature Generator
Outlook Email Signature Template

Download
Professional Email Signature Photoshop Template

Download
Gmail Email Signature Template

Download
Html Developer Email Signature Template

Download
Free Html Email Signature Generator
Use this free HTML email signature generator to randomly create custom email signatures that you can use in all your email communications, featuring image placeholders and social media widget support. You may also check out here Corporate Email Signature Templates.
Create Bizedge Email Signature Template
Free HTML Email Signature Generator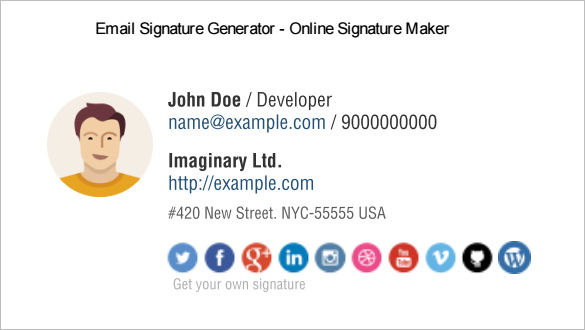 Check out this particular email generator template, it is one of the best in the online market place right now. The template is easy to operate. All you need to do is insert your name, job designation, and other contact information, and the template will generate an email signature on its own! You may also see Responsive Email Signatures.
Free Online Company Email Signature Tool
Colorbar Email Signature Template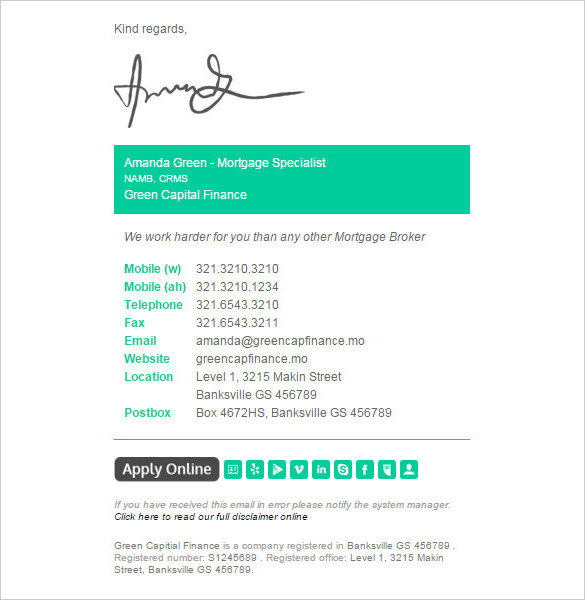 WiseStamp Email Signature Examples
Download the WiseStamp email signature generator that is the perfect example of how a professionally created email signature generator should work, by creating stunning signatures with minimal inputs. You may also see Professional Email Templates.
Best Email Signatures Creator Across Your Organization
Exclaimer Email Signature Creator Online
Corporate Email Signature Template
Growth Mail Beautiful Email Signatures
New Old Stamp Free Email Signature Generator
Best Email Signature Template Generator
Download this great HTML email signature that can be attached directly to your email client so that you don't have to waste time adding it in to your emails manually. The template also features an image placeholder. You may also see Business E-mail Format
Formal Email Signature Template Create
Download
Brand My Mail Email Signature Template Download
Code Two Email Signatures Generator
Email Signatures are Even Easier With Professional Email Signature Generator
Do you need to create email signatures? Well, email signatures are really important to assure an easy communication with your clients and target customers. These email signatures come up with your contact details, company name and designation so that your customer know how to get in touch with you when they are not getting your replies over email. You have html email signature generator to help you with creation of email signatures.
Email Signature Generator Online Free
HTML signature for Gmail Free
Articulate Email Signature Template
HTML Signature to Your Email Client
My eSig Email Signatures
Why to Use Email Signature & Signature Generators
Though many ignore the importance of email signatures yet, these are really important to establish a professional impression for your company or your designation in the firm. A rich customer experience is crucial for the reputation of any company and a clear easy communication plays a major role here. Thus, when your customers are unable to reach you through emails, the additional contact details on the email signature will ensure the desired seamless connection between you two. You may also see Top Business Plan Maker, Tools & Software.
Your email signature is a part of your professional identity to the customers and hence you have to be really perfect here. But a standard email signature will demand pure technical knowledge when you have to create email signature online entirely from scratch- which becomes a problem for those who are not that tech-savvy.
The good news is that you have emai signature makers today that come up with ready-made email signature templates so that you don't have to do anything. You would simply need to download the gmail signature generating tool and customize it with your own data. Then, you would just need to print it out. Yes, it's this simple. The good part is that you can even come up with free email signature templates.
The Utility of Our Templates for You:
The templates range from crisp professional to the vibrant personal. They help you develop your personal style of signature and make you aware of the current market trends.  The formats are flexible and can be used across all platforms ranging from Gmail to outlook signature template.
Tips with Email Signature Generator
The best professional email signature should come up with your name, designation, company name, address, office phone, office website URL and your social media accounts.
Take to email footer generator that will allow you to upload your company logo properly and also your picture. This is to ensure good branding benefits. You may also see Mobile E-mail Signatures.
You can include a short inviting message or cheeky tagline.
Go for responsive custom email signature so that your email signature can be viewed easily on mobile devices.
It's the smartphone generation today and hence you have to be mobile-friendly.
Check beforehand whether you have to include email disclaimer statement below the email signature and if needed choose your email signature tools accordingly. Remember, not all such templates come up with space for disclaimer statement.
Yes & No with Email Signature Generators
Dos
Use formal fonts and stick to a single option
Place your html signature below your email message, just before your promotional message
Offer links only those social media accounts that you are active at as a professional
Stick to 2 colors only
Be clean and concise
Don'ts
Don't include any personal contact detail or links for your personal social media profiles
Don't use too much of colors or too much of graphics on your emai signature creator
Don't include more than 72 characters in each line
We are by Your Side
If you are looking for best email signature generator, we are here to help you with our huge range of gmail signature templates at template.net
We have signature templates for any industry, any professional and our templates are all designed by seasoned professionals. Whether you are looking for email signature bundle or individual email signature template, we have everything.
Thanks to the email signature generators, you can come up with standard email signatures just like a pro, even without any coding knowledge.