The revolutionary 3D technology is mostly associated with the tele and web media but do you know you can have the same thrilling realistic  effect with your paper crafts as well? Yes, there are some subtle smart ways by which you can form the 3D life-like feel with paper works too, sans the involvement of any gadget or technician.
No one can stop a hummingbird from eating nectar from a flower. A hummingbird is a symbol of limitless energy and is filled with sweet nectar. This amazing paper craft template allows you to create an art piece showing a hummingbird moving forward towards its favorite nectar flower. This template looks stunning and ready to make.
Awesome 3D Paper Craft Template
Colors look astonishing when mixed with light. This beautiful spiral colors design with light in its middle looks like as if rays of colors are emitting from the center source of light. This is a unique imagery that evokes inspiration and motivation among viewers. Create it with this awesome 3D paper craft template.
Abstract 3D Paper Craft Free Download
3D art is fantastic, and you could never have imagined before that you can create such masterpieces with paper. This art piece encompasses colors in a black square box, depicting the fact that colors cannot be set in boundaries. Create this 3D art with this abstract 3D paper craft free download.
Excellent 3D Paper Craft Download
Light is symbolic of idea, inspiration and growth. Create this 3D paper craft with the use of papers of different colors, and setting a source of light in the middle. It serves as a light lamp and a source of inspiration as well. Whenever you look at it, you feel inspired to continue with your task.
Extravagant 3D Paper Craft Template
Extraordinary 3D Paper Craft for Inspiration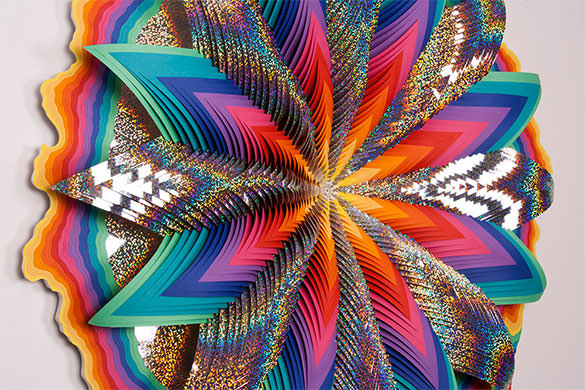 Inspiration can come from anywhere. It can just be a colorful paper craft hanging on a wall of your house or in front of your work desk. Whenever you feel tired, just look at this amazing piece of art, and feel re-energized to get back to work. Create this extraordinary 3D paper craft for inspiration by downloading this template.
Fantastic 3D Paper Craft Free Download
The 3D effect on paper is mostly created through a strategic cutting of the paper and it can be achieved with any paper art design. If you are looking for some great inspiration here, our 3d paper craft examples would be really handy.