Inspirational
15+ Cute & Funny Emoji Text Messages!
If you want to send memes or a good morning love text to a girlfriend, sometimes you have to make it lively with a cute funny emoji to give it some kick. While it is inappropriate and confusing to the older generation, younger people can understand combos of jokes and art accompanied by stories sent by their friends. With our templates, romantic sentences, and friendly conversations between her/him will be a lot easier! Text messages with emojis have their charming appeal and are hence loved by all. Are you too fond of cute emoji text messages and would love to send them to your near and dear ones? Well, that's great and if you require some good inspiration, our fantastic list of cute & funny emoji text messages is sure to please you.
Story We Love Emoji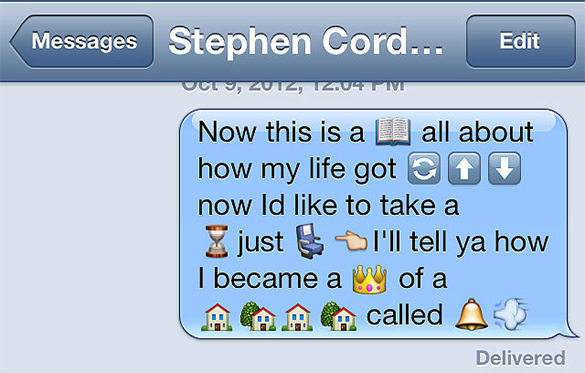 imgur.com | Have you heard that song by Will Smith – "Fresh Prince of Bel-Air"? If you wish to convey it by the smart use of symbols and Emojis available in smartphones, here's how. Some people are experts in using Emojis, we must say!
Clever Sentences These Two Chat Emoji

Few people know Emojis and symbols extremely well. An interesting conversation between two people would show you how and make it quite evident. A Whale Emoji is used for "Well", Donut is used for "Do not" and "bee" is used for "be" in belief. Now that is something, isn't it?
Inappropriate Do Not Stop Believing Emoji

Do not Stop Believing is a great number by the group known as Journey. Did you ever think that it could be written through Emojis? Neither did us. Check it out here and send it to your friends to leave them astonished. Thank us later for the great idea.
Combos Face Funny Emoji

instagram.com | Arrange eyes, nose, tongue, lips, and other Emojis in a great way to create funny faces and convey funny meanings. Now that you have a nice idea to tease your friends, get started and have some brilliant "Emojinal" conversations.
Cute Emoji One Big Happy Family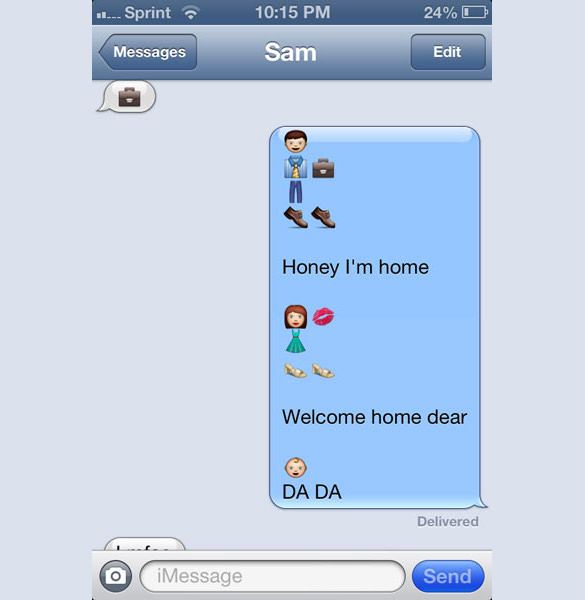 imgur.com | This text message would surely brighten up your face. It describes the scenario of a house when a man returns home to his family and says "Honey I'm home". It would warm your heart and give you a sweet feeling inside when you see how the baby reacts.
Police on the Road Emoji

rayleighdee.com | How a guy is indifferent to the police vans following him is depicted through this text message. Pictures speak a thousand words. The same applies to these symbols on chat. IT is indeed amazing how they can convey so much in a few Emojis and signs.
Landing on the Moon Jokes Emoji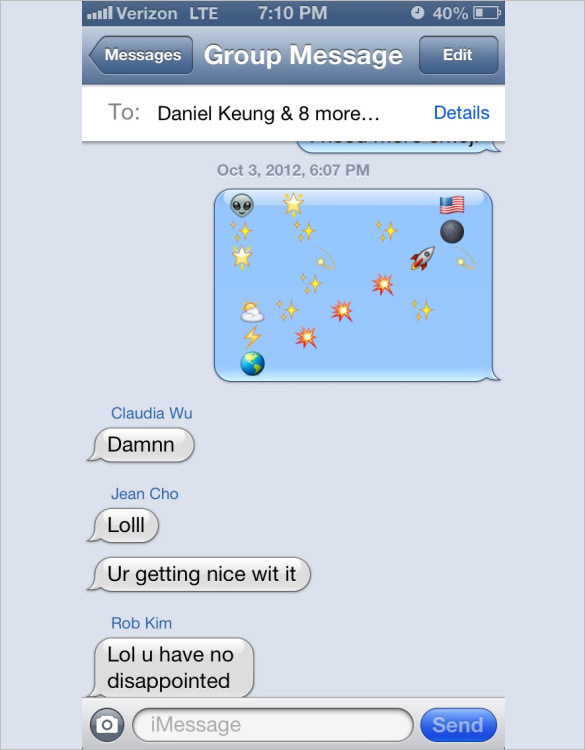 fuckyeahemoji.com | A space shuttle landing on the moon can be wonderfully shown through symbols of earth, moon, clouds, stars, lightning, and a flag of the USA. Creativity exists in the strangest of places and such interesting, cute and funny text messages are a great example of that.
Got it Balloon Her Whatsapp Emoji

instagram.com | Got it Balloon is a sweet text message with a single dialogue – "My balloon 🙁 " and "Got it!" Emojis managed to make this conversation fun to read with the help of Emojis like a guy running after a balloon and a girl catching it.
The Car Ate Him Girlfriend Emoji

cheezburger.com | "The Car Ate Him" is a great way of warning another guy to stay away from your girlfriend. Check it out below and the next time someone messes with your relationship, you know exactly what to tell him. Oops! We mean "emoji" him.
Rob a Bank Emoji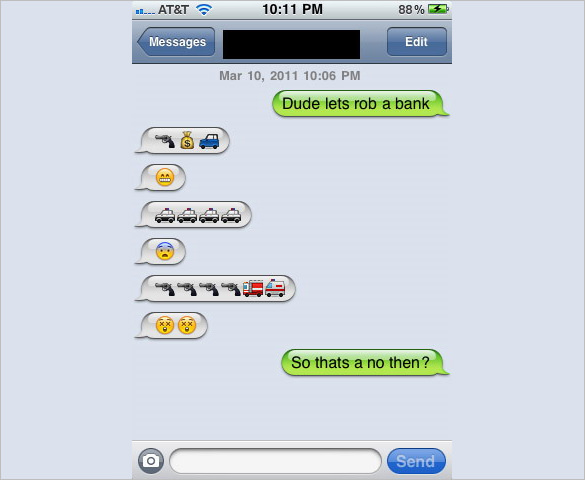 blameitonthevoices.com | "Rob a Bank Emoji" would instantly crack you up. When a guy asks another guy to rob a bank, his reply through Emojis is simply hilarious. Here's what he replied to deny the offer. Try it out and spread smiles in your friend circle. Make sure your friends do not consider you too much "Emojinal". Just Kidding!
Earth & Sun Good morning Emoji
Life as a Teacher Art Emoji

emojipoems.com
Romantic Happy Valentines Day Emoji
A Round of Applause

cheezburger.com
How My Evenings are Spent

islandagram.com
Funny Meme Emoji Text Template
Download
We have come up with a wide gallery of fun emoji text messages here that are sure to match every taste. Whether you are looking to send one to that special person in your life or your bestie or your favorite cousin- we have covered everything.