Inspirational
27+ Glitter Nail Designs and Creative Ideas
There is no better way to add that extra shine to your nails than using glitter. Glitter polish is hardly more difficult to use than normal polish and can be easily done at home itself. What is more there are a range of colors and kinds to choose from to make your easy and Creative nails designs look as much fun as sophisticated.
Simple Glitter Nail Designs

Incorporate this sparkling white and golden nail art design for your mockup PSD that would add trend and originality to your web page. The template is best suited for anyone that has a fondness for fashion & art that is unique and captivating.
Green Glitter Nail Designs

This is one mesmerizing nail art design that would captivate anyone. Green nail paint added with a dash of glitter that further increases its aura, the design is best suited for people that have a strong and influential demeanor.
New Latest Nail Designs

Indulge in the originality of this nail art design which comprises of a faint pink body and has a thick border of beautiful golden glitter. One of its kind, the template should be used by people who are always looking for new things to try.
New Glitter Nail Design

The nail art design is black and white themed and makes unusual use of glitter usage. The design comprises of alternate black and white bodies with small black hearts on the white and shimmering silver edges on the black.
Nail Design Glitter

An abstract and certainly captivating nail art design best suited for people who have an outgoing and fun personality. The template consists layers of shades of orange that are complimented by designs in black.
Pink Nail Art Glitter Design

This shining and gorgeous nail art comprises of a pretty pink body that is hugely embodied with shimmering glitter. The design is best suited for people who are confident and trendy.
Latest Nail Designs

This nail art design is really outstanding in terms of simplicity. It comprises of black bodies with a shimmering golden design in the middle. This is further enhanced by a plain golden glittery body for the middle finger. The template is best suited for anyone who has a driven and ambitious yet trendy personality.
Glitter Nails

Beautiful faint pink bodies with a thick border of shining silver, the nail art design comprises of a crystal bead on each nail where the nail body meets its gorgeous border. Best suited for people who have a confident personality.
Glitter Nails Designs

This nail art design is a classic example of how simplicity steals all. The body is comprised of a blood red shade that is combined with varied sized & coloured glitter sequences. The nail art is for anyone with a strong and bold demeanor.
Glitter Nail Polish Designs

This gorgeous nail art design is comprised of a silver glittered body which is orderly studded with small beaded sequences. This is best suited for people who love experimenting and like the new.
Glitter Nail Ideas

This is one bold and highly innovative nail art design. It comprises of a faint pink body which is gorgeously complimented with a two layered thick body. Within the border, there is a thin glossy shade of pink which is followed by a relatively thicker and widened silver glittered layer. To further compliment the design, the nail on the middle finger is studded with plain beads.
Glitter Nail Design

Another great example of simplicity conquers all, this is one captivating nail art design. The body is purple shaded with hints of golden spots. This elegant nail art design is for anyone with a classy yet unique taste.
Glitter Nail Art
Glitter Nail Art Ideas

This nail art design is really cosmic. A navy blue body that comprises of small amounts of silver glitter. This can give the illusion of multiple universes right at your fingertips.
Glitter Nail Art Designs

This is a fun nail art design which comprises of faint lavender bodies for the nails on either sides. The middle two are comprised of a mild silver glittered body and a lavender flower design that is embodied on a white body. Best suited for anyone who is unique and bold in terms of expression of ideas.
Glitter Gel Nail Designs
Glitter French Nail Designs
Glitter for Nails
Glitter Fade Nail Designs
Glitter Easy Nail Designs
Glitter Acrylic Nail Designs
Gel Nail Designs with Glitter
Black Glitter Nail Design
Glitter Art Nail Design
Easy Glitter Nail Designs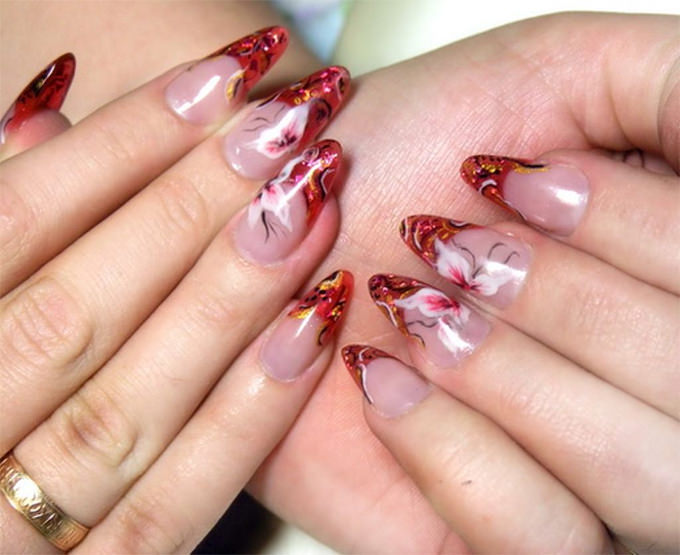 Beautiful Glitter Nail
Black New Glitter Design
Glitter Colors Design
>

Some Great Glitter Nail Design Ideas are:
Go ombre Use glitter nails designs to frost the tips of your nails, especially for long ones. Use a shade of glitter that will complement your base nail colour. Silver and gold go with almost everything. A classic idea would be to use white and gold glitter ombre, which can go with almost every look. ( nail art designs, nails designs, glitter nail art, Crazy Nail Designs )
Don't be shy to use bright shades. You can get coloured polish which is heavily glittered or use a coat of shine on your favourite colour of polish.
>

Conclusion
The above described nail art designs can be used as inspiration and blueprints for wonderful mockup PSDs. They can be efficiently further incorporated for web pages that would definitely meet their actual potential. Consumers and visitors would love the creativity and thought behind your designs and this would certainly benefit your productivity an progress as a web designer. Sources: smashleysparkles.com, paulinaspassions.com, nailnerd.com, luminousnailsandbeauty.com, sheknows.com, foryournailsonly.net
If you have any
DMCA
issues on this post, please contact us!