Father's Day is right around the corner. It's a day celebrating all the fathers and father figures around the world—with cake, presents, and greeting cards. Sure, it may sound quite like a birthday celebration, but instead of celebrating someone's birth, you are honoring a person for taking on a completely noble—and possibly the toughest—role in your life.
If you're currently at a loss for words and have a hard time expressing your thoughts, we've got you covered. Our thank-you card designs contain some of the wittiest and most heartfelt notes customized for all kinds of fathers out there. Download the design you feel best emulates your own thoughts and emotions, and let your dad know how much you appreciate him.
Father's Day Notes for Soon-to-Be Dads
Funny Father's Day Message
Some of the best greeting card designs are those that involve a little humor and wit every now and then. This Funny Father's Day Message is the perfect antidote to the anxious dads-to-be. Let your partner know you're both in for an exciting roller-coaster experience by keeping your note and design casual and funny.
Decorative Thank-You Note
Thank-You Notes to Dad from Son
Simple and Clean Thank-You Note
Being a best friend and parent at the same time is such a rare and challenging skill for fathers; and is such a wonderful experience for children growing up. Let your dad know he's still cool enough to be your best friend and share secrets with using this simple and clean thank-you note.
Custom Father's Day Thank-You Note
Let this thank-you note express how much you look up to your dad, with its simple iconic designs and a clean script font. It can be quite difficult to say everything you want to say to your father, but this note really captured it all.
Best Dad Thank-You Note
No amount of fighting, bickering, and childish walkouts could ever replace you and your dad's awesome relationship. Let him know he will always be your role model with this youthful Father's Day thank-you note.
Father's Day Thank-You Notes for Dads Abroad
Missing You Father's Day Note
This sample card is designed for all the busy dads and those working abroad to support their families. The design keeps the mood light and happy, and is a good way of letting our father know your relationship is still as strong as ever, no matter the distance.
Best Father in the World Message
Let your dad know you're missing him and that you can't wait to see him again with this handmade thank-you card. If your dad is currently based in a different location, it's important to let him know the quality of your love and support hasn't waned; even though your quality time together is limited.
Heartwarming Father's Day Messages from Daughters
Father's Day Thank-You Note
Parents play such a huge role in shaping their kids' view on love and relationships. Let your father know how successful he's been in showing you what real love is like with this minimalist Father's Day thank-you card design.
Colorful Father's Day Thank-You Note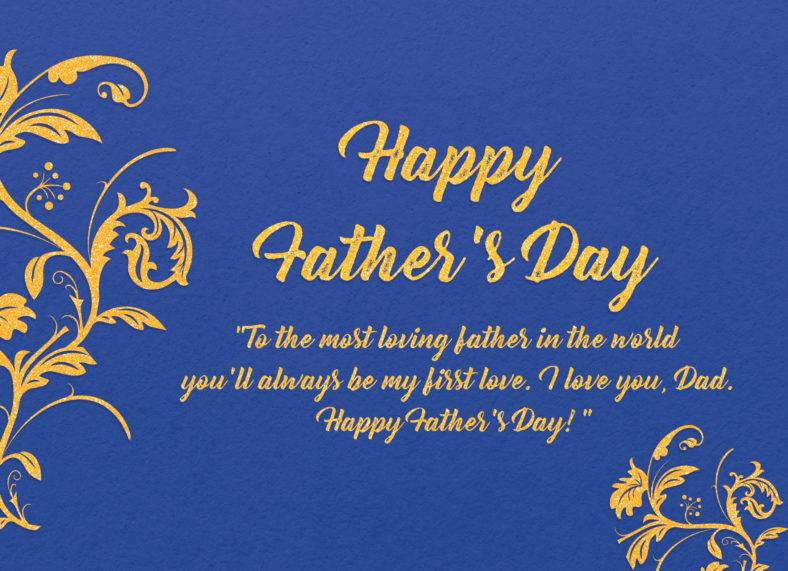 The kind of unconditional love daughters get from their fathers is often telling of the kind of relationships they will pursue as they get older. If you feel like no one could ever live up to your dad, then you know he's done a pretty good job. Tell him how much you love and appreciate him with this elegantly designed thank-you note.
Thank-You Message for Dad
Being able to stick through a teenager's rebel phase is definitely worthy of a trophy. But in most cases, a creative greeting card design will do. This Father's Day card is definitely one worth giving with its thoughtful and personalized note and timeless design.
Editable Thank-You Note
Printable Father's Day Note
Being a father also requires them to take on two conflicting roles: being the worrier and the warrior at the same time. Celebrate the strength of your dad this Father's Day with this printable thank-you card up for grabs. It has a casual design that keeps the atmosphere light, while being very thoughtful and appreciative of your dad.
Thank-You Messages to Dads from Wife/Partner
Beautiful Father's Day Quote
Father's Day thank-you notes don't just come from the kids. Wives, girlfriends, or lifetime partners can just as well send their love through beautiful greeting card designs. Thank your partner for making it through parenthood with you with this vintage card design.
Minimalist Thank-You Note
This thank-you note is designed to let fathers know they're loved and completely irreplaceable by their partners. Download this minimalist card design to give to your partner on Father's Day.
Father's Day Messages for Single Dads
Best Dad Quote
Floral Father's Day Note
Some dads have to take on the role of being the mom as well. This design goes out to the all single dads who've had their fair share of sleepless nights for playing so many roles in the house. Let him know he's the only solid rock you'll ever need with this floral personalized thank-you card.
Fatherhood is a pretty challenging job, to say the least. It is a job that requires all the love, patience, and terrible dad jokes a person could ever muster. It only seems appropriate to have a day just to celebrate these unsung heroes, and one way to do that is through heartfelt thank-you cards.
You can download as many greeting cards for free, customize your own, or have a go at our personalized Father's Day thank-you notes. Never run out of ways to show your dad how much you love and appreciate him. Start downloading!