Website Templates
21+ Event Planning Website Themes & Templates
Event planning is one of the best lines of business to get into. Whether you're a newbie, still learning the ropes, or a pro that knows the trade very well, you would know that an event website is a crucial aspect. Having an event website that is well-made and looks good is important for your business. If web design and development isn't your forte, not to worry. Highly well-designed and qualitative event website templates are easily available to help you design and develop your website. You May also see Best Wedding Event Planner Website Templates.
The device emulators that come with these templates run your website in a virtual environment, and makes sure it is compatible with the maximum number of devices on the market. Templates have dedicated pages to show full schedules of events if the list is long, or you could have the schedule as a part of another page. Maps are an important part of Event Plan Templates and these templates have an option to include both directions to the event and map around the venue. You May also visit Event Website Themes.
Conference & Event HTML Website Template $15

This template is used especially for conference and event planning purpose. It is built with HTML so it is light and simple. This template is pretty useful for basic event planners.
Event Planner Website Design
Responsive Wedding Event Planning Website Template $38

The responsive wedding event planner website template has many wedding website themes. It has many categories of events based on which you can decide your themes. It is very fast and light to use.
Wedding Event DJ HTML Website Template
Conference & Event Planning WordPress Website Theme $44

Conference WordPress website themes are very useful for the corporate companies. It has many innovative ideas for the business. The event WordPress themes are becoming very popular nowadays. This theme has many designs and attractive pictures to use.
Wedding Event Website Template – Free
Event & Conference WooCommerce Website Theme $59
Premium Wedding Event DJ Website Theme $39

The wedding event DJ website provides the musicians and DJs to the weddings. So the website has to be full of pictures like dancing, instruments and etc. This theme has many pictures and also you can add the facilities and the location that you are based on.
Conference & Event WordPress Website Theme $49
Responsive CSS Events Theme $13

The responsive CSS events themes are made of CSS scripting language. There are many responsive website themes in the market today. It is fast and easy accessible theme.
Music Event Online Ticket Website Template
Multipurpose For Wedding Event Website WP Theme $49

The wedding event websites are very simple essential for the wedding planner business. There are many WordPress event planning themes, these themes are also multipurpose i.e., it can be used for other event planning also.
Website Design for Event Planner Template
Wedding Event Planning HTML 5 Website Theme $17
Event Planning Agency Website Theme $59

The event planning agency should have a good website. The event planning agency themes are very colourful and customer attracting. These themes have built in features. Try it now.
Events & Sports Website Theme Template
Modern Event Management Planner Website Template $17
The modern event management planner website template is used for event design and management. It is helpful in managing the all types of events. Be it conference, parties or wedding, this template is the best for developing a standard website.
Event HTML Bootstrap Template
One Page Event Planning Website HTML Template $15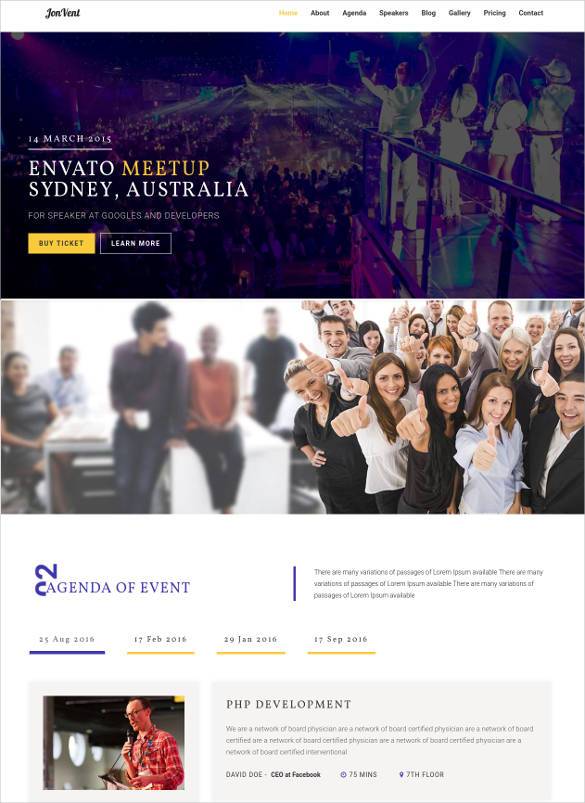 The one page event planning website is built with HTML language. It is very simple and as the name says it is one page planner. It is very useful to schedule the events in the planning website; it makes work easy to manage according to the schedule.
Event Planning Company Website Template $17
An Event planning company needs a good website to attract the customers. It should be clear in the facilities and events managed by the company. It should provide the catering facilities, banquet hall booking, etc.,
Wedding Event WordPress Website Theme $60

The wedding event WordPress website theme is very useful theme for the wedding planners. It displays the upcoming weddings handled by them and also the reviews from the customers. Try the demo version to know more about it. you may also see Wedding WordPress Themes.
Multipurpose Event Booking Website Template $52
Responsive News and Event Planning WordPress Theme $27
This WordPress theme is 100% responsive and easy to use. This theme has the features like event listing, adding news, plan the events and much more. This WordPress theme has many designs and you can try the demo version to see how it works. Sponsor-management options are also available, with tiered spaces for sponsors based on their contribution. For graphics purposes, there are visually appealing sliders that come with a variety of animation effects and 3D effects. This presents a very professional front to clients and also adds to the user experience.You May also visit Event Themes & Templates. Ticket management becomes easier with event planning website templates which have inline ticketing features along with seating options. Social media marketing also feature prominently on these templates with easy buttons for users to share your event on the Internet.