If you love video or computer games, or have played them as a child, you cannot not be familiar with the name Minecraft. The very mention of the game is sure to bring to your faces a smile, because you cannot help but think of the unadulterated bliss and happiness you felt when you played the game. Do you still play Minecraft at times, to take a break from the busy and mundane daily lives? Or maybe this is one of your guilty pleasures. Fret not, most people have their own guilty pleasures and something as amazing as Minecraft should always be encouraged. So when was the last time you played the game? If it has been a long time, maybe it's time to take a trip down the memory lane. You can also see Minecraft Website Templates.
Best MineCraft Website Theme
Now get your very personal gallery online with the MineFrame- PHP Auto Gallery. This has all the features essential for featuring projects and images like-
Alphabetically sorted menu, Responsive Code
Masonry Gallery Style, Thumbnail Addition
Demo Content, Shortcodes
HTML Files, PHP Files
This is all you need for mods, maps ad projects online.
MineCraft WordPress Website Theme
The MineCraft WordPress Theme is definitely a stand out for game enthusiasts. It has amazing features to lure in MineCraft fans like-
WordPress Theme File, Cross Platform Compatibility
Blog, Background Files
Photoshop Header, Responsive Design
Easy installation from cpanel
This is ideal for MineCraft Fan sites, MineCraft bloggers and MineCraft discussion sites.
Design MineCraft Website Theme
Here's the Rainbow Sheep [HTML5] template to woo the MineCraft Community. It is packed with essential features to keep the viewers hooked which includes-
Bootstrap, Snap Menu
Retina Ready, Google Fonts
Portfolio Page Layout, Short code Pages
Powered by JQuery, Ajax Contact Form
Try this today for your MineCraft fan theory site, MineCraft Forum and MineCraft Blogging.
Free Premium WordPress Theme
MineFun is a WordPress Theme supported by Eckwid. It comes with tons of fun features which enables MineCraft fans to admire every bit of it, like-
Shortcodes Ready, WooCommerce Supported
Custom Widgets Ready, Google Maps
Translation Option, Social Media Options
Contacts Page, Custom Sidebars
It is best used for MineCraft Fan site, Bloggers, Discussion Forums and more.
MineCraft HTML5 Website Theme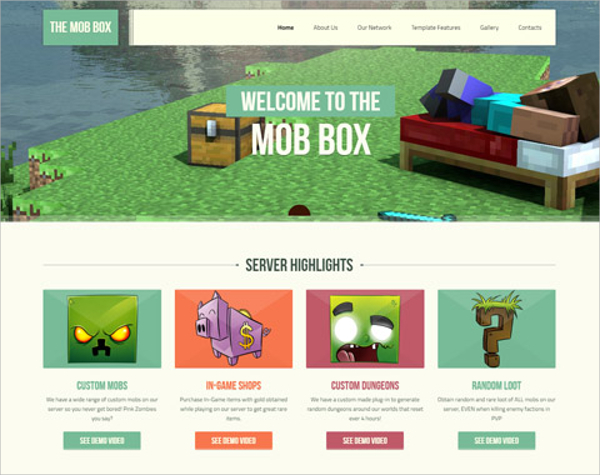 With the ever increasing popularity of MineCraft, the Mob Box Premium wills surely come in handy. It is a fully responsive template that require very little technical knowledge for upgradation and has advanced components like-
Retina Display Ready, Google Fonts-600+
CSS3 Animation, Revolution Slider
Cross Browser Compatibility, Bootstrap 3.1
Responsive Layout, CSS3, HTML5
This is a great option for all MineCraft Fans, Fan sites and Fan theory sites.
Simple MineCraft Portfolio Website Theme
The single page template, Minefolio, is every MineCraft lover's virtual dream. With this you can not only reach out to fans worldwide but also have access to great features like-
100% Responsive design, Font Awesome Icons
CSS3, HTML5
Cross Browser Compatible, Cross Platform Compatible
Bootstrap 3.1, Demo Images Included
It is perfect for MineCraft Merchandise presentation and Personal MineCraft Portfolio.
MineCraft Single Page Website Theme
The Mob Box Lite is a single page template built with PVP servers and Factions but can be used with other servers as well. It showcases features like-
CSS3, HTML5
Revolution Slider, Retina Display Ready
Bootstrap 3.1, CSS3 Animation
Font Awesome Icons, Responsive Layout
This is not only usable for Fandom sites of MineCraft but also for MineCraft merchandise sellers and others.
MineCraft Cartoon Website Theme
Built for Plug-in site and texture Packs the Cartoonie template is one of its kind for all the features it offers like that of-
Cross Browser Compatibility
CSS3, HTML5
Cross Platform Compatibility
Responsive Design
It is ideal for simple any discussion forums, Bloggers and more.
Simple MineCraft Portfolio Website Theme $10
The PI Portfolio is a great option for all server builders as it is feature packed to showcase your projects and work. It has-
Bootstrap 2.2.1, HTML Code
Compatibility with Major Browsers,
Cross Platform Compatibility
CSS3, HTML5
It is ideal for Server Builders, Project Presentation and Portfolio.
MineCraft Bootstrap Website Theme
Horizon is a power packed single page template. It not only has a clean and engaging design but also features like-
JS Files, HTML Files, CSS Files
Visual Background Movement, Bootstrap 2.2.1
Well Documented, Demo Content
Written in CSS3, HTML5
It is ideal for use for MineCraft enthusiasts, MineCraft Bloggers and Merchandise sellers.
Have you ever tried any Minecraft website template? Minecraft offers a long list of website templates for a wide variety of businesses like ecommerce, photography, gaming, business, health and more. These are highly easy to install and make required edits. The various features these carry include custom backgrounds, multiple pre-built pages, custom posts, custom buttons, social icons and many more customization options. All these features are ideal to create a highly functional and professional website for almost every niche. You may also see Blog WordPress Templates.
Did you know that you could create your own Minecraft games? If you go online and google the name, you'll find tons of sites which offer different versions of the game. You too can start your website where people can log in to play the game. In order to create that, you could take the help of Minecraft website templates which are galore online. You can also see Magazine Joomla Templates.
> Types of Minecraft Website Templates
Given the different types of gaming websites available, there are several types of free Minecraft website templates online –
Free Minecraft website templates – Have you just decided to launch a gaming website with Minecraft? Then you could give it a trial with a free website. That would save you some money for sure.
Premium Minecraft website templates – Gamers love websites which make them feel good. Naturally, if you want to appeal to experienced gamers, you will need something premium and top quality to impress them.
Responsive Minecraft website templates – While playing games online, people look for responsive websites which make playing these games much easier and enjoyable. That is why you need responsive websites.
> Uses of Minecraft Website Templates
If you're fond of online games, you must love the game Minecraft. Most players are looking for a piece of their childhood and you can give it to them through Minecraft websites. These websites would allow users to play games as much as they want. To make this game much easier for them, you could make use of sample Minecraft website templates found online. You may also see eCommerce HTML5 Templates.
>Tips While Using Minecraft Website Templates
While using downloadable Minecraft website templates, there are few things you should keep in mind-
Make sure you keep in mind the purpose while selecting the template. You're creating a website for gamers, your template should go with that.
You can choose from a wide range of templates when it comes to design. You could even go with the traditional design of Minecraft.
Only choose customizable Minecraft website templates. That way you can add your own touch to this classic game.
> We Can Help You Out!
At template.net, we know how much you love the game Minecraft and have created special website templates just for you. If you've planned to download Minecraft website templates, you cannot afford to miss out on our collection.You can also see Business Bootstrap Templates.