Working women barely have time for their beautifications but when they do take out some time for themselves, they prefer to find themselves a hairstylist who would take care of their needs. Now if you are a stylist, how will you approach them? The best way to is get customized salon business cards for yourself, which you can easily distribute amongst customers and other sorts of salon related professionals. All you need to do is choose the correct design, outlook, and the right paper for it.
Beauty Salon Business Card Template
This particular template has a feminine approach to it due to the use of pink color in abundance. You can easily insert your company logo, the contact details of your salon and its opening and closing hours.
Hair and Fashion Business Card
This pink colored template bundle consists of artworks meant for spa and salon related business cards. The entire artwork has a bright and angelic appeal to it. You will find the front and back cover designs, 6 coloring options, and a tutorial.
Stylist Salon Business Card
The bright and angelic looking card templates can be used to make classy and elegant looking business cards for your salon and spa related purposes. The file can be easily edited and printed on papers of dimensions 3.5 x 2-inch. You can also see Simple Hospital Business Card Template.
Creative Salon Business Card
You can use this particular template to give your business cards an organic and environmental-friendly look. The file is fully editable and can be printed as it is in CMYK mode.
Modern Salon Business Card
This particular template can be used to make vintage themed business cards for a barber shop. The file comes in the form of PSD formats and can be edited at ease by using Photoshop.
Beauty Salon Business Card
Beauty Salon Business Card Template
Fitness Salon Business Card Template
Editable Beauty Saloon Business Card
Barber Shop Business Card
Salon Busines Card with Abstract Ornament Free Vector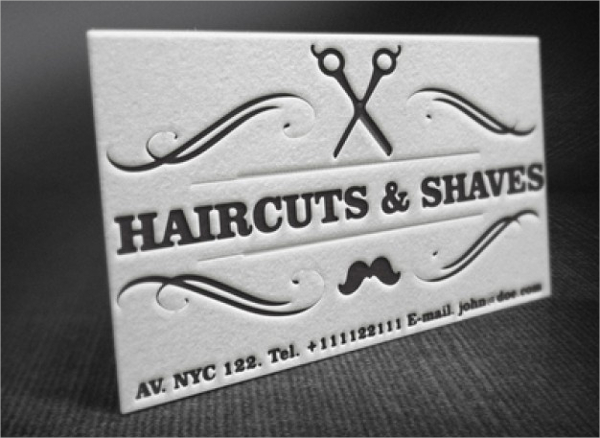 Fashion Salon Business Card
Spa Salon Business Card
Hair Stylist Business Card Template
ENE Salon Business Card
Hair Salon Business Card Free Vector
Makeup Artist Business Card
> Why would you need Salon Business Cards?
If you are a salon or a spa owner or if you happen to be a cosmetologist, you should use business cards for your business-related purposes. Your clients will be able to approach you if they get an access to your Salon Business Card or your Cosmetologist Business Card.
The card, which comprises of your personal contact details and opening and closing hours of the salon, gives them an idea regarding how they should be managing their time for their parlor sessions. Also, you can provide them to your salon professionals and other vendors so that they can approach you in times of need. You can also see Elegant Non Profit Business Card Template.
> What does a Salon Business Card Comprise of?
The salon business cards happen to be of a different sort than the rest of the other business cards. The business card of a salon should always look trendy, fashionable and catchy in terms of its contents. You can easily input your company's logo and name, details of the parlor, its timing and the other sort of contact details. The text should have enough space between each letter and should be legible enough for others to read with ease. Make sure of the fact that your card does not appear to be dull.
> What does a Salon Business Card look like?
Salon business cards can never have a formal and a boring appeal to them. If you want customers to approach you with ease and have some confidence towards your parlor then surely make them a bit trendy and chic to look at. You can add in clip arts of scissors, trimmers, blow dryers, and many other products of such sort. A dull looking business card will not be able to attract many potential customers who might tend to like your service, so when you are planning to create a salon-based business card, do keep these factors in mind.
The above-mentioned business card templates can be edited with ease and you can easily play around with their fonts and features to give it a different sort of a personalized look. The cards created from any one of them can be easily printed and can be put to use. You can also see Music Business Card Template.