All newborns that are being blessed in a church or any religious areas to begin their life in their chosen religion by their parents or by themselves if they grew old must have a baptism certificate. It is the record that will confirm that they are member of that religious group. With the certificate template that can be yours in Microsoft word, excel and pdf file, every administrator of a church or religious sect can make a baptismal certificate for all of their newly blessed members. You may also see Graduation Certificate Templates.
Simple Baptism Certificate Template
Roman Catholic Baptism Certificate Template
Sunflower Baptism Certificate Template
Christian Baptism Certificate Template
Church Baptismal Certificate Template
Child Baptism Certificate Template
Catholic Baptismal Certificate Template
Simple Baptism Certificate Template
Professional Certificate Bundle Template
Editable Baptism Certificate Template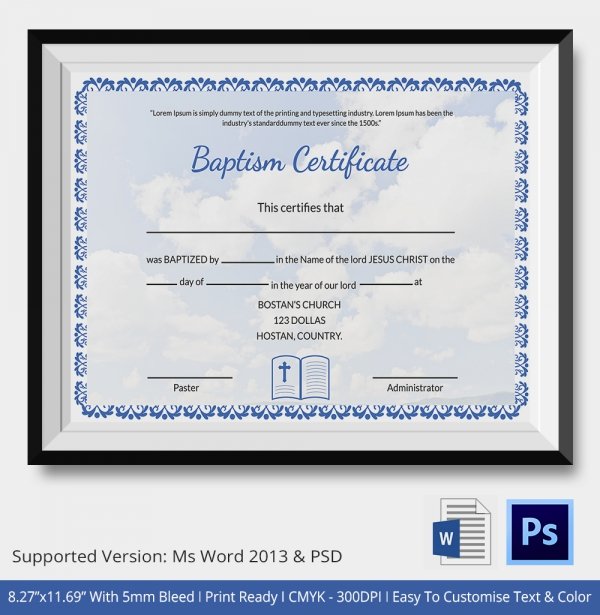 Certificate of Christian Baptism
Boy and Girl Dedication Baptism Certificate
Adult Baptism Certificate
Affidavit in Lieu of Baptismal Certificate
Holy Baptism Certificate Template
Family Suite Baptismal Certificate
Baptism Sponsor Certificate Form
Baptism Certificate Premium Template
Baptism Certificate Template
Baptism Eligibility Certificate
Uses of Baptism Certificate Template
The Baptism Certificate Template is a great memory bank for commemorating your loved ones or a family member's baptism ceremony.
You can store it for many years to come and it can be a valuable document when required for many legal purposes too.
It is easy to print and save a soft copy in your computer for future use.
Your baby or your spouse will surely have some beautiful memories attached to this document.
It has features that can provide multiple production of a certificate where they can just enter the details of the baptismal and be used for a long time. They can adjust any arrangement if they want in the certificate so it can catch up with the latest trends for a legal certificate.
How to use the Baptism Certificate Template
The Baptism Certificate Template are easy and convenient to save as a PDF document. Since the Template is blank, one can easily add personal details and add your own text like name of the person who is baptized, date of the baptism or location of the baptism. After opening the Certificate of Authenticity Template.
You can print the Certificate on the home printer, add the necessary information and also frame the certificate for posterity for years to come. The Baptism Certificate Template can be personalized and later printed or printed as a blank first and then handwritten in a floral font and signed by the local pastor or an elderly person from the immediate family