Certificate Templates
8+ Certificate of Origin Templates
In trading goods and products internationally or domestically, certificate of origin is important to attest that the delivered goods come from a reliable company or production. Each importing and exporting companies should present this document to any ports or airports so their cargo can be delivered to the market. Like the Certificate of Compliance Template that has the same purpose like this, you can get this in Microsoft word, excel and pdf file. You may also see Certificate Samples.
It should be official and in compliance to the format of any government trading agency so there will be no difficulty in tracing the origins of the product. The fonts style and paragraph format can be made according to the prescribed layout. You can also see Certificate Template.
Certificate of Origin Template
Free Certificate of Origin Template
Certificate of Origin Template Free PDF Download
twiglobal.com
Generic Certificate of Origin Template
arkansasexport.com
Certificate Of Origin Template for General Use
images.fedex.com
Trade Agreement Certificate of Origin
cbsa-asfc.gc.ca
Certificate of Origin Template for Cargo Logistics
platinumcargologistics.com
Certificate of Orgin Continuation Sheet
rerogers.com
Caricom Certificate of Origin Template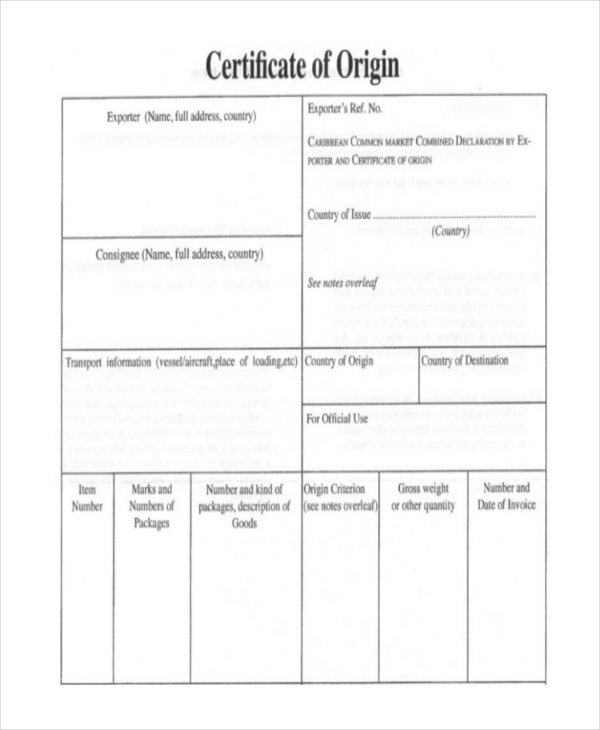 customs.gov.lc
> Uses of Certificate of origin template
Certificate of Origin is needed for the goods carrier or any goods transporter as it authenticates the goods and products in the consignment with its weight, quantity, and other support data.
The certificate is required to be produced at every ports or airport via which the carrier passes, The Certificate of Origin Template are useful for the company or an individual as they can create the certificate whenever needed. They can personalize it and add or subtract details and furnish the certificate.
The Professional Certificate Templates contains all the information regarding the products or goods and hence, the port or airport might or might not verify the physical goods, therefore, saving precious time and money of the company.
> How to use the Certificate of Origin Template
The certificate of Origin can be created by an individual or any company in order to authenticate the belonging of the goods being transported through the ports and airports which contain all the details and other supported data. You can easily customize the Participation Certificate Templates according to your choice. You can modify the content, add or subtract elements, add images or special effects. After finishing the editing work, you can recheck it and then print it out.