Gift certificates have won much popularity as a gifting option for their flexibility in allowing the recipient to choose from a host of options within a stipulated amount. Numerous banks and retailers issue gift cards as a part of their marketing and promotion policy and Christmas is no doubt the greatest time to exchange gifts and warm wishes. With the pre-designed and fully downloadable professional templates below, creating a personalized gift certificate is easy.
Free Christmas Gift Certificate Template
Free Sample Christmas Gift Certificate Template
Christmas PSD Gift Certificate Template
This ready to print PSD Gift Certificate in size 6 inches x 4 inches can be a great gifting option for a friend, family, or acquaintance during the festive season.
Christmas Holiday Gift Certificate
When the holiday season is round the corner and you cannot think of what to gift to someone close, you can opt to give them personalized stationery gift cards with this gifting template.
Christmas Unique Gift Certificate
Looking to do something unique for your business? Download this template to create unique gift certificates to gift your old and esteemed customers and thank them for their continued loyalty towards your endeavor.
Christmas Special Gift Certificate Template
Confused about what to buy for that special person during the festive season? Send warm thoughts with this fully editable and ready to print Christmas gift certificate which bears good cheer.
Christmas Gift Certificate With Black Background
This certificate template in a black background in PSD format is a fully editable document which small and medium sized businesses can implement to issue gift certificates during Christmas. This template is also available in three color variations.
Christmas Happiness Gift Certificate
Christmas is all about getting together with your loved ones and spreading happiness, and a gift certificate is sure to work wonders for those who wait all year long to receive something cherishable from you.
Professionally Designed Christmas Gift Certificate
This fully editable template in PSD format is a professionally designed Christmas gift certificate document. It is sized 8.5 inches x 4 inches and you also have free font links included.
Christmas Gift Certificate Invitation Template
Make your invites interesting with this gift certificate template which can also serve the purpose of an invitation card to broadcast an upcoming event or activity to be conducted during Christmas.
Disney Christmas Gift Certificate Template PDF Format
The ready to print PSD Gift certificate in a red background speaks of the joyous season. The fully editable format lets you customize it as per your needs and requirements.
Fabulous Christmas Gift Certificate Template
With the predesigned template below, designing fabulous gift certificates will no longer be a tedious job. Simply download the file and customize it to produce professionally designed gift certificate templates which are ready to be printed.
Simple Christmas Gift Certificate Download
Christmas and Happy New Year Gift Certificate Template
> How to use the Gift Certificate Templates?
Across the globe, gift cards are one of the most popular gifting options. The set of 10 pre-designed and fully editable Christmas gift certificate templates in PSD format is so elegant yet easy to customize that you will no longer require taking the hassles of creating such documents from scratch. The 300 dpi CMYK files have free fonts links included and are ready to print templates. You can easily customize these files and render a personalized touch to them. Some of the templates also provide various color options so that you have the liberty to select the one which closely resembles your endeavor.
Sample Christmas Twinkles Gift Certificate Template
Magical Christmas Gift Certificate Example Template Download
Format of Christmas Hampers Gift Certificate Template Download
Christmas Gift Certificate PSD Format Template Download
Elegant Christmas Gift Certificate Template
Premium Christmas Gift Certificate Template
Free Gift Certificate Template
Free Christmas Gift Certificate Template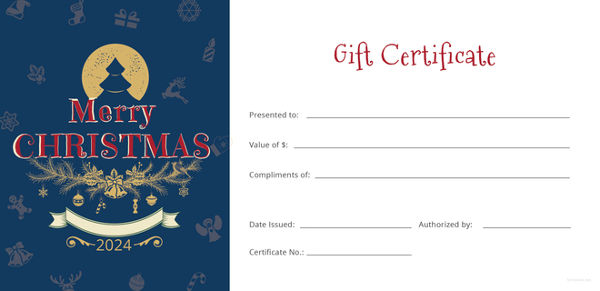 Send loving thoughts this festive season to your friends, family, clients or customers with the help of the predesigned gift certificate templates from template.net. These documents have been designed by experts keeping your usability and purpose in mind. Editing and personalizing them does not require you to be extremely technical – just a few clicks and you have your very own gift certificate document ready.