Certificate Templates
5+ Fishing Certificate Templates
If you didn't know this already, fishing isn't just a mere hobby or pastime for most people, it is their way of living. Contrary to popular belief, fishing requires a set of skills that most people lack or spend their lives trying to acquire. You may also see Certificate Templates.
Naturally, it is only right if you were to recognize the achievements and efforts put in by professional fishermen with the help of Certificates. To design such certificates, you can take the help of fishing certificates.
Fishing Certificate Template
Annual Fishing Competition Certificate Template
This fishing certificate template comes with a brilliant border which makes the template look dignified and elegant. Apart from that, it is devoid of excessive or flashy design.
Annual Fishing Participation Certificate Template
This amazing fishing certificate template comes with a thick red design on the side. That certainly adds a different aura to the template. It comes in a Word format with easy customisation options.
Emerging United Fishing Certificate Template
The first thing you notice about this template is the attractive design or pattern near the top of the template. The playful use of colors definitely makes the template appear all the more stylish.
Fishing Champion Certificate Template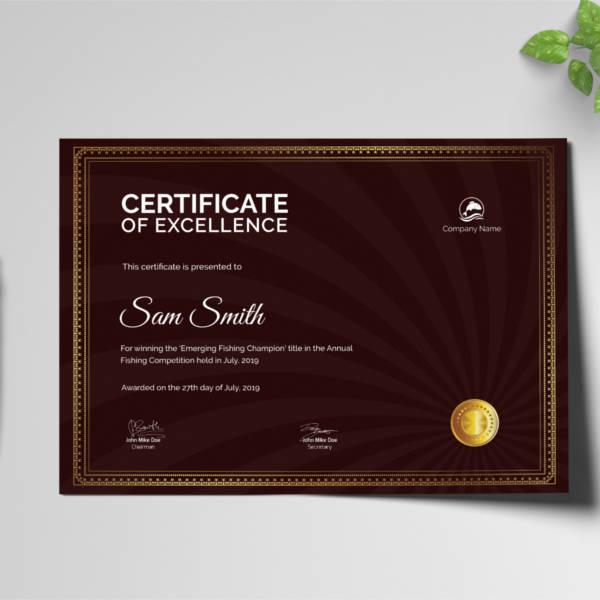 This template takes it one step further with a chocolate brown background. The text appears well contrasted against it. Also, the certificate template here is 100 % customizable and editable.
Fishing Completion Certificate Template
This fishing certificate comes in a Word or PSD format, a print-ready layout, standard size with bleed, a CMYK colour mode, high resolution of 300 dpi, easy customisation of text and colour.
> Why should you go for Fishing Certificates?
Wondering why you should download fishing certificates? One look at these innumerable benefits is sure to convince you:
The certificates here stick to the theme. One look at the certificates will tell you that they are related to fishing.
That makes them highly specific as well.
They have been designed by the pros. Professional help always makes the certificates look more official and dignified.
The certificates come in a number of formats. That makes them easy to use for everyone.
The certificate templates are of different types. You can choose the one you want based on your purpose.
> What do the Fishing Certificates Look Like?
A fishing certificate looks just like an ordinary certificate would. However, it is much more specialised and specific in nature. The certificate, although related to fishing, has been kept versatile so that it can be used in a number of different ways. First, the certificate would state the purpose at the very beginning – this is the most important part. Next, you have the name of the person who is being awarded the certificate.
This must be written in a clear manner. Apart from that, some other minute details must also be mentioned – but that is usually left to the designer.
All the certificate templates that you see here have been developed especially for the field of fishing. They have been handpicked by the pros who know exactly what you are looking for. Based on your requirements and your purpose, you can go through the templates and download the one you like.
More in Certificate Templates