Letters
5+ Graduation Letter Templates in PDF | Google Docs | Pages | Word
We always wish someone when they achieve something in their life. It can be anything like obtaining a diploma, getting a certificate, or a degree or even a cool title. For someone who gets graduated, it is a delightful moment for them. What they deserve is a warm congratulation and some kind words of recognition for their hard work. We always celebrate such graduation programs to wish our graduates with lots of blessings and good luck for their future. Sending a graduation letter means sending your warm wishes for their bright future and your thoughts about their experience in the institution. Every student goes through graduation, and our graduation letter templates will make it easy for you to make your graduates happier than ever with a lot of designs to choose from.
Table of Content
5 Steps on How to Write a Graduation Letter
Step 1: Make a Draft
Before starting to write down the letter, make sure you make a draft copy of what you are going to write in your actual text. It is always better to lay out an outline of the content of your letter like what to choose for your start what is going to be the body of the letter and whatever you are going to add, make sure you give a recheck before you write.
Step 2: Introduction
Start with introducing why all of you are present, and what is the event about? Share your thoughts about why you are celebrating this day and how happy you are being graduated or if you are the sender then, express your warm wishes towards the one who is graduating.
Step 3: Mark of Appreciation
A graduation letter must include a remark of appraisal for the one graduating as it is going to be a congratulatory letter for them. You can appreciate the person for his/her achievement and also congratulate them for gaining success.
Step 3: Good Wishes for the Future
What a good graduation letter must have are some good wishes which you should offer to a graduate. Adding good wishes to the letter will make the message look nicer, and the reader will surely feel happy about it. As they are moving on for something bigger in life, it is a good sign to wish them luck for their adventurous future.
Step 5: End On a Positive Note
Write each and everything by reevaluating everything and make sure you are correct with the spellings and the details you have put are accurate and factual. Always end your graduation letter on a positive note and never try to put any negative remarks about your students or the graduates.
5+ Graduation Letter Templates
1. Thank You Letter to Professor After Graduation
Are you a student who is about to get graduated real soon? If yes, then you must be looking for a way to thank your professor for his/her great efforts during your stay in college. Writing a thank you letter templates in Word will be the best way to do that and we are here to provide you with our premium quality template, which just meets your needs. With this template, you will be able to convey your thank you message without any hassle. So what are you waiting for? Click the download button!
2. Graduation Letter Request Form
une.edu
You missed your graduation ceremony, and you are really tensed about how to get back your graduation certificate. Our Graduation letter Request Template is here to make all your worries go away. You just have to fill in the blanks with your personal details, print it, and submit it in no time. No one would miss such a good opportunity, so hurry up and download it immediately! We even have letter templates in Apple Pages for you to check out.
3. Graduation Letter in PDF
lambtoncollege.ca
Your institution is going to provide graduation certificates to the graduates within a month. And you need to prepare a quick confirmation of the graduation certificates along with its policies. Our graduation letter template can help you with this. If you are looking for letter templates in Google Docs, then you will get it here only, plus it can be easily handled, just edit it and customize according to your own details. You will not get such a well-designed file anywhere else so hurry and get it now!
4. Sample Graduation Letter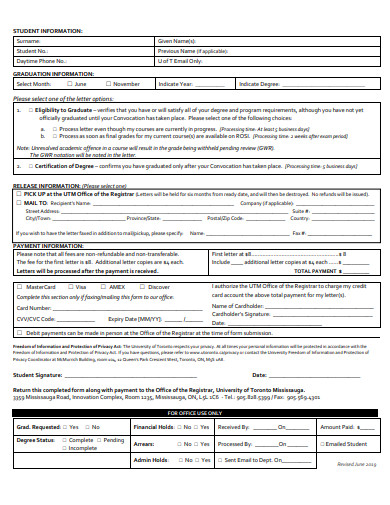 utm.utoronto.ca
Preparing a graduation information letter may become a headache for you at times. Why do you need to agonize over such a reason when we are here with our letter template samples to help you grasp a perfect sample for your graduation form. It is well built with a simple easy-to-understand language. It comes with a format of an official form so you just have to print it out for the ones who are going to fill in the forms.
5. Graduation Letter Application
senecacollege.ca
Are you planning to fill in a graduation application form tomorrow? Are you stressing out on exactly what are you going to do so? Forget all your stress as we have just the thing for you to dig in. You can take the help of our templates to get an idea of how exactly does a graduation application form works. You easily check it out in your smartphones as well as in any other device according to comfort. You have no time so hurry up and download it now!
6. Basic Graduation Letter
nwu.ac.za
Writing a good graduation letter to your students is your main concern. If you are looking for some suggestions to make a good graduation letter then stop looking and download our basic letter templates in PDF to get your hands on a perfectly designed graduation letter with short and brief information which can be customized according to you. You can even print it in as many numbers you want without wasting much time. So hurry while it's still available!
More in Letters