The intention to discontinue rendering services to a certain company means that an employee needs to submit a resignation letter. Aside from formality purposes, one must inform the company or organization he or she is in about the intention of resigning as well as other important details like effective date of resignation, most importantly.
It may not be necessary to enumerate your reasons when you write a resignation letter, but it could at least help your employer figure out what personal reasons must have came up for you to arrive at such decision. Our Resignation Letter Templates are available to get you started with your resignation.
Resignation Letter Due to Health Issues
Resignation Letter Due to Pregnancy Reason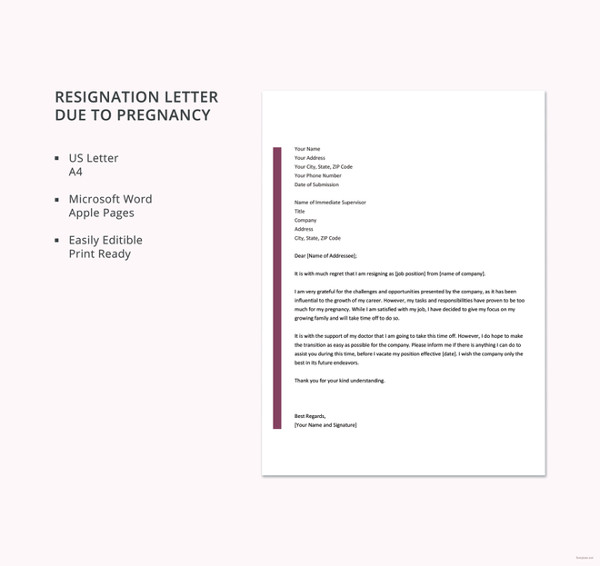 Job Resignation Letter With a Reason
Resignation Due to Lack of Promotion Letter
Resignation Letter Due to Personal Reason
Simple Resignation Letter due to Personal Reason
How to Write a Resignation Letter for Personal Reasons
If you are not sure of how you go about your resignation letter, follow through these steps on how you should write one. Other than that, notice how you should incorporate personal reasons in resignation letter.
Opening. This is where you start with positive greetings and salutation. You should establish a certain mood with your letter despite your intention to resign. You could include a few lines about how you appreciate the people who you've worked with.
Body. This is where you include the very important details on why you've written such letter in the first place. The body should contain your intention to resign from your position and your personal reasons as to why. Write down your reasons simply that it gets to appear general and understandable at the same time to your employer.
Closing. Keep in mind that your tone and language throughout your letter must be professional. Make sure you transition to close your letter politely. You could simple include a few words of gratitude for all their help and assistance that have led to your growth career wise.
We provide you Simple Resignation Letter Templates that clearly contain all the 3 mentioned above. Save yourself some time and download our templates instead of starting blank.
Job Resignation Letter due to Personal Reason
Email Resignation Letter due to Personal Reason
Formal Personal Reason Resignation Letter
Resignation Letters with Personal Reasons Templates
How you present and write your resignation letter matters. You have to look into details that could possibly have an impact on your letter. Check out our Example of Resignation Letter Templates ready made just for you and your intentions.
Resignation Letter Due to Personal Reasons Template is written in block format so as to look neat and presentable. Personal reasons are clearly stated with just a few explanations that will surely help you make your employers understand your circumstance and situation.

A Short Resignation Letter that has been created because of personal reasons can be an effective way to briefly discuss the employee's decision to cut his/her professional connections to the business. Everything is simply written and direct to the point. It may look short, but it has all the information that you already need.
We also have a Call Center Resignation Letter Template for those working in the business process outsourcing industry that guides you throughout the letter on which important information should be written on your letter. Paragraphs are already well written from the opening, body, and closing as well.
We have a lot more templates available for you. All these are provided for your easy access and download. We offer you nothing but the most sensible resignation letter templates to help you out in this process.