Letters
13+ Medical Leave Letters
A Medical Leave Letter is a formal way to inform other people about your absence, due to some health related problem. The medical leave letter should be formal and concise while stating the reason for the medical leave clearly. If the Letter Templates is written for the office, you should have the necessary information about the company's leave policy before you write the letter and make sure your company is covered under the Family Medical Leave Act (FMLA).
Letter Explaining Family and Medical Leave Template
Medical Leave Application Letter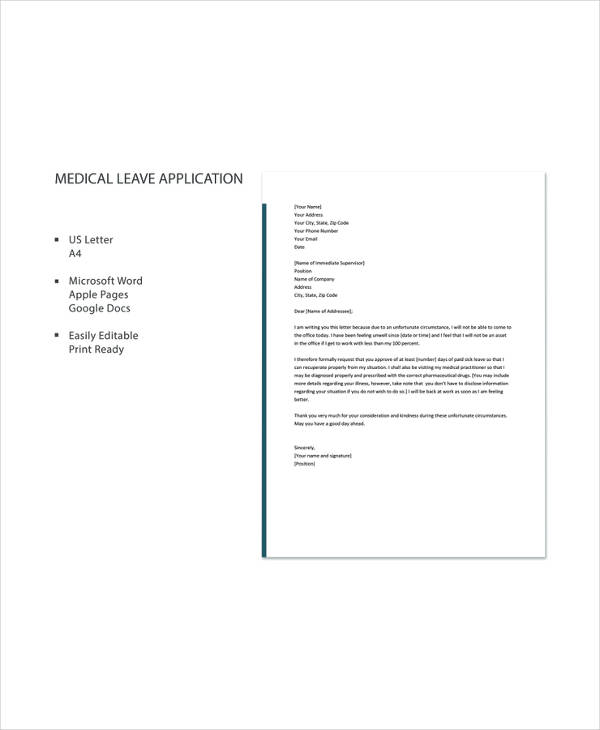 Medical Leave Letters
Medical leave letters are sent when you feel sick, or you have an appointment with your physician. If you are an employee or a student who is looking for a Medical Leave Letter, you can take note of the following points:
Address your letter to your manager or person who is managing to leave details.

Follow a professional letter writing format when you write your letter.

Write the reasons for your leave clearly and briefly.

Write the date(s) you would be absent from leave(s).
If you are looking for ideas, you can check out sample Medical Leave Letters available online.
Medical Leave Letter for Office
Medical Leave Letter from Doctor
Medical Leave Letter
Medical Emergency Leave Letter
mabcr.org
This letter is written in case of an emergency like accident, illness or even death. The template gives an example of an emergency leave letter in case of a car accident. The letter states what is to be done with the dogs in case the owner has met with an accident.
Official Medical Leave Letter Format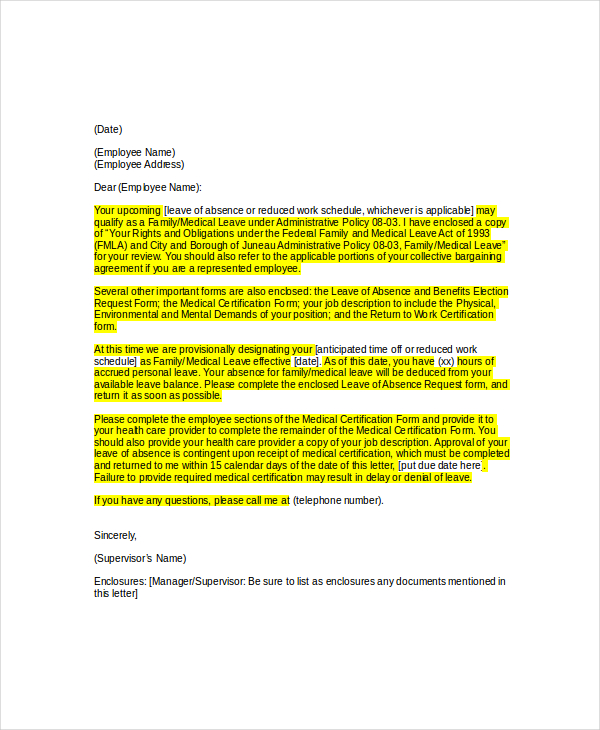 juneau.org
This example gives a format to write an official letter to answer an employee's leave of absence. The letter should be well constructed and should also show the support of the department during the leave period.
Long Medical Leave Letter
opm.gov
This is an example of a letter requesting a long leave of absence due to medical reasons. The letter is divided into sections which cover the duration, the reason, the information of family and medical leave act, etc.
Medical Leave Request Letter
las-elc.org
Sick Leave Letter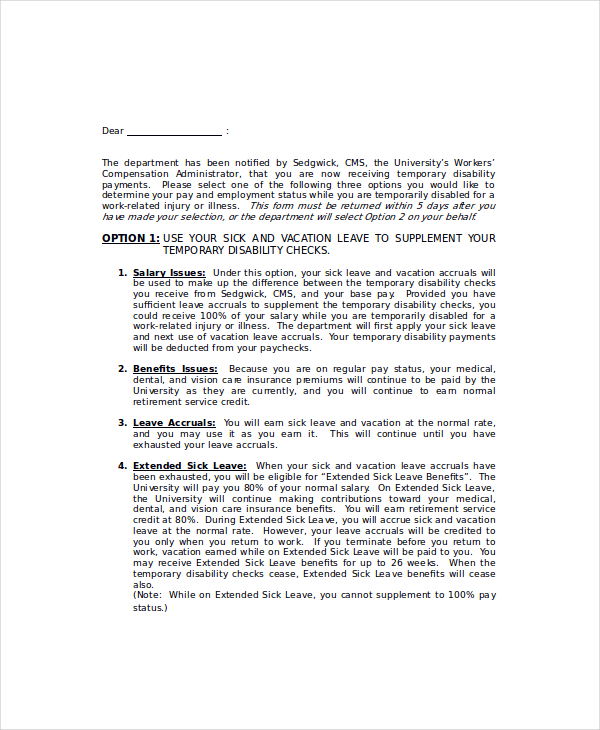 hr.ucr.edu
> How to get a Medical Certificate for leave
Sometimes, when a person gives a formal medical permission letter to inform his /her absence, they also need to provide a medical certificate as evidence. This can include even if a person is on leave for one day. A medical certificate or a doctor's certificate is a statement from a doctor that certifies the results of a medical examination of a patient.
You can ask for a medical certificate for your sickness from the doctor you consulted. You can tell your doctor about the medical leave you have applied for and ask for an official medical certificate. You can make the certificate by yourself and get it signed and stamped by your doctor.
> Tips for Requesting Medical Leave
We can all go through some health issues time to time. There are some things you need to remember while requesting a medical leave. Firstly, you should give a medical leave letter before you seek the leave, not after. Before requesting a medical leave, you should know about your company's health policies and whether your company is covered under the Family Medical Leave Act (FMLA).
Thirdly, the tone of the letter should be formal and should contain all the necessary information like the duration and cause of the leave. Lastly, you need to make sure the letter is free from grammatical and punctuation errors.
> Benefits of Medical Leave Letter
Even if you have informed about your Medical Certificate, it is mandatory and beneficial to provide an official leave letter. Providing a medical leave letter prior to the leave, helps your team or department to be prepared for your absence and divide your duties. Mention in the letter about the current project you are working on and who will take your responsibilities while you are on leave.
If you are on a short medical leave, then a medical leave letter can provide you a sick pay on the base of company's medical policies. Even if you are on a long sick leave, you can get paid leave for some period.
Our health is equally important as our work. We can go through a medical or health crisis in our day to day life. A medical leave letter helps to notify our workplace that we are going through a medical issue and will resume our work as soon as possible. A medical certificate provides the evidence by the doctor that you are going through a medical issue.