Human resource managers aim to strengthen the employer-employee relationship, and this is supported by a wide range of functions occurring within their department and throughout the company. They are tasked in ensuring the employees are well-versed in their assigned areas.
492+ HR Templates in PDF, Word, Excel, PowerPoint, Google Docs, Apple Pages, Google Sheets, Apple Keynote, Google Slides - START DOWNLOADING
Job Application for HR Executive
HR Assistant Job Application Letter
HR Manager Job Application Letter
Getting a job as a human resources manager requires the right training and experience, and an application letter that shows your passion and readiness to do the job. Thankfully, we are offering you our collection of Free Application Letter Templates to save you the hassle in writing your own application letter.
HR Assistant Job Application Letter
Job Application Letter for HR Manager
Job Application Letter for HR Executive
Job Application Letter for HR Department
Job Application Letter for HR Officer
Fresh Graduate HR Job Application Letter
How to Write an Application Letter for an HR Manager Position
Before you write an application letter, review first the employer's specifications in the job posting carefully. It is even advisable to do some research on the company so that you have a basic knowledge on the organization.
Follow Standard Formatting
It is important to present yourself professionally, which means using the right formatting for your letter. Your letter should include the date and the name and address for both yourself and the employer whom the letter is going to.
Opening Statement
Open the letter with the purpose why you are writing. It is important to start with a clear and precise opening sentence. You want the reader to know the purpose of the letter straight away. Reference the specific position you want to be considered for early on in the letter and also mention where you found out about this job position.
Beginning Paragraph
Explain why you are the best candidate for the position with reference to your academic and professional qualifications and the skills listed in the job description or person specifications. Writing down your accomplishments and achievements relevant for the position is useful because these can help you stand out from other applicants.
For more letter templates, check out our collection of Job Application Letters For HR.
HR Trainee Job Application Letter
Job Application Letter for HR Intern
Job Application Letter for Entry Level HR
HR Job Application Letter Example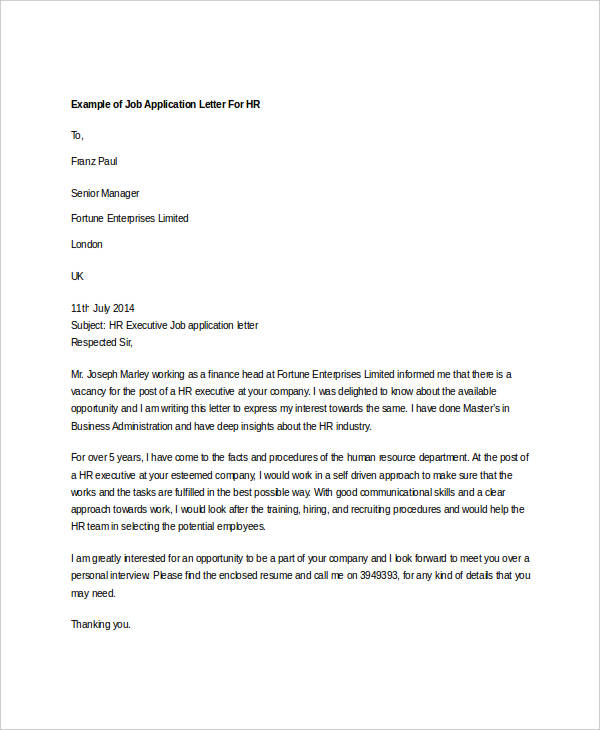 Formal HR Job Application Letter
How to Write an Application Letter for an HR Manager Position (cont'd)
Ending Paragraph
Reiterate why you want the job, why you would be perfect for the position, and what your can contribute to the company. Briefly state that you are looking forward to getting interviewed,= and thank the employer for taking the time to read the letter by saying, "Thank you for considering my application. I look forward to hearing from your office soon."
Conclusion and Sign Off
Close the letter formally by using either "Sincerely" or "Respectfully." Sign the letter by placing your handwritten signature over your typed complete name.
Why Download our Templates?
These templates were selected from among the best ones on the internet and were written by knowledgeable professionals.

These templates can be downloaded easily and for free.

These templates come in either Doc, Docx, or high resolution PDF format.

These templates are fully editable as long as you have the required software such as MS Office and a licensed version of Adobe Acrobat.
For even more letter templates, also check out our collection of Sample Job Application Letters.