Nursing is a demanding field. In fact, the demand for nurses a decade from now will be quite high. But, nursing jobs are often challenging, making some professionals quit the job in their current settings to work in better environments. Do you feel like you are being underpaid, and still working for many hours a day? There are those times when you will feel like you are working in the wrong environment. In a case like this, writing a resignation letter can help. This is basically a Professional Resignation Letter Templates
Nurse Resignation Letter
Nursing Resignation Letter 2 Week Notice
Rigistered Nurse Resignation Letter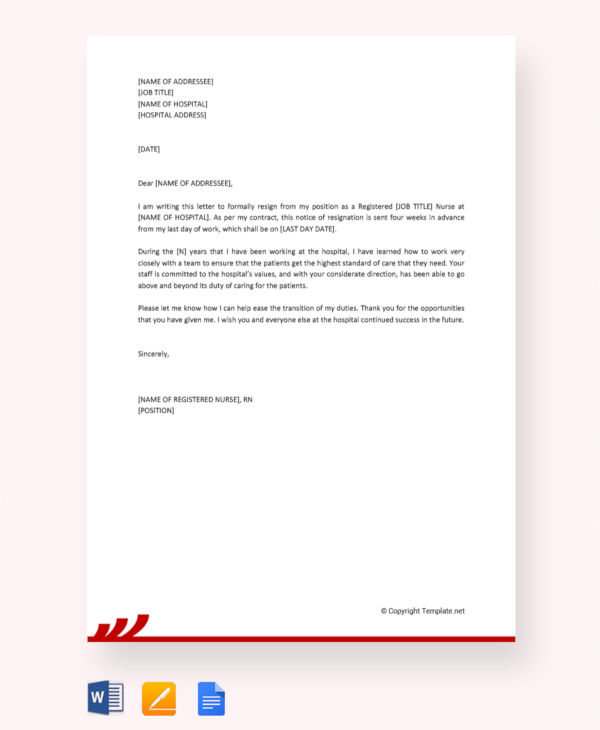 Staff Nurse Resignation Letter
School Nurse Resigantion Letter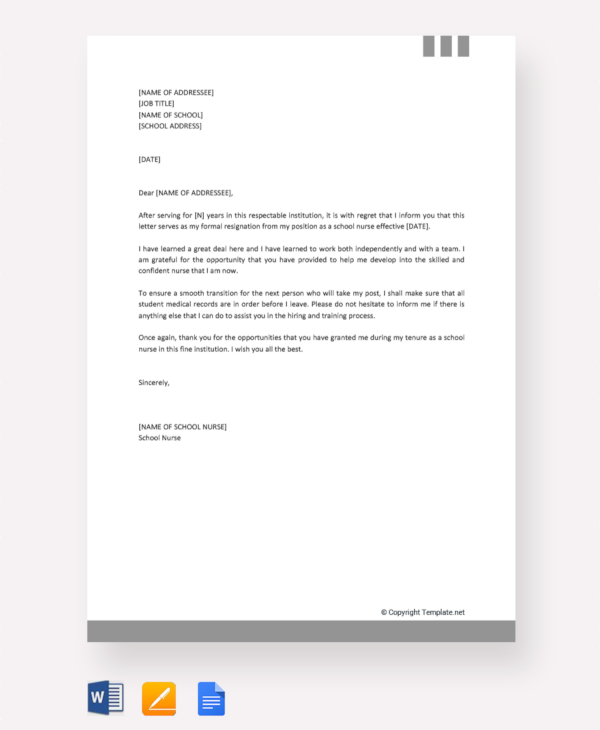 Nurse Professional Resignation Letter Template
The nurse professional resignation letter template in PDF is a comprehensive resignation letter template that explains the reasons which have led to the decision of resigning from the job in full details. You may also see Formal Resignation Letter Templates
4 Weeks Notice Nursing Resignation Letter Sample
The 4 week notice nursing resignation letter template in PDF is a well detailed resignation letter word template that is addressed to whom it may concern. It explains the reason of resignation and serves the 4 week notice period.
Example of RN Nursing Resignation Letter Template
Director of Nursing Resignation Letter Sample
Formal Nursing Resignation Letter Word Format
The formal resignation letter template is a professional resignation letter template that is used to resign from the job of a nurse in hospital or community clinic . You may also see Employee Resignation Letter Templates.
Cardiology Nursing Resignation Letter
Nursing is a tough job and there may be times when you want to leave the job of a nurse and work in a better place. Same applies to cardiology nurses. Sometimes, these nurses have to work for long hours and take care of their patients in a more hectic way. If you are a nurse in the cardiology department and want to resign from the position, then this nursing resignation letter template available in PDF format will help you write a resignation letter effectively. Just download this template and follow its step by step procedure to write a resignation letter from your cardiology nursing job on good terms. You may also see Standard Resignation Letter Templates
Relocation Nursing Resignation Letter Example Template
This is a sample nursing resignation letter that a nurse is sending to her employer. There are instructions in the template that asks the nurse to write the reason as politely as possible. Doing this will help her get a reference letter which will help her in getting future jobs. If she has some problems in the current department, she should state them politely with an aim to not offend the current employer. She also gives her address where they can send her current pay slip and P45.
The letter should be a professional letter. It must follow the right format or a formal letter. Download PDF, word or excel Resignation Letter Templates for help.
Why Do You Need a Nursing Resignation Letter Template?
A nurse's job is to take care of the ill, and work for their health benefit on all terms. But sometimes, a nurse may need to leave a job and move on. She may be getting married, relocating, or getting a better position with a better pay. Whatever the reason is, she needs to submit a nursing resignation letter to her current employers. If you are also a nurse and want to quit from your current nursing job, then use one of these nursing resignation letter templates to write your resignation letter the way it should. A single wrong word can ruin your entire reputation in the hospital. So, download the template as per your reason of leaving, and leave your job with a positive note behind you. You may also see Resignation Letters in PDF.
When Do You Need a Nursing Resignation Letter Template?
You need a nursing resignation letter template at the time of leaving a nursing job. If you have made up your mind to leave your current nursing job, then you can browse through the templates available here, and find the one that best suits your position and the reason for living. You can quickly download it, make the necessary changes in it, and send it out to your employer. A well-written resignation letter has maximum chances of convincing the employer and allowing you to go. You may also see Sample Basic Resignation Letter Templates
Benefits of a Nursing Resignation Letter Template
The nursing resignation letter templates available here have all the tools and features that you need to create a good resignation letter as per your reason and purpose. An unprofessionally written resignation letter can actually offend the employer and you may be left in trouble, like a bad reference letter or a stopped pay cheque. To leave the job on positive terms, it is important to create and submit a resignation letter convincingly and appropriately. You may also see Personal Reasons Resignation Letter Templates