Acquiring a scholarship is a matter of prestige, and a proof of academic excellence and hard work. The financial element of scholarships elevates its importance because it helps many those who have financial problems. Thank those involved in the screening and selection by using our unique and specially designed Scholarship Thank You Letter. You can also see Thank You Letter For Gift.
Free Scholarship Thank You Letter Template
Sample Scholarship Thank You Letter MS Word Download
It goes unmentioned that thankfulness is a way for healthier living. When you say thank you, you get that feeling of wholeness within you. This template is a special piece that can help you send a thank you note. fresnostate.edu
Scholarship Thank You Letter Word Doc Example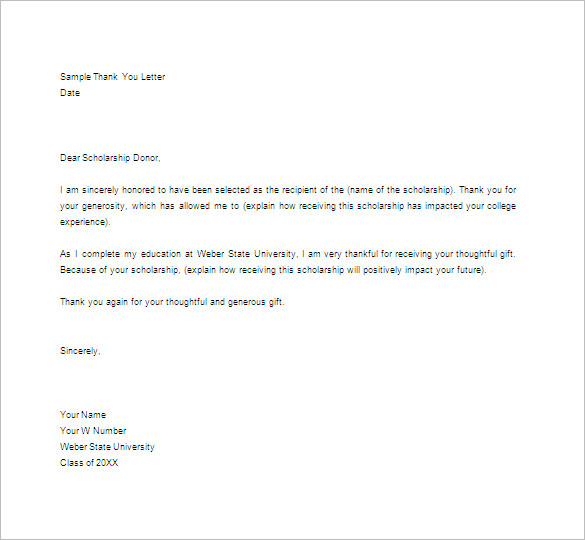 Once you are grateful and happy about everything, you will have time to say thank you.But, do not wait for too long to send that special thank you note. Use this template to make the thank you note ready sooner than later. weber.edu
Thank You Letter For Scholarship Sponsor Sample PDF
engrscholarships.umd.edu Say thank you often keeps off some psychological-related conditions. At least, you develop a good habit and kick away the thought that tell you that it is okay not to say thank you. Use this template to send a thank you note today.
Sample Scholarship Thank You Letter Download
There is no trick to improving your professionalism that through thanksgiving. You shouldn't say thank you every day, but make it a habit to when necessary. Use this template to send a thank you note.
Graduate Scholarship Thank You Letters Free Download
Sample School Scholarship Thank You Letter Template PDF
utb.edu
Undergraduate Thank You Letter for Donating Scholarship
financialaid.ucdavis.edu
College Thank You Letter to Private Scholarship Donor
wayne.edu
How to Write a Scholarship Thank You Letter Template
Download Thank you letter these template samples available for free. Customize, format and choose from a wide range of various template examples. These templates are the perfect tool for expressing your wide felt gratitude for the selectors. Everyone loves being appreciated; start doing that by just downloading these templates.