Word Templates
24+ Best MS Word Format Templates
Having a well-written document for any topic is very important, especially one without flaws. They then scale the charts of readability and can be very pleasing graphically and aesthetically too. All these and more can be bought with the innumerable best MS Word templates which would steal your heart away.
Making such documents with the standard MS Word format could be a tedious task- the fonts, the background, the highlights, deciding for all of them in one go is no easy job. But with the help of the MS Word templates, the work gets easily resolved as there are many templates available that can be of great help to you. You can find various aesthetic styles for creating a portfolio, resume, salary slip, header, student essay, menu, cover letter, module, application form, and so much more. There is never any shortage of the kinds of MS Word Creative ID Card templates in the online sphere; you name your topic and you will get it.
Product Launch Proposal Template
Pool Event Styles Ticket Template
Simple Rental Agreement Template
The above-mentioned rental agreement template can be downloaded and used for any rental agreement concerns. This 7-page agreement comes with standard business fonts and looks professional. Edit using your favorite app or program. It is also available in many file formats, so pick the one that suits your ideas and preferences the most. Download it out now!
Legal Statement Word Template
Make clear and detailed statements with the help of this legal Word template, that will be of great use to you. Submit your statement in no time by downloading this template now and editing it to your wishes and preferences. All you would have to do is download the file, replace the yellow highlighted parts with your information and you are good to go.
Corporate Fact Sheet Template
This corporate fact sheet template that is mentioned above, helps you map out the necessary details that you need to include in your business files. It is available in multiple file formats. Another advantage of this template is that it is not just limited to the computer, but you can download it on any electronic device with ease. Download this template now, so that you can present the corporate fact sheet formally to potential clients and partners.
Simple Salary Slip Timesheet Excel Template
Keep a track of the hours your employees have worked and also, the overtime hours they worked with the help of this timesheet template in Word. It is very easy to edit and can also be customized as per the needs and requirements of the user. It is also available in any file format like Excel, Photoshop, Word, etc. Check these templates out now!
Blank Menu Checklist Template
Create worry-free processes or procedures of any kind with the use of this blank checklist template that is readily available for you to download. There are many other checklist templates in Word available online, that you can use for your convenience whenever and wherever needed. Easily customize with your details and information.
Corporate Meeting Minutes Template
Easily record corporate meeting minutes by using this corporate meeting minutes template that is mentioned above. Download now to get instant access to this very useful 4-page document with business standard fonts. Professionally designed, this template gives you the total privilege to edit and customize it the way you need it. Check blank sheet Word templates if needed for more. You can share this via email or any other social media account with ease. Don't miss this opportunity. Download now!
Business Contract Template MS Word
So, if it is a newsletter that you want to craft, a letterhead, or a business proposal in Word, the templates are at your disposal for your convenience. Making interesting and perfect documents through the top templates is very enjoyable and the best part is that it helps you economize on your time with some of the readymade elements in the templates which can be further customized as per user's whims.
5 Steps to Create a Perfect MS Word Document:
Step 1: Open a New File
The first thing you need to do before making the document would be to open a new file in MS Word and select the option of a new document. This way, you can make a new document of any kind you need in MS Word with ease. Open the Word document you want to be made into a template. Check Word agreement templates for more details on how to create the perfect agreement in the Word file format.
Step 2: Plan your Content
The next thing for you to do would be to plan all the content you need to add to the document. Keep all of it ready beforehand, so that it gets easier for you to make the perfect document needed without missing to add any details needed. Make your document flexible by adding and configuring the content controls, so that you can have the content in the way you want in the file.
Step 3: Insert Tables and Columns
If needed, you can easily insert tables and columns as needed. There are many other options in the toolbar you can use to make your document more attractive and as needed. Take a look at letters in Word for making the perfect kind of letters you need of any kind in the format of a Word document. You can add as many columns and tables as you need to subtly divide your document into different types, according to the information you need to enter.
Step 4: Add Graphics
You can add graphics to our document to make it look more appealing and attractive to the people you are giving it to. Graphics don't necessarily mean videos or images. You can use different color combinations, clip arts, etc. that make your document look better and would attract the right amount of audience you need. Keep in mind the target audience you have, so that you can design the file accordingly.
Step 5: Review and Save
Do not forget to name your document, as later, when you need to use it, it becomes easy for you to search and edit it if needed. Review your document before you send it in because you might have missed a few mistakes you need to change. Make the necessary changes as needed and save the document. Contracts can also be written in the word format, as they are easy to read and understand better than any other format.
Legal Invoice Template to Print
Simple Business Plan Template to Edit
Blank SWOT Analysis Template
Printable Notice to Vacate Template
Sample Printable Proposal Template in Word
Professional Report Template in DOC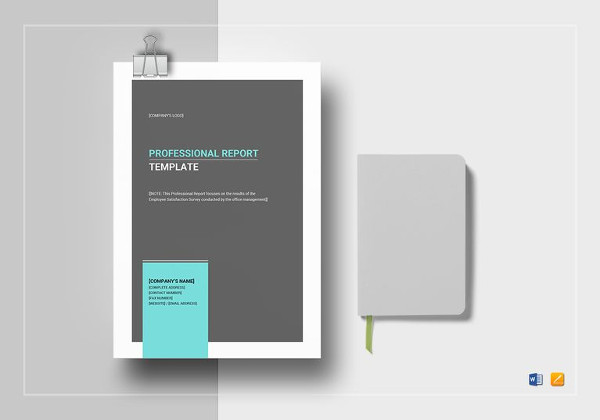 Editable Student Memo Template
Types of MS Word Documents:
Proposal Template
Submitting a new idea to a business prospect is always a tough task. A simple mistake can cause to tarnish the image of your company. A proposal template in Word can work to your aid in such a situation. As the template supports and works on the MS Word format, it is very much user-friendly and can also be edited with ease. It can be easily downloaded anytime, anywhere with ease and customized to suit the needs of the user.
Trip planner:
As the name suggests, the trip planner in Word is to help users with easy and tension-free itinerary planning during their holiday. The template along with its varying options allows the user to enter the data and keep access to them regularly. Details such as the date of the journey, place of stay, and the places that need to be visited can be jotted into the template.
Project task list:
Projects are tough and keeping a track of the complete projects that are in progress could be a pain. This is when the user can make use of the project task list template. The template has acute details of the task that needs to be completed, along with details of staff or number of people currently working on the project, expected outcome, the targeted time frame of finishing, and also, the option to upgrade the progress of the project. Check out the invitations in Word for creating different types of invitations in the Word format.
Blank Receipt Template
Blank Schedule Template in iPages
Simple Family Tree Template
Sample Gantt Chart Template
Creative Professional Header Letterhead
Blank Checklist Module Sample
Portfolio Order Confirmation In Word
Free Aesthetic Certificate of Appreciation
Free Birthday Program Design Template
Blank Resume Application Form Template
Unique Resume Cover Letter Template
Wrapping Up:
There is also an option to generate reports on the amount of time invested and also calculate the future period that might be required to complete the task. Food vouchers can also be made in Word format perfectly. Just click on the link to know how to do that effortlessly! On the whole, the template works best for users who wish to track down a huge volume of data.
There are many more types of MS Word files that you can use to make the best one needed for your organization/personal use. Options to edit and customize templates in Word based on user requirements make these templates the best tool for users dealing with them. These templates can be easily downloaded and put to direct use. They are very helpful and will reduce the stress of creating one from scratch.
General FAQs
1. What Does MS Word Document Mean?
Microsoft Word (MS Word) is one of the most commonly used software programs by millions of people around the world to create, read, and edit documents. It was made by a computer company named Microsoft to allow users to type and save documents.
2. What Are the Key Features of MS Word?
MS Word has many features. These include:
Ability to enter and format text
Ability to save and print documents
Compatibility with earlier versions of Word
Support for cloud or local use and
Built-in Collaboration
3. What Is the Purpose of Using MS Word?
MS Word is a graphical word processing program that is used primarily for producing documents such as letters, brochures, tests, quizzes, presentations, and assignments amongst others. Using MS Word makes learning and teaching easier.
4. Does Microsoft Word Have Templates?
Microsoft Word contains many ready-to-use templates that are developed right into the software. You can use any of the templates to suit your document style or layout to quickly create documents like flyers, research papers, and resumes without any manual formatting.
5. How Many Types of Views does MS Word Have?
Here are the different views that are given by Microsoft Word for a document:
Print Layout View
Full-Screen Reading View
Web Layout View
Outline View and
Draft View