18+ Examples of Creative 404 Error Page Designs
Ever since the users start working on browsers, they get used to 404 error. A sort of long lasting affair. But what is 404 error all about? In computer language, 404 error indicates a broken link between the client and the server. Subsequently, the standard response code gives you no option, except leaving the page with bare hands. However, creativity over the years has reached new heights in all areas and now you can convey the error with a sugar coated message. To know further, read the below examples. You can also see Funny 404 Page Designs.
Daniel Karcher is into Jazz leadership and it discovers a creative way to address the lost? If you can see the the digital display board in the railway station reads the message 'Are you lost?' in Icy blue. A new way announcement. After all, visitors are like passengers.
Airbnb rents out the vacation homes online. The business is spanned over 191 nations. The California headquartered company goes with a standard 404 error message in which a girl bemused with a melted candy bar. You can also see PHP 404 Error Pages.
The Danish toy manufacturers 'Lego' came up with a playful 404 error page for their website. A toy with a plug in one hand and the socket in another which delivers the message 'Connection lost'.
Github is a hosting service that assists people with graphical interfaces and other source code management along with access control. It's 404 error duplicates an alien who stuck midway. The banner moves with cursor.
CSS Ninjas are trained mercenaries and get you covered in the field of XHTML/CSS. A funny animated ninja conveys you the message of 404 alongside giving you the option of getting redirected to the home page.
MailChimp is a name that doesn't need any introduction. Any business that deals with mass mailing can easily identify the service provider. The Mail champ uses it's trademark chimp to deliver the 404 message. The animated background indicates an unidentified territory.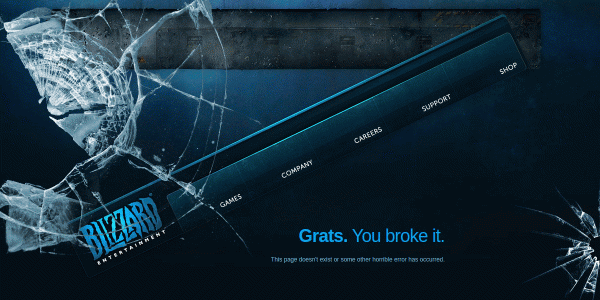 To conclude, technical mishaps are inevitable for any company and if you are creative enough there is a lot to do with that 'lost space'. Use these sugar coated message instead of instead of leaving the visitors in no man's land.