Even though graffiti is widely considered an illegal or rebellious art—because it is still a form of vandalism—it also has rules that every artist should follow. This form of art dates back to the 1940s and is still in practice up to this day in many countries. By definition, graffiti is the writing or drawing of something that have been painted illegally on walls or other surfaces, often within the public's view.
Vectors, on the other hand, are images formed by different polygons, shapes, and lines. Vectors may be simple and flat images, or it may also be three dimensional. Many published media today such as posters, banners, and even brochures use images in the vector format because of its high quality. Check out our website for different vector designs that you can use.
Wall Graffiti Vector
Download
Graffiti Vector Background
Download
3D Graffiti Vector
Download
Graffiti Splatter Vector
Download
Abstract Graffiti Vector
Download
History of Graffiti
During the World War II, American GIs fighting across Europe and the Pacific began leaving the message "Kilroy Was Here" on walls as sort of their calling cards.
Around 1967, the father of modern-day graffiti, Darryl McCray, also known as Cornbread, began painting on walls and public spaces throughout Philadelphia with his name.
In the early 1970s in New York City, one notable person who was known for tagging or writing their names in graffiti style was Taki 183. His tags caught the attention of The New York Times, resulting in graffiti becoming a media phenomenon.
In the late 1970s, graffiti evolved rapidly, and one of the persons who have contributed to this change was Michael Tracy, also known as Tracy 168. His style became known as the "wildstyle" in which the tags were written in oversized letters interlocking with each other
During the 1980s, Jeff Brown, also known as Kase 2, developed an angular and futuristic expression which he called computer rock.
If abstract artwork is what you're looking for, then you might want to check out our gallery of abstract vectors.
Tips on how to become a graffiti artist
First and foremost, buy a sketchbook so you can practice doing your graffiti design there.
Choose a name and stick with it. Early graffiti artists would use part of their name on anything else unique and add the three numbers from their street addresses. Never use your real name.
Look around for inspiration but never copy it. You can look around your city or you can also search on the Internet. After you've found your style, stick with is as well.
Practice first using permanent markers because these are easier to use. Once you've gotten used to it, you can then proceed to the more advanced method, which is the use of spraypaints.
Graffiti Arrows Vector
Download
Graffiti VIP Crown Vector
Download
Graffiti Alphabet Vector
Download
Grunge Graffiti Vector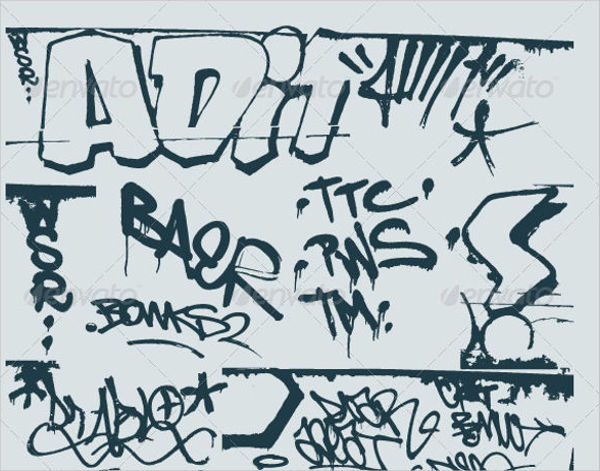 Download
Did you like our graffiti vectors? We hope you did, because these templates we carefully selected from among the best ones all around the Internet. These templates were designed by skillful and creative graphic artists, some may even be graffiti artists themselves, and can be easily downloaded by anybody who has good Internet connection. When downloading, you may choose to save it in either PSD, AI, Vector, or EPS format for your convenience. These templates are fully editable (and for high compatibility, we recommend you download in PSD format if you are using Adobe Photoshop). Rest assured that you will be receiving the best quality with our high-resolution graffiti vectors.
For another type of abstract template to choose from, we also have a collection of splatter vectors that you can check out. But if you still couldn't find what you were looking for on this page, then scroll to the bottom and check out the links to other related content found all around our website.