A beach is a land form covered in sand and small rocks that is situated near a large body of water. It is one of the most visited destinations, especially during summer, because people want to beat the scorching heat by cooling themselves by taking a deep plunge into the ocean's clear waters and feeling the soothing sea breeze. All in all, the beach just gives out the theme of relaxation and fun.
However, if you just love the beach but could not visit it anytime you like, you can always print a beach picture or illustration to appease that longing for vacation. These 10+ beautiful beach vector designs and more from our website can be a perfect inspiration for framed artwork or stick-on posters for your office or home decor. This sample list provides high-quality vectors that can be downloaded and edited to your liking.
Summer Beach Vector
Download
Beach Party Vector
Download
Tropical Beach Vector
Download
Sea Beach Vector
Download
Sunset Beach Vector
Download
Beach Silhouette Vector
Download
How to Edit and Use These Beach-Inspired Vector Graphics
Download a vector editing software. 

To start with, you must first download any vector editor software, which you could find in droves on the Internet. When looking online, always go to the actual websites of the software developer or publisher to avoid any viruses and wrong downloads.

Download your preferred vector pack. 

After you download your preferred vector editing software, you can now start picking and downloading vector packs, like the examples we have here. To download, just click the Download button with each vector samples.

Start editing your vector packs. 

Before you actually start work on your vector packs, check first whether or not they are grouped. If they are, then just break the layers by just right-clicking the mouse and then click Ungroup and you're good to go. You can now edit the vector graphics by adding shapes or any other vector elements.
Even though most of the samples we offer here come in vector format, most of our template samples are also saved in different formats such as PSD. Make sure to download the correct editing software, such as Adobe Photoshop, to ensure file compatibility. If you don't want to edit or make changes to the vectors, the samples also come in print-ready formats.
For more beach related illustrations or just simply relaxing vector designs inspiration, you can also check out this summer vectors. Such design samples can also be used in different summer occasions or events such as parties.
Beach Vector Background
Download
Beach Vector Art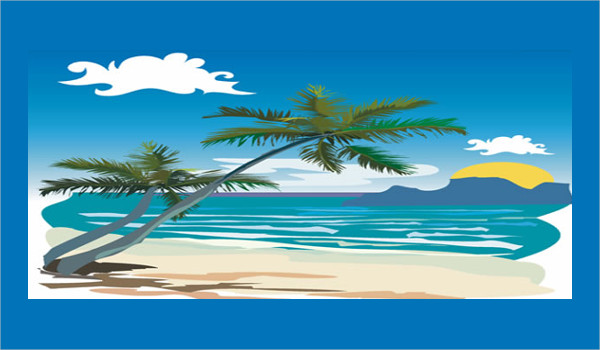 Download
Palm Beach Vector
Download
Sun Beach Vector
Download
Sand Beach Vector
Download
Different Purposes of These Beach Vector Design Illustrations
These design samples can be used in different purposes, and the only limit is how you utilize them. They can be used as:
Invitation cards—for summer or beach-themed parties. It can also be used as a birthday invitation card; however, make sure that the theme of your birthday party correlates with the summer or beach trend.
Party backdrop decors—these designs can be a perfect use for this summer-themed vector designs. With clear, crisp, and vibrant designs, these templates certainly are perfect for any summer party decoration.
Framed or stick-on posters—our templates can also be a perfect use for these vector graphics as this can also serve as a office or home decor, giving out the spaces a more vibrant and playful display.
For more fun-filled vector design themes, you might also want to check out party vectors for your next party plans.