The fascination of designers with vintage tones is nothing new, and considering the sheer beauty of the retro designs, it's justified. Adding even more classiness to the vintage theme is the design philosophy of focussing on retro artefacts such as postcards, sundials, and what not. Vintage postcards are the pinnacle of expression of the subtle hues of retro designs, and ideal for designers looking to create an unforgettable aesthetic output with a vintage appeal. Contemporary postcard designs with hints of the vintage feel are absolutely fabulous and redefine the sense of creativity with their designs. Vintage postcards from the most loved cities of the world, retro postcards with HD images of legendary musicians and artists, and old school postcards bearing abstract patterns that evoke the sense of nostalgia – all these and more old world charms await you with a world of vintage postcard design inspirations. Trust vintage postcard designs to inspire you and give you a direction for creating truly special designs. Experiment with retro shades such as sepia, blends of browns and yellows, and others, using Photoshop to recreate and enhance all kinds of old world postcard templates, since all these come in the form of layered PSDs. Vectors from vintage postcard design files can be enlarged without losing out on quality and can hence be separately used in your own complex and blended designs. Check out abstract, colorful, black and white, theme based and message based retro postcard templates and open up your mind for substantial design inspirations to settle.
Vintage Postcards
Vintage Postcard Save-the-Dates
Vintage Postcard Digital Paper
Vintage Postcard Set
Valentine's Vintage Postcards and Post Stamps Set
Vintage Postcard Backs
Vintage Clothing Postcard Template
Vintage Postcards and Postage Stamps
Old Vintage Postcards
Antique Postcards
Vintage Invitation Postcard
Vintage Poster Template
Vintage Postcard Facebook Timeline Template
Postcards and Stamps in Vintage Design
Vintage Postcards Set
Vector Set of Vintage Postcards with Stamps
Vintage Invitation Postcard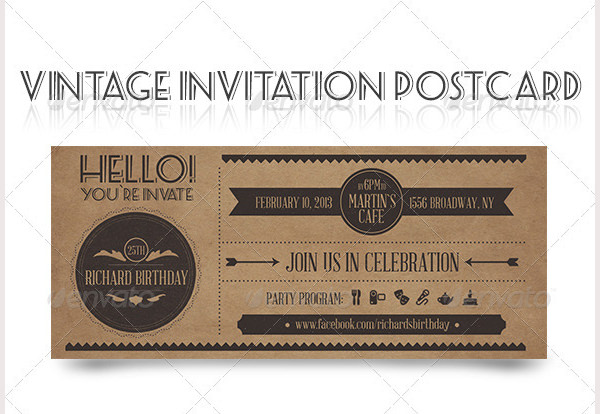 Hebrew Vintage Postcards Elements
Set of Postcards in Vintage Design on Polka Dots
Vintage Postcard Collection
Vintage Postcard and Postage Stamps
Postcard with Vintage San Francisco Poster
Set of Vintage Postcards with Stamps
Vintage Summer Postcard
Vintage Postcards
Vintage Postcards Vectors & Clipart
Vintage Travel Postcard Poster Template
Postcard From Nippon
QueensPlaza Vintage Postcards
Vintage Postcards, Beautiful Pansy Flowers
Estonia Vintage Postcards
Vintage Postcard.