Welcome to a world of evolving science and research with these new and responsive Laboratory Website Templates. Stay ahead with science with the flawless HMT5 and CSS3 templates & WPML ready template designs.These Laboratory Website Templates are not only easy to use and update, but they are also absolutely free. You can also download multiple shortcode packages with each of them alongside free instructions, ready to print.
161+ Website Templates in Word | PSD | Apple Pages | HTML5 | WordPress | Publisher - START DOWNLOADING
Medical Diagnostic Laboratory Theme
2 Columns Responsive Website Template for Science Lab – $69
The 2 columns responsive laboratory template works on HTML Javascript plus offering responsive features and specifications. There is option for two different web forms such as search form and contact form that can be edited to fill data based on target requirement.
Fully Customizable Medical & Lab HTML Template – $17
The template is basically designed for people working on the dental profession. There is option to include area of specialisation along with other achievements. The review or feedback form in the template is another beneficial aspect wherein users can update reviews about products and services.
Laboratory Responsive Website Template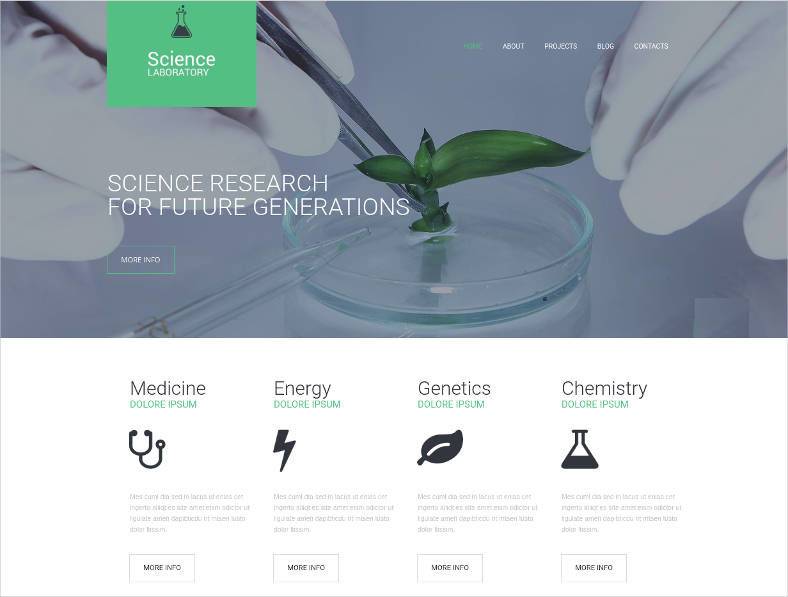 Professional Research Laboratory Website Template – $60
This laboratory template is basically designed to cater to the need of research labs. The template includes default built in structures to include recent developments, lab equipments employed, recent research and findings along with separate columns to explain the same.
Free Medical Laboratory Bootstrap Web Template
The free medical laboratory template is the most used template that has various themes and page setup to include the finest detail of your research and development. The template opens with a welcome page, gallery that can include all your research photographs and a contact page to include detailed description about your location and also connecting the location to google maps.
Science Lab Premium Motocms Theme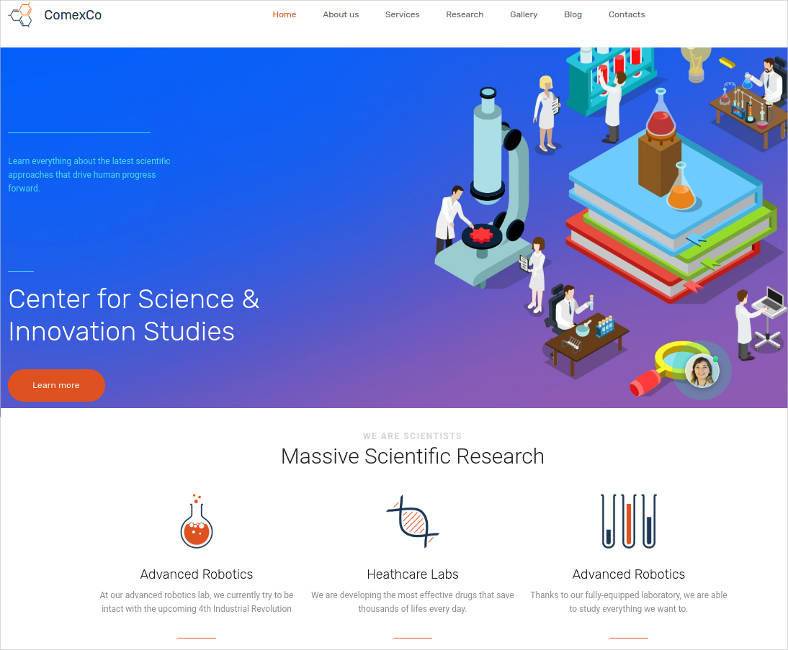 Virginia Lab Company Website Template – $63
Built using HTML JS plus, this laboratory template is the best choice available for purchase in the category of research and lab template. The template is available for download in two different format HTML and PSD format.
Pharman Laboratory Website Theme
Clean & Modern Health Laboratory Muse Template – $22
It is an easy to use multipage template with options to customise options. The template is divided to perfect layers so as to match to user requirements along with versions that can support desktop, mobile and tablet devices. The support team is available 24*7 to answer user queries.
Medical Lab Website Theme
Science Lab Responsive Website Template – $69
Doctorate Lab Website Template
Fully Customizable Laboratory HTML Template – $17
As the name suggest, the template is completely customizable based on user requirement. The website can be built using HTML package. The template can be changed according to requirement of user and built a website that includes every detail about your research and project.
Video Lab Responsive Motocms Theme
Science Lab Responsive Website Template – $69
The science laboratory template is neatly structured and designed to suit to the need of laboratory experts. The version runs using a HTML Javascript plus and is responsive to any user requirements. A winzip software can be used to unzip the template.
Business, Laboratory & Pharmaceutical WordPress Theme
Discovery Science Company Website Template – $62
The discovery science template is focused towards creating a website that includes complete details about your recent research project. The template guarantees complete satisfaction while using the same. The development team ensures full support to educate user regarding the use of template.
The multi-lingual themes make it possible to turn your website to regional Clinical Research, Clinical Trial, Doctor's Directory and Science Lab website. One can also use these as Hospital Websites successfully.
The above mentioned laboratory template is used to ensure that users can built a website using the template at minimal cost. The templates are easy to understand and provide various options to edit and customize templates based on user requirements.