Certificate Templates
5+ Marathon Certificate Templates
You must have already known that there are different kinds of marathons organized across the world. Most of the marathons organized today are associated with various social causes that are trending right now. Usually, after the completion of a marathon, certificates samples are issued to the participants for having put in their efforts and for showing their support for the cause in question. Such kinds of certificates deserve special care and attention. If that's what you're looking for, you need these certificate templates.
Marathon Certificate Template
Marathon Completion Certificate Template
Marathon Participation Certificate
This certificate would be perfect for marking the achievement of someone in a marathon. The blue and black theme certainly makes the marathon certificate template look all the more attractive.
The playful use of colour in this marathon certificate template adds a definite charm to the template. The template comes in a standard size with allowance for bleed too.
This template is fully compatible with Word and PSD. That means, the template here has been well designed and is easy to use. All you have to do is download it, edit details and then print it.
Certificate of Marathon Achievement Template
Marathon Excellence Certificate
Marathon Training Certificate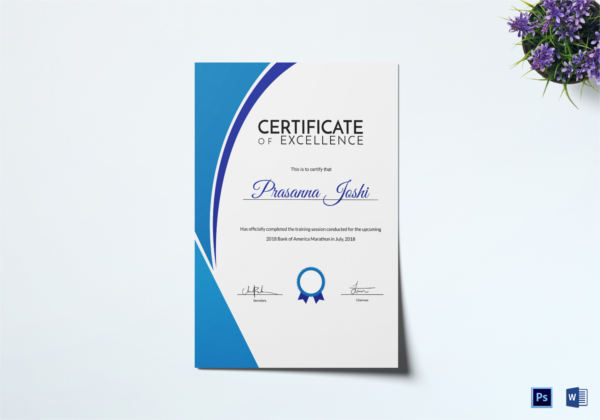 The well defined border on one side of this marathon certificate template makes the template appear charming and appealing to the beholder. It would be perfect as a certificate of marathon training.
This template comes with CMYK colour mode and a fairly high resolution of 300 dpi. It offers easy customisation of text and colour and comes in a standard size.
> Why are Certificates Required for Marathons?
In the case of marathons, it isn't really about the competitive spirit. It is about completing the marathon and showing your support for the spirit of the event. Nowadays, most marathons usually have some kind of social cause associated with them. It could be a fitness drive or to show support for women's rights or even to protest against something. The participants who believe in the cause, sign up for marathons.
Usually, to show the participants appreciation for stepping forward and joining hands for the occasion, a certificate becomes mandatory. The certificate isn't just a proof of participation but also a recognition of the tremendous effort put in. You can also see Athletic Certificate Template.
> What Makes the Marathon Certificates so Special?
These certificate templates may come in handy if you are organising a marathon. Here is why:
There are different kinds of certificates available here for various kinds of marathons. As you must be already knowing, there are different kinds of marathons. Based on that, there are different types of templates here.
These marathon templates already come in a standard format. That means you wouldn't have to worry about making errors with the layout. You can just download one, edit minute details and be on your way.
The certificate templates are 100 % editable and customizable as well.
When it comes to marathons, certificates are a must. In case you have been placed in charge of organising one, you need to take a look at these marathon certificate templates present here. All you have to do is download the templates, edit them and print them on a mass scale.
More in Certificate Templates