Physical and mental fitness are of the utmost importance in the present age. However, if you want to attain physical fitness, you're going to have to prepare yourself for hours of training. Don't worry, your efforts will be recognised and appreciated with the help of a certificate. To design this certificate, you can always take the help of the certificate templates provided below. All you need to do is get your hands on the correct templates.
Physical Fitness Excellence Certificate
Buy Now - $9.99
This physical fitness certificate comes in a black, white and red theme. Also, it comes in a word format that makes the template very easy to use. It uses high resolution images.
Physical Fitness Appreciation Certificate
Buy Now - $9.99
This certificate template would be perfect if you want to appreciate the efforts put in for physical fitness by someone. Plus, the layout of the certificate template makes it look all the more attractive.
Physical Fitness Recognition Certificate
Buy Now - $9.99
This physical fitness certificate comes in a Word or PSD format, a print ready layout, a standard size with bleed, a CMYK colour mode, high resolution of 300 dpi, and easy customisation of text and colour.
Physical Fitness Participation Certificate
Buy Now - $9.99
The first thing you notice about this certificate template is the dignified black border and the beautiful red patterns along the border. Also, the template is 100% editable and customisable.
Physical Fitness Training Certificate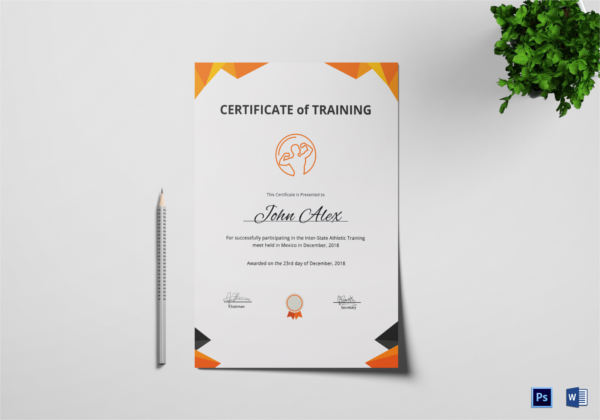 Buy Now - $9.99
The use of orange patterns in the template makes the certificate look attractive and adds to its charm. It comes in a standard size with bleed. It also uses CMYK color mode as well.
> Who can use the Physical Fitness Certificates?
The certificate templates that you see here are highly specialized in nature and usually serve a very specific purpose. Now, the certificates that you see here can be used in a number of different ways. For instance, anyone who runs an organisation for physical fitness may use the certificates. Once you have completed your program, you can recognise the efforts put in by your students with the help of certificates of completion. Similarly, you could use the certificates of excellence given here to award a particular student who has made significant achievements in the same field. Thus, these templates are multipurpose.
> Why should you go for Physical Fitness Certificates?
These physical fitness certificates are pretty handy and you're sure to appreciate them. Here's why:
The physical fitness certificates have been designed by professionals. Naturally, they have a professional touch to them. That adds a certain smartness and elegance to the templates.
Also, the certificates here are fully customisable. All the elements present on the template, including the text, the graphics and the colour may be adjusted and edited.
There are a wide range of templates at your disposal. You can choose the ones based on your needs and requirements. It makes your job much simpler.
The physical fitness certificates that you see here come in a number of easy to use formats like Word or PSD. As soon as you download the templates, you get the option of editing them and making minute changes to the details on the them. It really is as simple as that.