Awarding certificates for the completion of a course, programme, term of service or otherwise is a ritual that most companies and institutions follow, and these Sample printable certificates are often essential to prove that one has indeed completed the given course.
All Things Come to an End Most commonly, courses to learn vocational or other job skills offer certificates upon completion. Since these are useful in the world of jobs and employment, designing and downloading such certificates is an important and delicate job.
Certificate of Completion Template PSD and Word Format

Download
Formal Graduation Certificate of Completion

Download
Sample Diploma Completion Certificate MS Word

Download
Printable High School Diploma Completion Certificate

Download
Editable Bachelor of Arts Completion Certificate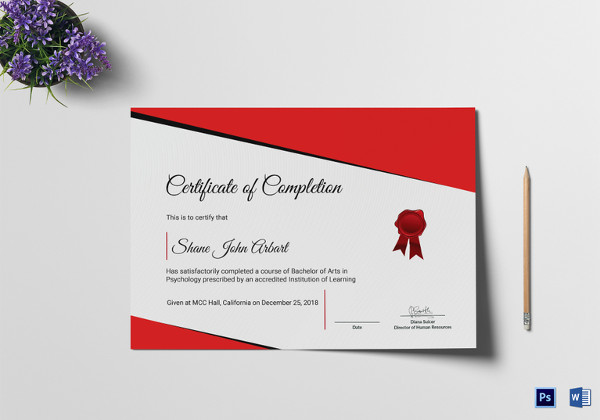 Download
Preschool Diploma Completion Certificate PSD

Download
College Graduation Certificate of Completion Template

Download
Easy to Edit Diploma Completion Certificate

Download
High School Certificate of Completion Template

Download
Painting Certificate of Completion Template

Download
Graduation Completion Congratulations Certificate in Word

Download
Sample Bachelor Degree Completion Certificate

Download
Free Completion Certificate
Sample Completion Certificate
Free Internship Certificate Example
Teacher Training Completion Certificate Template
Free Dealership Completion Certificate
Certificate of Project Completion
Training Completion Certificate
Nurse Training Certificate
HR Internship Certificate Template
Preschool Completion Certificate Template
Free Law Internship Certificate Template
Project Completion Certificate Template
Preschool Leaving Certificate Template
Engineering Internship Certificate Template
Printable Certificates of completion can be offered for diploma courses, degree courses or other academic activities. Most often, the end of a period of study at an institution is marked by a certificate of completion, and Certificate templates to design these free certificate of completion template word,PDF must include the basic facts and summary of the student's participation in the coursework.
Sometimes, special areas of interest such as film making and artwork courses award certificates upon completion. Templates for these could include the credits that they have earned.
The space to recognise distinguishing achievements is open on certificates of completion, and templates can be modified to include such distinctive features of a participant's coursework, to make it more specialised and effective.