Looking forward to the holiday season? Hosting Christmas brunches and holiday dinners are not only exciting, they pave way for celebrating peace and harmony in concord with loved ones. Whether you are hosting large brunches and dinners at home or in a hospitality business, having a great Christmas menu ready is very important. You can also see Free Menu Templates.
Editable Christmas Chalk Menu Template

Buy Now
Dinner Party Menu Template

Buy Now
Cocktail Menu Template

Buy Now
Elegant Menu Template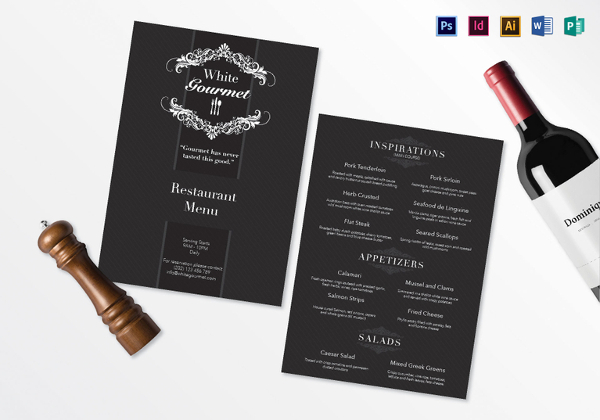 Buy Now
Victorian Restaurant Christmas Menu Template
Christmas Food Menu Vector EPS Format
Special Christmas Menu Template Download
Special Christmas Festive Menu Template Download
Christmas Menu for Restaurant Template Download
Christmas Menu for Restaurant Template
DIY Printable Holiday Dinner Chrishtmas Party Menu Template
Chalkboard Christmas Menu Restaurant Template Vector EPS
This Excel format chalkboard Christmas menu comes in white decoration with a black background. This menu is ready to download and to be used on Christmas by restaurants or personally at home.
Free Editable Christmas Italian Menu Template
These Excel free editable Christmas Italian menu template is an example of a simple menu. It comes in green brown and red colors with the food items in the center of the page.
Mr Punch Restaurant Christmas Menu Template Download
Christmas Menu Template Instant Download
This Christmas menu template instant download is a readymade template available online that one can easily download in a jiffy and use it to offer its wide delicious festive delicacies.
Christmas Menu in China Download
This PDF Christmas menu in china download template comes in a dashing blue and black color on the cover with the items offered on the back page. This template is available to you if you download it.
Thailand Christmas Set Menu Poster Design Download
This is an Excel format Thailand Christmas set menu poster design download comes in various colors with the food items written on one side of the menu. To refer to it for a menu you can download it.
The menu for Christmas should not only be colourful, but should have an appealing design to win attention. Our great collection of Menu Templates is all about showing off your delicious spread in the most delightful way. If you own a restaurant and are planning to host series of holiday buffets throughout the season, you will love the idea of accessing readymade menu templates.
Our ready to use Christmas Templates help you plan and execute your holiday menu in a perfect order. There are some classic designs that symbolise the spirit of the occasion – X Mas imagery, holly, Santa Claus, hats, snowflakes and candies. A perfect template completes the look and feel about your most palatable menu to be offered.Pick any of the designs from our vast collection. Easy to use and customise, you will get the best possible layouts in the most affordable way. What more, you can prepare and print these out from your home printer right away!Take a look at the Christmas menu templates that we have to offer!