Who would have believed that such beautiful creatures as butterflies belong to the same species as those that are feared by most people? The moment they hatch from their cocoons, they become a living representation of an abstract painting with all their patterns and colors. You would forget that butterflies are insects by their colorful appearance.
Drawing is an effective pastime to express your creativity. Some would even say that your mood could have an effect on how you stroke your brush, the amount of pressure applied to your pencil, or the choice of colors used. In drawing, you can use as many or as little colors, you can make large scale or small scale drawings, the limitations are countless and only depend on how creative you can possibly get. And if you prefer simple, monochromatic drawings, see pencil drawings.
3D Butterfly Drawing
Source
Flower and Butterfly Drawing
Source
Butterfly Pencil Drawing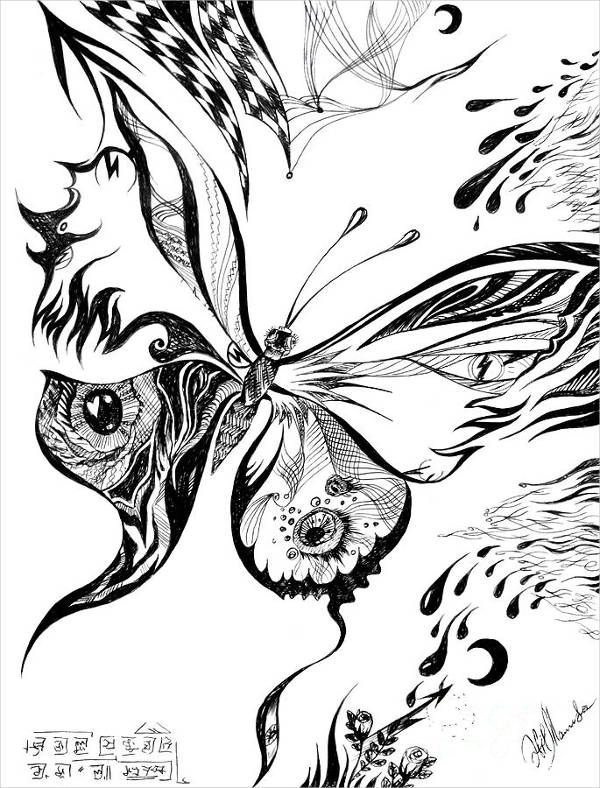 source
Colorful Butterfly Drawing
Source
Realistic Butterfly Drawing
Source
Butterflies are beautiful subjects in photography and drawing simply because of the beauty of their wings. Which is why we are providing you with our selection of butterfly drawings. We have looked all around the internet to find the best of the best butterfly drawings so that we will be able to provide you with quality products.
Here are some fun facts about butterflies that we think you should know:
Butterflies produce a special kind of glue used to attach their eggs on leaves.
Most butterflies have taste buds on their feet, and they use these to determine if the leaf they are on is good for laying eggs.
A kind of butterfly, the monarch butterfly, can fly to distances of up to 4,000 kilometers.
There are currently around 15,000 to 24,000 species of butterflies according to scientists.
Butterflies can be as small as 3 millimeters but can also get as big as 12 inches.
Most butterflies only have a lifespan of 2 to 3 weeks, but the brimstone butterfly can reach up to 9 to 10 months.
Butterflies can fly to speeds of up to 12 miles per hour.
A group of butterflies is referred to as a flutter.
When making butterfly drawings, their wings serve as your canvas and all you have to do is add shapes, patterns, and colors to it. They may seem easy to do, but getting the patterns on the wings have to be done precisely for it to look effectively beautiful. You have to make sure that when the drawing is done, it would appear as beautiful and graceful as real butterflies do.
To find drawings of flowers to go with the butterflies, you may check out flower drawings.
Printable Butterfly Drawing
Source
Pastel Butterfly Drawing
Source
Blue Butterfly Drawing
source
Abstract Butterfly Drawing
source
Butterfly with Rose Drawing
source
Now that you have an idea on how to draw butterflies, go and get your pencil, paper, and coloring materials and make one. But you may also choose to print any of these drawings. As long as you have good Internet connection, you may be able to access and download any of these drawings easily. These drawings can be downloaded in JPEG or PNG format, and they are fully editable, so if you choose to make your own customizations, you may do so. You don't have to worry about these drawings becoming pixelated if you wish to print them on paper, because these drawings come in high resolution, crystal-clear quality.
You may also check out abstract drawings. If in case you couldn't find what you were looking for on this page, scroll down to the bottom and feel free to check out the links for other templates that we offer on our website.
If you have any DMCA issues on this post, please contact us!