Fantasy art is what you would call a manipulation on realism. The genre of such art exists for long years now and is mostly used to depict a certain mythological creatures or beings in a written word to come alive in the form of art. Fantasy art is usually associated with folklore, mythology, science fiction, and religion. It is a bizarre, imaginary, whimsical, and out-of-this-world genre of art.
There are an abundance of artworks that is published and created by famous artists under such genre. They come in mediums of watercolor, acrylic paint, pastels, crayons, and in Charcoal Drawings.
Anime Fantasy Drawing
Source
Fantasy Knight Drawing
Fantasy Map Drawing
Source
Fantasy Art Drawing
Source
Fantasy Animals Drawing
Source
History of Fantasy Art
The history of fantasy or fantastic art can be traced as early as the origins of Egyptian mythology. Its root stems from the representation of everything in between moves and styles of Romanesque art, Baroque movement, and Age of Enlightenment.
This style of expression has been a predominant factor in the arts, each time taking on a different form and role. Fantastic art can be distinguished by two unique styles called Dada and Surrealism—the Dada movement developed in 1916 and came to an end in 1923, leading to the beginning of Surrealism in 1924.
Dada versus Surrealism
Dada was an artistic and literary movement that began in Switzerland, specifically in Zürich. It was a reaction to World War I, and it was the first conceptual art movement where the focus is making works that often upended bourgeois sensibilities and that generated difficult questions.
Surrealism came about when the Dada movement ended due to a ton of controversies toward the movement. Unlike Dada, its focus is in art and literature that sought to release the creative potential of the unconscious mind, to resolve the contradictory conditions of dream and reality.
Fantasy Art Today
Back in the golden days of the beginning of fantasy art, it was popularly created through the use of acrylic painting, water coloring, charcoal drawing, and Pencil Drawings. Nowadays, we use conventional computer software like Photoshop, Maya, and Illustrator to create art.
Back then, when fantasy art was made to communicate hidden messages of how the artist perceives a certain scenario, it is now commonly used to express the wild imaginations of the artist and is often depicted from fiction fantasy based novels, short stories and poetry. With the high demand of book lovers wanting to see their beloved characters and scenarios come alive visually highly contributed to the percent of what consists fantasy art today.
Fantasy Castle Drawing
Source
Fantasy Girl Drawing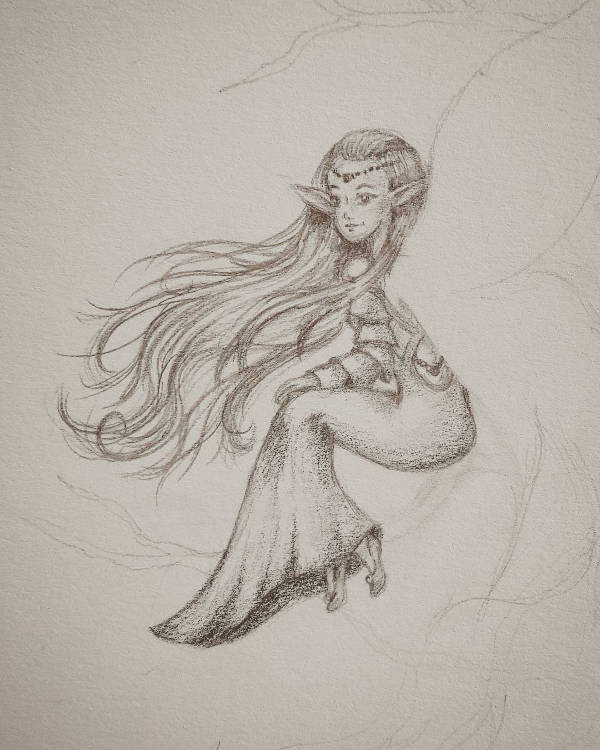 Source
Fantasy Pencil Drawing
Source
The Understanding of Fantasy Art
Fantasy art does not revolve only in fictional literary works and spurs of bizarre imaginary moments of the artist as it also has a high influence on the famous anime and manga industry as well as Hollywood movies. It also has an influence in fashion statements where fantasy art is implemented in Tattoo Drawings, clothes design, and merchandise designs. Fantasy art is also used as a stand-alone statement where it allows to communicate the saying "There is always something more than what meets the eye."
If you are considering venturing into the fantasy world of art, we provide samples here on our website that are downloadable for free in PSD, EPS, and AI format. Download now and use them as a reference material.
If you have any DMCA issues on this post, please contact us!