Three-dimensional drawings have won widespread popularity across the world since the age of Renaissance. This type of art can have myriad forms and can be made on various mediums, the simplest among them being on paper. The following three-dimensional anamorphic drawings are examples of exquisite concepts with artists particularly focusing on the form of the objects. The most interesting part about these drawings is that some of them have been created in the same size as the real object, thus making it difficult to point out which one is real.
Awesome Anamorphic Illusion Drawing
The anamorphic three-dimensional image renders skillfulness and neatly attributes to the playing of light and shade appropriately. The entire image is sketched in such a way that it seems as if the hand has indeed come out of the paper to draw.
Conceptual Anamorphic Drawing
The height, width, and depth have been effectively used to make the image of the revolver look real. The medium on this image has been cut out to render a stronger Three dimensional illusion.
Awesome Anamorphic Drawing
With this Three dimensional Pencil drawing, a body of the incredible graphics is made using light and shadow. Such sketches are able to fool the human eye by creating the illusion of form.
Illusion Pencil Drawing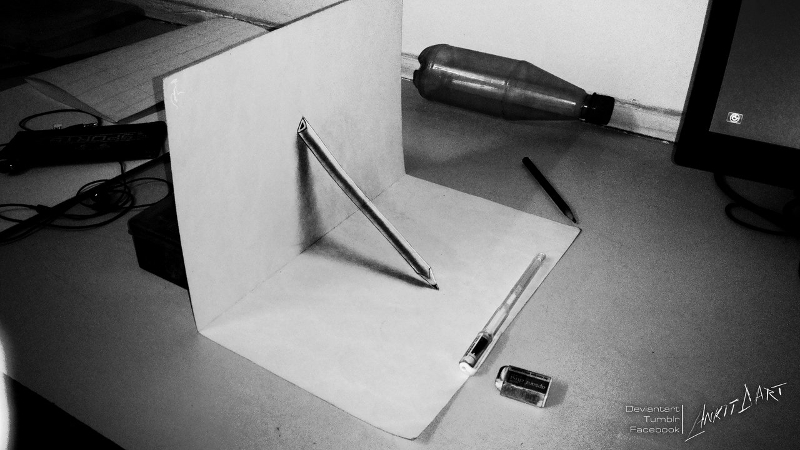 This Three dimensional pencil drawn on paper and resting in between the pages renders as if there exists a pencil in reality. The shadows, especially the one of the pencil falling below- make the image realistic.
Beautiful Anamorphic Illusion Drawing
Abstraction, simplicity, and anamorphosis is a surreal combination and with these attributes, the artist has conceptualized this image depicting the myriad challenges in life every individual has to face.
Amazing Anamorphic Illusion Drawing
This anamorphic painting is a three dimensional piece of art made on the floor in a Museum and it mingles the integrities of reality with the artistic perceptions of the painter.
Conceptual Anamorphic Drawing of Tiger
Three-dimensional art design is comprised of three main elements: balance, proportion, and rhythm and this conceptual three-dimensional artwork rightly balances them all to give you a tiger and an owl walking towards you from the woods.
Anamorphic Glass of Water
The stunning visual balance and proportion made with a pencil on paper makes this image of a half filled glass of water a work of realistic art in its true sense.
Anamorphic Illusion Drawing by VamosArt
This three dimensional piece of artwork simply made with pencil on paper creates the illusion of steps and consequently those of height and depth through a smart play of light and shadow.
Awesome Anamorphic Illusion Drawing of A Cube
Simple Anamorphic Illusion Drawing
3D Elephant Surreal Drawing
Art Direction Anamorphic Drawing
3D Drawing of Tiger
3D Pencil Illusion Drawing
Pencil Vs Camera Drawing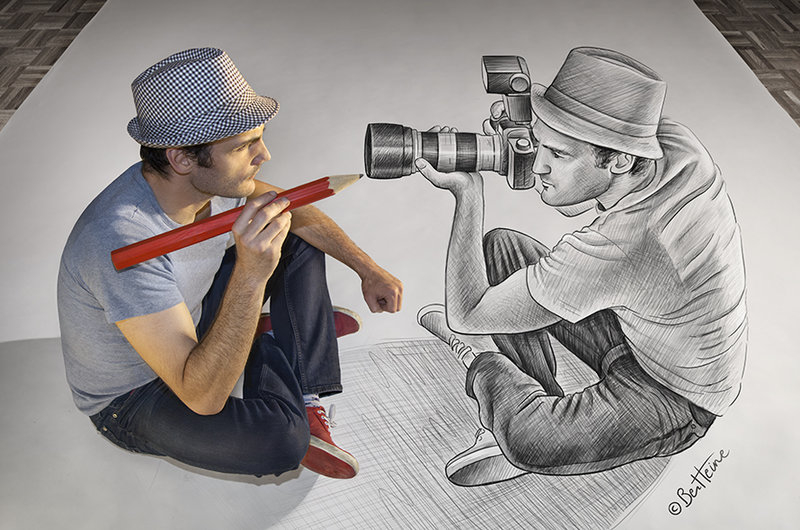 Anamorphic Illustration Drawing
Creative Anamorphic Illusion Drawing
Technical Anamorphic Illusion Drawing
3D Pencil Sketch Illusion of Football
Illusion Drawing of a Car
Art Direction Illusion Drawing
Drawing of 3D Concrete Pyramid
Three-dimensional drawings are difficult to create owing to the great deal of knowledge, skills, and expertise required to produce identical three-dimensional images. These templates will assist you in acquiring myriad conceptual three-dimensional anamorphic drawing ideas which will inspire you.