Safety concerns have become more common than, perhaps, anything else in many societies. With international standards being the preliminary backbone for all communities, improving the environs in which humankind lives in has become quite easy. You may also see Simple Certificate Sample Templates. It is important to understand, therefore, that the need for security Certificate Templates is part of the international standards that act as an emblem of one's readiness to ensure the safety and quality of goods and services.
Fire Safety Certificate Template
Final Fire Safety Certificate Template
Safety Training Certificate Template
Safety Management Certificate Template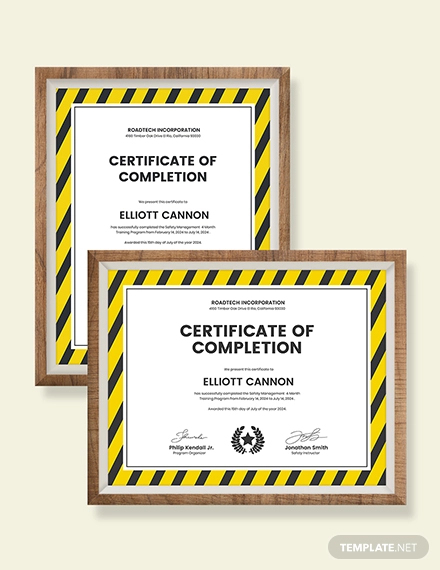 Child Care Safety Certificate Template
Security Training Certificate Template
Safety Patrol Certificate Template
The certificate is strongest, tangible evidence that the patrol team meets all the safety standards and, therefore, has the legal rights to conduct their operations in or around your premises. You may also see Medical Certificate Templates.
Fire Safety Certificate Template
A business can only earn a fire safety certificate if it meets all the necessary fire safety standards as required by the law. If you handle fire prone items, you must get this certificate to begin operation.
Gas Safety Certificate Template
You cannot run a gas station business without a safety certificate. This is the letter that shows you have every aspect of the business figured out, including relevant measures to prevent and control accidents.
Health And Safety Training Certificate Template
The certificate is presented to an individual who has successfully completed a health and safety session. The award gives the holder the go ahead to start a business, for they have the required safety standards to run the business in question.
Safety Training Certificate Template
The reasons for issuing this certificate is to indicate that the holder has gone through the health and safety training, and they now have the right to run a business of whichever kind.
Safety Recognition Certificate Template
Food Safety Training Certificate
> Why do You Need a Safety Certificate?
A safety certificate has benefits for both businesses and consumers, and, as such, businesspersons should consider getting the document. For customers, the document guarantees the safety of products and services. Because the certificate is a proof that a business' products and services conform to the International Standards of Safety, customers will build confidence in your products or services, knowing that they are safe, reliable, and are of high quality.
When customers are confident that your products or services are of good quality, they will continue buying; and that means your conversion rate will increase, and your business will improve overtime. You may also see Word Certificate Template.
> Who Can Issue Safety Certificates?
There are many education and certification bodies responsible for providing safety certificates, so it is important to decide which institution to attend to get the training. However, the two most important bodies that usually take part in offering health and safety certificates to anyone who wishes to start a business are the local government and the OSHA training. You may also see Training Certificate Templates.
OSHA training is an international body specialized in providing health and safety training to anyone willing to take the health and safety classes. The duration for the classes varies depending on the nature of training, and one must sit for a certification exam. The OSHA training will award the individual with a certificate after successful completion of the training.
> Instructions for Safety Certificate
While the demand for goods and services continues to increase in the terms of value and significance, the safety standards matter more than the number of available goods as well as the service providers.
Maintaining quality standards is, of course, not a choice you get to make; it is a mandatory strategy and a business policy that your company must observe. It does not matter what kind of goods and service you provide; at the end of the day, customers will care about quality standards first. You may also see Share Stock Certificate Template.
Creating a safety certificate from scratch is not easy. It could take hours to get the design done, and the design process may become somewhat overwhelming. As such, the best thing to do is to download a certificate template and then customize it.