Any course of training generally ends in a certificate to mark the completion of it. Templates for  certificates of training must try and find new and innovative design methods to cater to the many different programmes that are available. You can also see Certificate of Completion Templates.
Mulltipurpose Mega Certificate Bundle

Buy Now
Sample Training Certificate Template

Buy Now
Physical Fitness Training Certificate Template

Buy Now
Training Certificate is a minimally designed certificate template with the option to edit it. It has a formal look and is great for any formal or professional training certificate.
Sportsmanship Training Certificate Template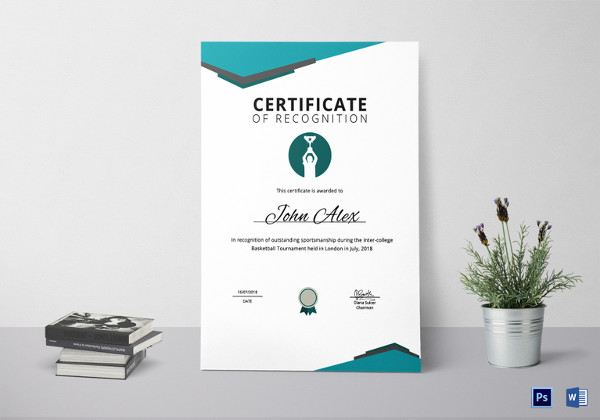 Buy Now
Attractive Training Participation Certificate Template
Buy Now
Since this template can be used for more than one purpose, it has been ranked one of the top ten participation training certifications. The theme of this template makes it more suitable for participation training programs than professional ones.
Prize Winner Training Certificate Template
Buy Now
Marathon Training Certificate Template

Buy Now
Marathon Training Certification is awarded after he or she completes a training program. If you're planning to award a Training certificate, then you cannot afford to miss out on this template.
Rafting Training Certificate Template

Buy Now
Physical Fitness Recognition Certificate

Buy Now
Innovative Netball Training Certificate

Buy Now
Certificates look best when kept simple and to the point. That is why you need to download this training certificate template today. The simple white certificate, with a bright border looks really attractive and stylish.
Physical Fitness Certificate of Participation
Buy Now
Physical fitness training certification guarantees more participation in your event, and also motivates and encourages the ones participating. If you're planning to create a certificate for your next event, why not take the help of this great template?
Certificate of Honorary Membership Training
Buy Now
National Fencing Certificate of Training
Buy Now
Beautifully designed with artistic designs on the corners and the centers, National Fencing Training Certificate is professional looking and attractive at the same time. It can be edited easily and is print ready.
Physical Fitness Certificate of Excellence
Buy Now
Motorsport Certificate of Training Template
Buy Now
Creative Rock Climbing Training Certificate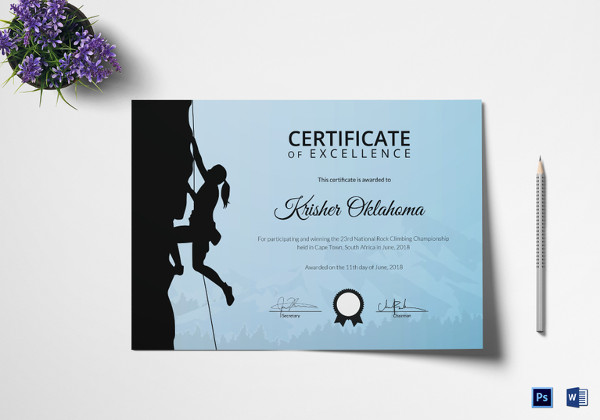 Buy Now
Physical Fitness Certificate of Appreciation
Buy Now
Training Completion Certificate Template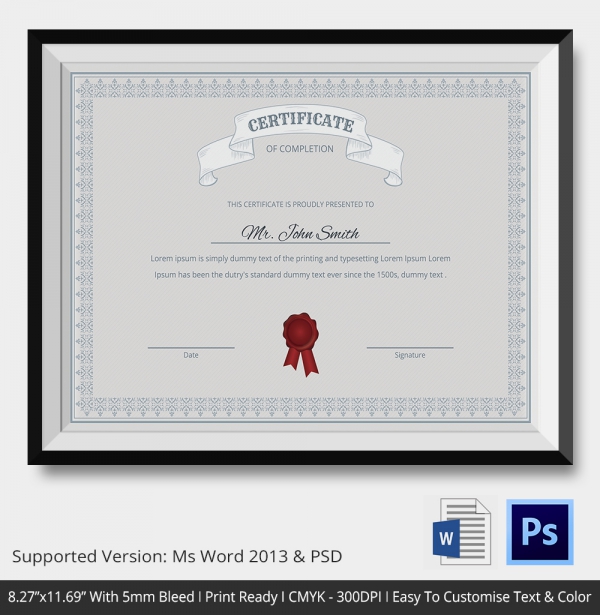 Training certification is awarded to an employee after he or she completes a training program at his place of work. If you're planning to award a participation certificate to your employees, then you cannot afford to miss out on this template.

College Course Training Certificate Template

Just like schools, colleges also offer a certificate for various professional courses taken by students. If you're wondering about the certificate format, then this is the template you should go for.
School Training Course Certificate Template
Schools often offer certified courses to its students. These could be related to academics or other fields. As you can see, this template allows you to edit the name of the trainer, and the date on the certificate. Once you do that, it will be ready for printing.
Technical Training Certificate Template
Today, more and more people are taking computer courses to increase their prospects when it comes to the competitive job market. After the completion of the program, a computer training certificate is awarded. For that, you can take the help of this template.
Workshop Training Certificate Template

Different kinds of workshops are organized on a regular basis, like acting or theatre workshops, creative writing workshops and so on. After the workshop is over, a special certificate is awarded to all those who participated. To create a workshop training certificate, you can take the help of this template.
Computer Proficiency Training Completion Certificate

Proficiency in computer is a must if you're looking for a successful career in the highly competitive job market. Equipped with a certificate from a recognized organization, you are ready to tackle any job. That is why you need to take the help of this amazing template designed specifically for such courses
Nursery Trained Certificate Template
Nursery Potty Trained, a 11 x 8.5 inch certificate template with coded colours and organized layers, is easy to edit and the colours are in CMYK format. It comes with a resolution of 300dpi and is print ready.

Multipurpose Training Unique Certificate Template

Sporting a unique design, Multipurpose Training comes in multiple formats – PSD, TIFF, AI, EPS with a resolution of 300 dpi. It has a vector design, is easily editable and comes in two type format – horizontal and vertical.

Individual Certificate Template Download

This template boasts of a smart and professional design, with a white and grey theme. If you have organized a training program at your place of work, or you're awarding certificate for professional purposes, then you need to take a look at this amazing template.

Simple Training Completion Certificate Template

Looking for different training certification types? Then you cannot afford to miss out on this one. It is a step away from the conventional designs, which can add a unique charm to your certificate. Download this, and use it for any purpose you want!

Appreciation Training Certificate

If you have been looking for a professional certificate maker, then look no further. You have found the one for you! A training program at a company would be incomplete without a well designed, neat and smart certificate like this one. So what are you waiting for?

Best Training Certificate Template

Modern Multipurpose is a beautiful certificate template that comes in two type format – horizontal and vertical. Its colour code is CMYK and you can choose from one of the many backgrounds. Its resolution is 300 dpi and it is print ready.

> Get The Best Quality Certificates With Training Certificate Templates
Training programs are organized by companies and institutes on a regular basis. The complex world of business undergoes changes every day, and it is important to keep all those involved up to date so that they can adapt to the evolving circumstances. Usually, after a training program, a certificate is awarded to all those who participated. In fact, training can be of various kinds. There are training programs for fitness, for pets, for certain professional courses and so on. You may also see Word Certificate Template
> The Various Types of Training Certificates
If you are organizing a training program, you must also make arrangements for certificates to be awarded at the end of the program. The kind of certificate usually depends on two factors – how long the program lasts, and the extent of the participation of the person in question. For example, an employee volunteering in the management section will be receiving a certificate mentioning his efficient organizational skills, while a person participating in the various events of a training program will receive a certificate of completion. Some training programs even award employees who show an exemplary performance.
Also, certificates are provided after people complete certain courses or workshops. For example, if you complete a crash course in cyber security, you will need certification to prove that.
> Why Is A Training Certificate Useful?
If there is a training program of any kind, there must be a certificate to prove that. It really is as simple as that. It serves as evidence of a member's participation, and can be used for future reference. In the corporate world, a certificate just motivates the employees. If they are promised certificate for participation, they are likely to take part in the event with a lot of enthusiasm, and constantly strive to be the best.
A certificate awarded for a workshop or a professional course has tremendous value, and would look good on your resume.Nowadays, most training programs resort to formal certificate templates to create their certificates, it really is the best and the easiest way of doing so. You may also see PSD Certificate Templates
Standard layouts can serve as a good base for the certificates, and some details about the specifics of the course itself are essential. Depending on the special focus of the certificate, it can be used by the trainee to further their interests with the credits that they earn. Award Certificates used for distinguished performance in training programmes can be designed with the help of these templates, so that in the cases of exceptional need or talent, these Free Training certificates can also serve as proof.
A number of websites have complete and well-laid out training free certificate templates word,PDF that can be used directly by just filling up the requisite details. For those who are aware of the necessary technicalities and are handy with editing, Download Sample Training Certificate templates available online, which can be tweaked and changed in appearance before they are printed out to hand over to trainees who have completed their training.
> Tips While Making Training Certificates
Irrespective of the kind of training program, the certificate needs to be spectacular and impeccable. That is why you need to keep these following tips in mind-
Make sure that the colour scheme you choose for your certificate goes with the theme of your training program. For example, a professional certificate must look formal and usually has a conventional colour scheme.
States the purpose of the certificate and the reason why the person is being awarded in clear, precise terms. Remember, this certificate is going to be of great value to the recipient; if he is being awarded for a good performance, do not forget to mention that.
Pay attention to the little details, like the name and other details mentioned in the certificate. One small mistake could ruin the certificate, and it would lose its value.
While you are free to include any details that you want in the certificate, it is better to keep it simple and short. It should be neat and clutter free. The highlight should be the name, and the reason of certification.
> How To Make A Training Certificate?
Have the above mentioned tips confused you? Well, it can be pretty intimidating if you're making a certificate for the first time. However, there is no reason to worry. Online certificate templates are here to help you out. The best part about these certificates is that you can just download them, and customize them to suit the purpose of your training program. Why waste money by hiring people to create your certificates for you, when you can do it yourself? This way, you end up saving both time and money. You may also see Sample Certificate Templates
> We Are Here to Help!
You need not worry about your training certificates anymore. At template.net, we have a wide range of options in store for you. We have certificates of all kinds, just waiting to be downloaded. You can take a look and decide for yourself. You may also see Certificate Templates