The first thing most institution think about before a graduation ceremony is how they are going to get the certificates prepared for the graduating students. Getting these done will definitely take time, and if the person hired to do this is a first timer, it is highly likely that the results will not be as expected. And even if the results are exact, you can be sure that it will take a long time to get the layout and eventually the writings on the Printable certificates done.
 6 School Certificates bundle
School Sports Achievement Award Template
Achievement Award Template for School Kids
Participate Award Template for School Students
Certificate of School Appreciation for Kids
 Sports Certificate for Kids with Photo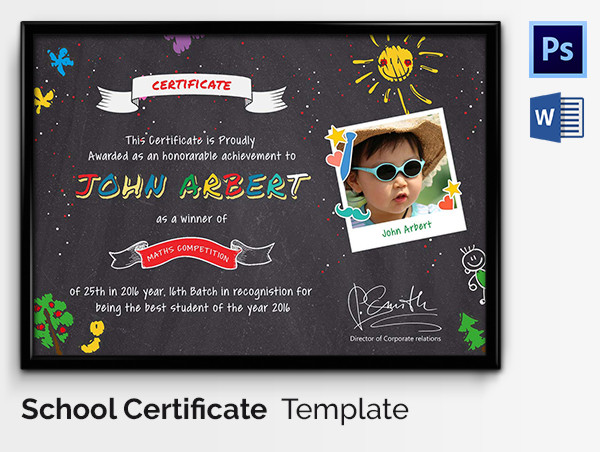 Best School Student of the Year Certificate Template
School Certificate of Participation Template
Customisable Certificate of School Attendance
Elegant School Diploma Certificate Template
Certificate of School Leaving
Artist Award School Certificate Template Download
Printable Attendance Certificate Template
Awesome Attitude Award School Certificates
Excellence School Certificate Template
School Certificate of Completion Template
Good Reader Award School Certificate Template
School Kids Diploma Certificate Template
High School Diploma Template
Macbook Completion School Certificate
Primary School Certificate Template
School Reward Success Certificate Template
School Star Award Printable Certificate
To help make your work easier, it would be a great idea if you made use of school certificate templates for an already complete layout. The main advantage with an already made template is that you do not have to create a layout at all. And with many template layouts already available, it is highly likely that you will ever miss the kind of layout that will be suitable for you.
The graduation certificate templates are useful also because they are cost effective and time effective. Most institutions that have used these already know of these advantages, which is why they will not waste time creating their own layouts from the ground up. You can even reuse the  same template in the future if you will need it.