A boarding pass is important for running any type of transportation service. It tells important information about the seating place of the passenger, the time of departure and other coded information. Use boarding pass invitation templates to create boarding pass for your transportation company. You can also be used to invite people to attend an important meeting visit Formal Invitation Template.
5 Boarding Pass Save the Date Invitation Template bundle – $ 25
PSD Boarding Pass Save the Date Template – $ 15
DIY Boarding Pass Save the Date Template
Save the date Invitation Template
Photoshop Multipurpose Boarding Pass Invitation Template
Passport Boarding Pass Wedding Invitation Template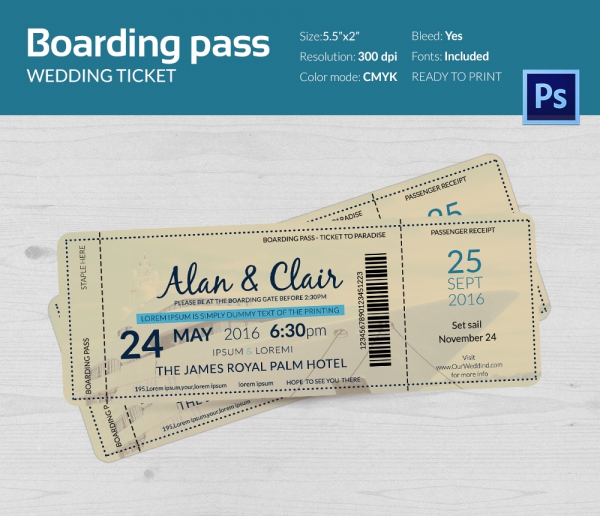 Baby Shower Boarding Pass
Birthday Invitation Boarding Pass Template
Bridal Shower Boarding Pass
Modern Birthday Boarding Pass Template
First Class Boarding Pass Template
Wedding Ceremony Invitation Boarding Pass
Special Invitation Boarding Pass Template
This small piece of paper forms a lasting image of your company. Make the best of this opportunity by creating a professional looking using these Invitation Template. They make sure that all the information is included.
Best Las Vegas Save the Date Invitation Download
Boarding Pass Invitation Template Psd
Beach Style Boarding Pass Invitation Design – $4
Boarding Pass Wedding Invitation Template
Premium Boarding Pass Invitations Mock-up – $8
Free Boarding Pass Flight Wedding Invites
Elegant Boarding Pass Wedding Invitation Download – $4
Free Cruise Ship Boarding Pass Design Template
Free Wedding Boarding Pass Vintage
Paris Boarding Pass Invitation Illustration – $12
Destination Wedding Boarding Pass Invitation Free Download
Wedding Boarding Pass Invitation Vector EPS – $5
Boarding Pass Ticket Invitation Template Design
Antique Generic Wedding Boarding Pass Invitation Template
Editable Airplane Boarding Pass Invitation Template
Printable Boarding Pass Invitation Template
Digital Train Boarding Pass Invitation Template
Beautiful Wedding Boarding Pass Invitation Template
Navy Blue Planes Boarding Pass Invitation Template
Vintage Theme Train Boarding Pass Invitation Template