In any food establishment—regardless of its size—it is very important as well as practical to make use of a tool to allow customers to choose from among the dishes and beverages that are being offered. This tool is referred to as a food menu, which lists the different dishes and drinks that are being offered by that food establishment. It is indeed very important for these establishments to utilize a food menu because it makes them look prepared and gives them a reputable image in the eyes of the customers. You may also see beautiful restaurant menu designs.
As we said, food menus matter regardless of the size of the food establishment. For small cafes, they would either have it printed on a single piece of paper or have it displayed above the front counter, similar to fast food joints. For big restaurants, on the other hand, they would commonly have it printed on multiple pages, with each page corresponding to a specific category. If you are running a cafeteria, a restaurant, or any food establishment and you are in need of templates to make your own food menus, we have various blank menu templates below that you might want to check out.
Blank Restaurant Menu Template
Rolled Up Italian Blank Menu Template
Settling on an Italian-themed restaurant? We've got you covered. As you can see from the sample above, the design on the Italian menu simply features an image of a blank sheet of paper with slightly rolled up corners, and an illustration of an Italian chef at the top. While the template shows a workable aspect ratio of 1:1, you can actually modify it during the editing phase, making it longer in order to accommodate more content.
Just a heads up, take note of that Italian fellow above because you will definitely see more of him later in this article.
Veggie Borders Blank Menu Template
For those who are looking for a rustic themed blank menu template, this one might be a good choice because aside from its wooden-like surface, the entire workable space is surrounded by various vegetables and root crops. This vegetarian menu template is definitely perfect for salad restaurants or restaurants that lean more towards vegetable-based dishes
Cartoon Girls Blank Menu Template
Blank Chalkboard Restaurant Menu Template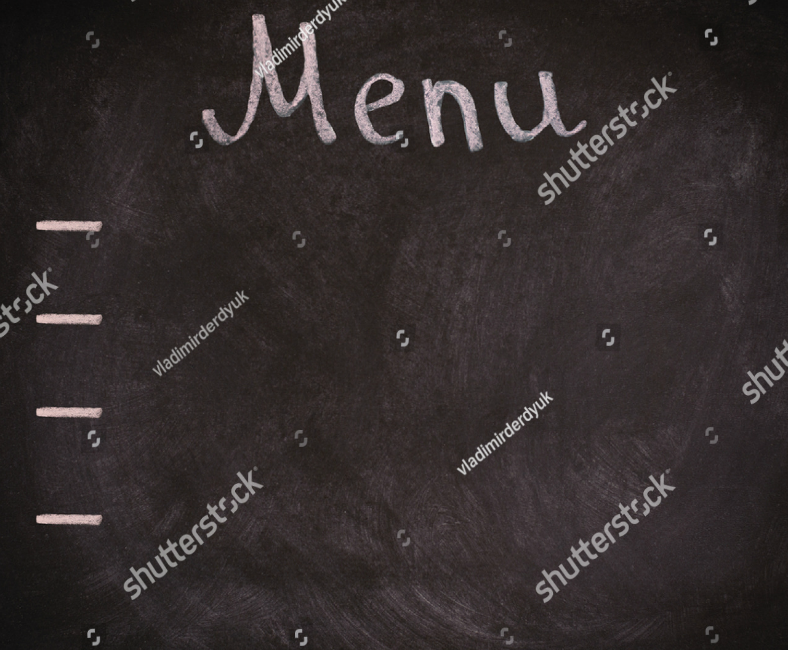 History of Food Menus
According to historians, the first use of this list of prepared foods date back to the Song Dynasty in China. These were mainly used to cater to dining customers who were too busy to prepare their own food for the evening, and they were given options by the caterers on what to eat or drink. You may also see creative restaurant menus.
But even with that claim, the word "menu" is actually French in origin, which in turn is derived from the Latin word "minutus", meaning "something made small". The original food menus that were being used by the French were written on a small piece of chalkboard called a "carte". You may also see menu templates in word.
Italian Chef Blank Menu Template
Now what did we tell you about seeing this face again? Here is an alternative design if you found the first menu template interesting. This one still features a single sheet of paper that appears to be fixed on a surface with one corner slightly rolled up. And just like the previous Italian menu template with a style similar as this, you are allowed to adjust the size of the workable space to allow you to add more content.
Sample Blank Chalkboard Menu Template
If you prefer something that resembles the first ever menu cards that were used by the French, then the chalkboard-inspired menu template above may be what you are looking for. Feel free to download this black and white menu template and use it for your cafe or restaurant.
Asian Chef Blank Menu Template
For those who are running an Asian food place, the restaurant menu template above may be the perfect pick simply because of the presence of a happy-looking Asian girl on the top of the design.
Smiling Chef Blank Rolled Up Menu
Italian Blank Chalkboard Menu Template
Once again, here is our Italian friend to showcase yet another design for his blank food menus. Unlike the first two designs that featured him, this one doesn't make use of a slightly rolled up sheet of paper. Rather, it uses a big pa iece of chalkboard that you can use to list down your dishes and drinks. You may also see free menu templates.
Cartoon Chef Blank Menu Board
Meat Restaurant Blank Menu Template
There are meat shops, and there are restaurants, but there are also meat shops that offer to cook the meat that they are selling for their dining customers. This gives their customers a chance to feast on newly cooked dishes from meat that are guaranteed fresh. If this is the kind of business that you are running, then feel free to use the meat menu template above.
Blank French Restaurant Menu Template
Types of Food Menus
When it comes to food menus, we already know that they are being utilized by different types of food service industries, but these menus themselves also come in different types and for different purposes. Below are the most common types of food and drink menus that are being used among food establishments.
1. Table d'Hote
Basically, this type of food menu is the most commonly used type in many restaurants, and features an already set price for meals. Also, this type of food menu includes several courses starting with the appetizer down to the dessert and beverages. You may also see menu design templates.
2. A la Carte
This type of food menu indicates the price for each dish that is being offered and allows them to be ordered separately. For this type of menu, the different dishes being offered are categorized according to its main ingredient. Customers are allowed to choose individual dishes to create their own meal, and although they are given this freedom, it may end up more costly than the packaged meals in table d'hote menus. You may also see printable menu templates.
3. Static Menu
This is another type of food menu that is commonly used in many restaurants, particularly those that offer the same sets of food and dishes all year round. with the exception of a few ones that are only being offered at a limited time. You may also see sample restaurant menus.
4. Cycle Menu
This type of food menu, on the other hand, change their sets of dishes and drinks by cycle, thus the name. Cycle menus vary in their frequency of changing their dishes, some do it daily, some weekly, and some also do it in a monthly basis. This type of food menu is commonly utilized in schools and other institutional food places wherein they have a definite sample schedule for their dishes.
5. Du Jour Menu
A type of food menu that commonly undergoes changes everyday, and the reason for that is because it mainly features the special dish or beverage of the day. Some du jour menus are focused on seasonal ingredients and are usually offered at a discounted price. Another name for this type of food menu is "chalkboard menu", because it is commonly written on a chalkboard. You may also see restaurant menu designs.
6. Beverage and Dessert Menus
Most restaurants already include their list of beverages and desserts on their menus, usually found on the backmost page. But there are also other restaurants that have their beverage and dessert menu printed separately for some reason. The most common establishments that make use of these types of menus are those that are primarily focused at serving only drinks and beverages such as bars and cake or ice cream shops. Just like any other menu, these are used to provide customers with choices, but are geared more towards drinks and desserts. You may also see family restaurant menus.
Happy Cartoon Chef Blank Menu
What do you think of our collection of blank food and drink menu templates? Do you think you could use them to make your food menus for your food establishment? Out of the twelve different menu templates that you have just seen, you probably have picked out at least one template that works for you. These blank food menu templates are all professionally-designed by some of the best graphic artists from all over the world, and aside from just being remarkably high in quality, they are also fully editable. This way, you can modify them as much as you need in order to pull-off that design that you want.
Another awesome feature from this collection of menu templates aside from their quality and editability is that they are also very easy to download. In a matter of clicks here and there, you'll be able to download them in no time. And when it comes to the costs, you can actually download these menu templates for an inexpensive fee. In fact, you may even want to download more than just one template and still not break your budget. These templates are so reasonably priced, you may even say that you'll be getting more than what you're paying for. Enough with that, scroll back up and download a sample food menu template now.