Planning a dinner event takes times and effort. But when you take the time to first learn how to make well-designed event menu cards, the entire process will be a breeze. To do that, read the rest of this menu card-making guide and take a look at multiple downloadable event menu card templates shared below.
254+ Event Templates in PDF, Word, Excel, PSD, HTML5, WordPress, Google Docs, PowerPoint, InDesign, Apple Pages, Google Sheets, Publisher, Apple Numbers, Illustrator, Apple Keynote, Google Slides - START DOWNLOADING
Shared below is a simplified step-by-step guide on making compelling event menu cards. Study these steps diligently to hone your menu card-making skills.
Step 1: Select a menu design theme or motif.
First off, find a menu design or theme that is related to the type of event you are hosting. To illustrate, if you are planning a congratulatory formal business dinner for the successful merger of two companies, a good menu card theme choice is one that looks clean and formal.
Step 2: Download a printable event menu template.
Next, download an event menu template that follows this same theme. By doing this, you do not have to make major design edits on your chosen template.
Step 3: Replace all text placeholders with accurate menu descriptions.
Start editing the template by replacing all the text placeholders with descriptions of each food item. Or, you can just create a list of the names of the different dishes that will be served.
Step 4: Add high-resolution images or illustrations.
Then, add high-resolution food photos to make the menu card appear more enticing. You may also add illustrations or sketches of food and drinks that are served during the event. Don't forget to add your restaurant's or company's branding identity designs into the template before saving the final version of the file.
Step 5: Print out the template.
Print out the event menu template on thick paper or cardstock. You may also ask your local print shop owner if they can apply advanced printing techniques or use specialized ink to make the final menu card design more appealing.
Take a look and be inspired by all the beautiful event menu templates shared below. Each template is available as PUB, INDD, DOC, PAGES, AI, and PSD template files.
Download the Birthday Event Menu Template (shown above) for any formal birthday parties that you are planning. With this editable template, you can change almost all of the text and design elements built into the template. A tip: Add your company logo design if the birthday event is sponsored by a company or an organization.
Don't know how you want your event menu to look like? Maybe you can start with the Blank Event Menu Template embedded above. This printable template is pre-formatted with multiple text placeholders that you can easily edit to match your event details. By downloading a blank menu template, you are given free rein in determining what goes into the template design.
Running a catering service? The Catering Event Menu Template (featured above) can quickly become your go-to menu template design as it is fully editable and available in multiple file formats. This means that when you download this menu template, you can easily make separate menu cards for different catering events that you are hosting.
The Christmas Event Menu Template (embedded above) is ideal for office and business events held during the holiday season. The template may be customized for gold foil printing. This way, the end product will look more elegant. All text and image elements of the template are also fully editable.
Couples and event planners who are planning a floral, summer, and destination weddings will love the Cocktail Wedding Event Menu Template pictured above. This template incorporates different floral and watercolor elements into the menu card design. This makes it easier for wedding planners to come up with a wedding menu card design without having to create their own menu designs from scratch.
Events and gatherings with a dinner component is a staple during the holiday season. If you are a restaurant owner, you may capitalize on this trend by creating separate holiday menu cards. Use the Holiday Event Menu Template shown above and share to the world all your Christmas-themed dishes. For a more effective menu card, remember to add food photos and provide menu descriptions.
Plan any family or business event to perfection when you use the Rustic Event Menu Template shown above. This printable menu template uses a clean and organized layout design that makes it a great springboard for any menu design customization. You may change the typefaces, font sizes, font colors, and even the border designs to suit the type of event you are hosting.
Planning for a vegetarian wedding dinner and reception event? The Vegetarian Wedding Event Menu Template (shown above) may be the perfect menu template for that. This template follows a lime green color palette but it can be modified to match your official wedding color or motif.
The Dinner Event Menu Template (embedded above) is perfect for dining establishments who want to make a separate dinner menu for their customers. And if you are an event planner, you may easily customize this dinner menu to reflect the dishes or food courses that will be served during your formal dinner event.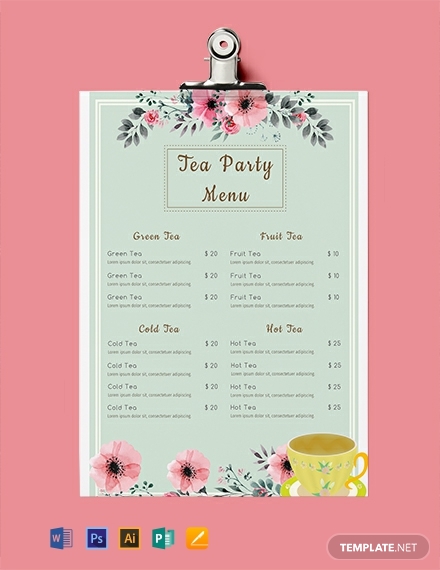 Tea parties are perfect themes for those who want a laidback event atmosphere. Use the Tea Party Event Menu Template (featured above) if you are planning for such an event. If you are using this menu template for a family event, make sure that you remove the menu price list.
With the help of the Thanksgiving Event Menu Template embedded above, Thanksgiving dinners will be a lot easier to host. If you are a restaurateur who wants to create a special menu during Thanksgiving, make sure to add your restaurant letterhead or logo design into the template before printing.