Menu
Printable Menu
A menu is a little piece of your restaurant. It holds almost all the information, from your store's pieces up until your contact details. A personalized list is also one of the first experiences your customer gets when they enter the restaurant, so make sure to leave a mark through a menu templates design because first impressions do last. Here are some customizable and printable menu templates that can help you leave a mark to your customers.
Table of Content
How to Make a Printable Menu (5 Steps)
Step 1: Categorize your menu items

To ensure a well-organized menu for your store, make sure to list down and categorize all your offerings. These categories may consist of appetizers, main dishes, salads, and desserts. These classifications may vary from each restaurant according to its motif and specialty.

Step 2: Gather photographs of your meals

High-quality pictures of your meals can easily capture a customer's attention. You can include photos of your new food offering to make it known to patrons. But more often, the pictures of the specialty dishes are places on the focal points of your restaurant menu. Make sure to have a realistic and appealing photo of your meals.

Step 3: Make short and catchy descriptions

You can do your customers a favor by providing short descriptions of your restaurant's offerings. This information can make them aware of what they will be ordering. These descriptions are especially helpful if your customers have food allergies or particular preferences. These details can also aid in your customers' decision making.

Step 4: Choose a printable menu template

Choosing a ready-made menu template can aid your menu-making process. You can choose from various designs which include suggested headings and graphics that you can easily edit. Do not forget to include your store's contact details in cases of inquiries. These templates are also customizable across multiple file-formats such as Adobe Photoshop and MS Word. You can edit the color palette according to your restaurant's vibe and overall theme.

Step 5: Print out and distribute

Once you have checked your personalized menu, you can print it out and prepare it for distribution. It is ideal for printing out your food list in sturdy material because this will be used multiple times within a day. You can also distribute your store's menu, which is printed in smaller sizes to promote your restaurant. You may also want to publish the list of your restaurant's offerings online through different social media platforms.
1. Printable Dinner Menu Template
If you want a clean and polished menu for your restaurant, this printable menu template is perfect for you. You can list all your dishes under the suggested headings. Make sure to include a short description of the meal that can make your customer anticipate what they ordered. You can also indicate in the description if a particular item is a bestseller.
2. Sample Banquet Wedding Menu Template
3. Simple Bakery Menu Design Template
4. Chalkboard Menu Design Template
5. Classy Classic Birthday Menu Template
6. Restaurant Birthday Menu Template
7. Designed Bakery Menu Template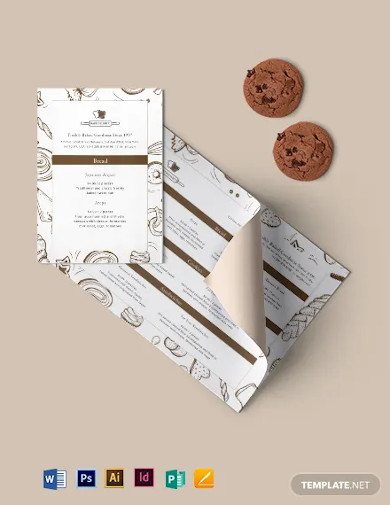 8. Creative Summer Wedding Menu Template
Weddings are planned carefully from the venue, theme, up until the food during the reception. This Summer Wedding Menu Template will complete the fresh and tropical vibe of your wedding. The color palette of this template can be edited to fit the theme of the wedding. This template is available in various file formats like Adobe Photoshop and Illustrator.
9. Standard Burger Table Tent Menu Template
Table tent menus are becoming a trend, especially among burger shops. These types of lists can stand alone on tables. This design is often opted for because the customers can directly choose their orders upon choosing their table. This table tent menu has a clean and straightforward layout that focuses on the written details rather than the visuals.
10. Printable School Menu Template
Present your school cafeteria's weekly menu through this graphic menu template. You can indicate the meals available for a particular day and include a picture of the main dish to look forward. Make sure that the photographs are vibrant and fresh to appeal to children.
11. Sample Pub Menu Template Example
Fancy restaurants and food joints are not the only ones who need professionally formatted menus; pubs also need one. This Pub Menu Template will organize your store's offerings according to the type of alcohol you serve. You can also include information if you have happy hours or other discount offers. Download this template now!
12. Club Cafe Menu Template Download
Highlight your cafe's food offering through this highly visual menu template. You don't need a short description of your food items. All you need is a high-quality photo of each to let it speak for itself. You can also include stamps or indicators on food items that are the chef-recommended. This template is in a grid manner, which makes it more organized and well-formulated, so get it now.
13. Sports Bar Menu Template Layout
For every sports final coming up, sports bars are a super hit. It is undeniable that watching a finals match between your favorite team-up is much more fun and exciting with a lot of people around. You can incorporate your favorite sport's jargon in designing your own sports bar's menu. This design is easy to edit as it is compatible with Adobe InDesign.
14. Modern Breakfast Menu Template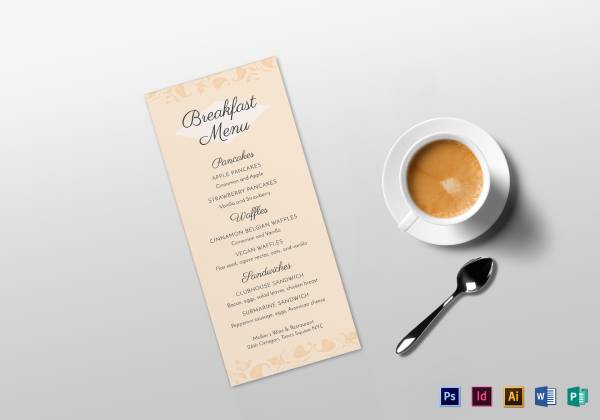 If your restaurant's specialty is breakfast meals, make sure to use this fancy template to feature your dishes in a more sophisticated manner. This chic design is perfect for upscale cafes or restaurant which have specialty breakfast dishes which are not common in other restaurants.
15. Editable Minimalist Food Menu Template
Showcase your cafe's offerings through this Minimalistic Food Menu  Template design. You can organize all your food and drinks in this grid model. Since this design does not have excess space for pictures, make sure to come up with short descriptions that can capture the essence of your dish. To make this design exciting, you can add stars or icons beside the name of the plate to indicate its demand.
16. Clean & Classic Menu Template Example
This Clean & Classic Menu Template design is perfect for restaurants which aim to deliver a timeless and elegant menu image. This two-column design makes it easy to differentiate the food items from one another. Make sure to align the food name, description, and price to avoid confusion. Get this template now!
More in Menu
| | |
| --- | --- |
| 23+ Free Menu Templates - PDF, DOC, Excel, PSD Free ... | Weekly Menu Template - 7+ Free PDF, Word Documents Download ... |
| Printable Menu Planning Template - 10+ Free Word, PDF ... | 14+ Wedding Kissing Menu Designs & Templates - PSD, AI Free ... |
| FREE Printable Thanksgiving Menu Template: Download 288+ ... | 8+ Baby Shower Menu Templates - PSD, Vector EPS, AI Illustrator ... |
| 9+ Easter Menu Templates - Printable JPG, PSD, EPS Format ... | 41+ Wedding Menu Sample Designs & Templates - PSD, AI, Vector ... |