Menu
Kids Menu
A kids menu can be beneficial to restaurants or cafeterias, since this can create a child-friendly environment wherein families with young children would go to. Parents will not have a problem scanning through the entire menu looking for food that their children might eat. Having a kids school menu sample can also give children the chance to pick their own food. This can help children in learning to make their own choices as they grow older. Pick any menu design from huge collection of Menu Templates to quickly create food menu, pizza menu, bakery menu and more for kids.
Table of Content
1. Kids Dinner Menu Template
This template was especially tailored for children. It wisely made use of the different shapes which separates the different dishes you will offer into groups. The shapes, colors, and layout will appeal to the kids' senses. This template gives the impression of being playful which is the embodiment of a kid. Customize this template to your liking since this is an editable template with original artworks and fonts.
2. Kid Birthday Menu Template
3. Kids School Menu Template
The Kids School Menu Template is suitable for school cafeterias. This menu categorizes the food that will be served from Monday to Friday. Download this template now and add in the healthy dishes needed for school children to have the energy to participate actively in class. You can access this template in five file formats to achieve a high-quality product.
4. Kids Ice Cream Menu Template
Everyone has a sweet tooth and it is most common to children. Owning this cute ice cream menu for your ice cream business will certainly attract children. This template makes use of cute illustrations and bright colors that you may edit. Download and personalize this menu template to better represent your establishment.
5. Kids Cafeteria Menu Template
Personalize this Kids Cafeteria Menu Template for a better serving experience in your cafeteria. This menu template is highly-organized which features the dishes that is served during the weekdays. Edit this template easily in Illustrator, MS Word, Pages, Photoshop and Publisher. If this template is what you're looking for, just click download and own this menu for an affordable price.
How to Make a Kids Menu (5 Steps)
Step 1: Choose your kids menu.

There are many menu templates you can find on the internet. It is your choice if you want to make your own design or download. In the case that you want to download a ready-made menu, you can scan below and see what template best fits your taste.

Step 2: Include healthy foods for your kids menu.

When it comes to food, parents can somewhat be strict on what their kids eat. It is best if you include healthy dishes in your kids' menu. It is quite difficult to make kids eat healthy meals since they usually go for the unhealthy food. Just add some touches to your food that will make the kids like your food.

Step 3: Conceptualize new names for dishes offered.

Modifying the food you offer is best especially if it is for a kids menu. Kids most of the time choose the food they would order randomly. They would usually go for things that has interesting names that can spark their curiosity than the plain and boring dishes.

Step 4: Add colors and designs.

Adding in bright colors for your menu is very appealing for children. Children always want to have fun so adding in colors will give that fun factor. Also, don't forget to add cute objects or designs in your menu to draw the attention of the children.

Step 5: Print finished kids menu.

Now that you are all done, you may now print your kids menu and start catering to children. Do not forget to produce your menu in the best quality. Although your target customers are children, you should still impress them to make them keep coming back.
6. Pre-School Cafeteria Menu Template
The Pre-School Cafeteria Menu Template features extra adorable graphics that will definitely entertain pre-schoolers while their parents order their foods. Input healthy dishes to keep these kids healthy and strong and keep their parents happy and satisfied. So what are you waiting for? Download now!
7. Elementary Cafeteria Menu Template
If you want a simple yet eye-catching menu template for elementary kids, then this might be the perfect template. Elementary school cafeteria also need a menu. This menu will ensure that school kids will be able to pick the food which they are craving for the day. This template will not bring you any trouble when editing since it is available in any editing software like MS Word.
8. Kids Birthday Party Menu Template
This Kids Birthday Menu Template will make your kid's dream birthday party. This creative fairy tale-inspired menu was created to make every child's dream come true. You can customize this template to your heart's extent. Just edit this template in the most available software and make a child's birthday party the most memorable.
9. School Canteen Menu Template
Get the classroom vibe even in the cafeteria with this chalkboard menu design. It is incredibly easy to tailor your needs using your favorite software like Photoshop, InDesign, and Publisher. Input the healthy dishes and snacks your cafeteria offers and you're good to go. Download this template for an affordable price.
10. Kid-Themed Menu Template
If your target customers are children, then this template is for you. Its simple design shows variety of foods in an organized manner. This kids menu is convenient and will serve satisfactorily. Download and see firsthand that this fully customizable template has high-quality artwork and graphic files even for its affordable price. You may edit this template anytime, anywhere in your mobile or PC.
11. Free Holiday Kids Menu Template
Are you looking for the perfect menu for the upcoming easter holiday? Then click download and personalize this template. It is now easier for you to edit this template through any of the available file format. It has high-quality design artworks and fonts that can be readily edited and modified to match the holiday.
12. Tri-Fold Kids Menu Template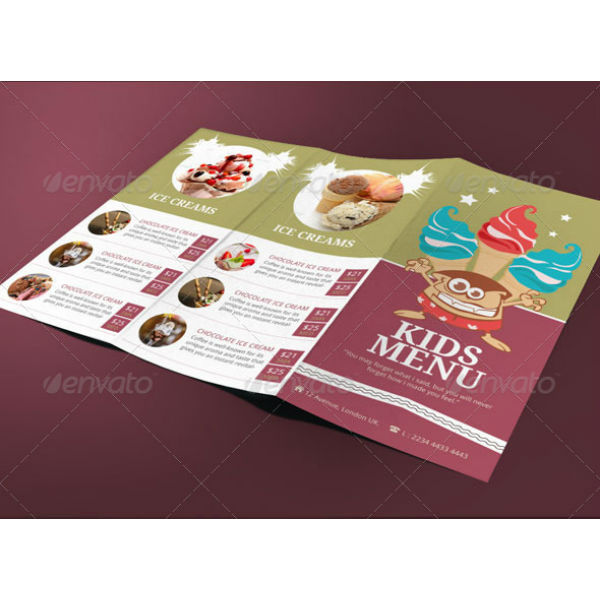 This adorable Tri-Fold Kids Menu Template will attract the kids' attention. Just leave this tri-fold menu on their table and wait until the kids will order their food. This tri-fold menu can be advantageous if you want to offer a lot of dishes for your kid customers since it is cost-effective. You will not need to print another set of menu. You can use up all of the space. This snack menu has a fully customizable layout which is easy to edit.
More in Menu
| | |
| --- | --- |
| 6+ Children Party Menu - Designs, Templates Free & Premium ... | 14+ Daycare Menu Templates - Word, PSD, AI Free & Premium ... |
| 23+ Menu Templates - Free PSD, AI, Vector, EPS Format Download ... | 41+ Valentines Menu Templates - Free PSD, EPS Format Download ... |
| 13+ Daycare Menu Templates - PSD, AI, Word Free & Premium ... | 19+ School Menu Templates - PSD, Word, AI Free & Premium ... |
| 32+ Breakfast Menu Templates - Free Sample, Example Format ... | 29+ Free Menu Templates – Free Sample, Example Format ... |